Join UC Santa Barbara medical and microbiology experts in a panel discussion and Q&A exploring the COVID-19 vaccines and other, non-pharmaceutical interventions aimed at mitigating the spread of the SARS-CoV-2 virus. The session is open to all campus and community members. Attendees are invited to submit questions when they register for the event. https://campuscalendar.ucsb.edu/…/the_science_behind…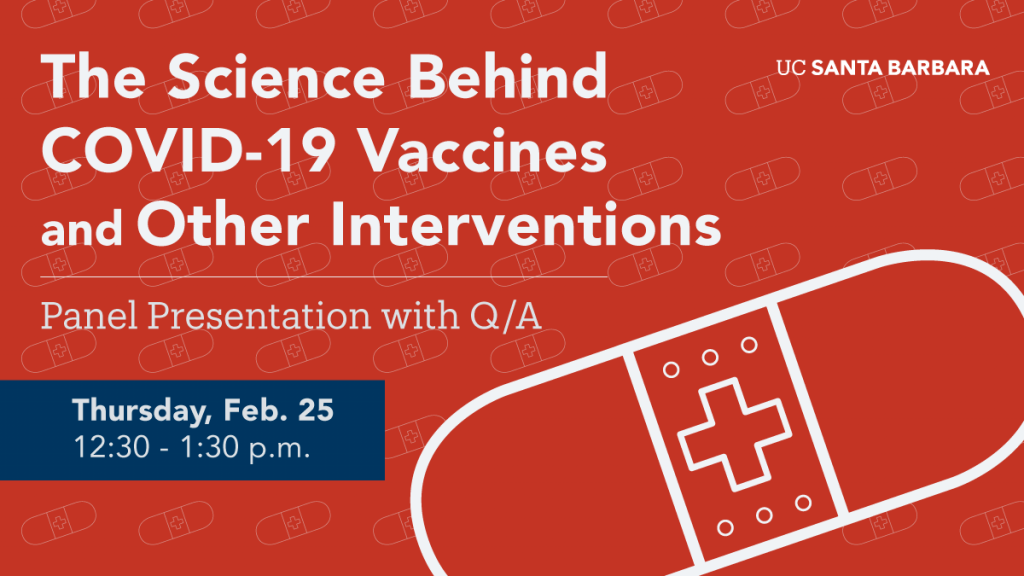 ---
The Black Women's Health Collaborative is excited to announce their upcoming Blackness Across the Diaspora event today Wednesday, February 24th at 3PM! Join them for a discussion about African and Black diaspora, experience, and identity as well as a chance to win some gift cards! Hope to see you there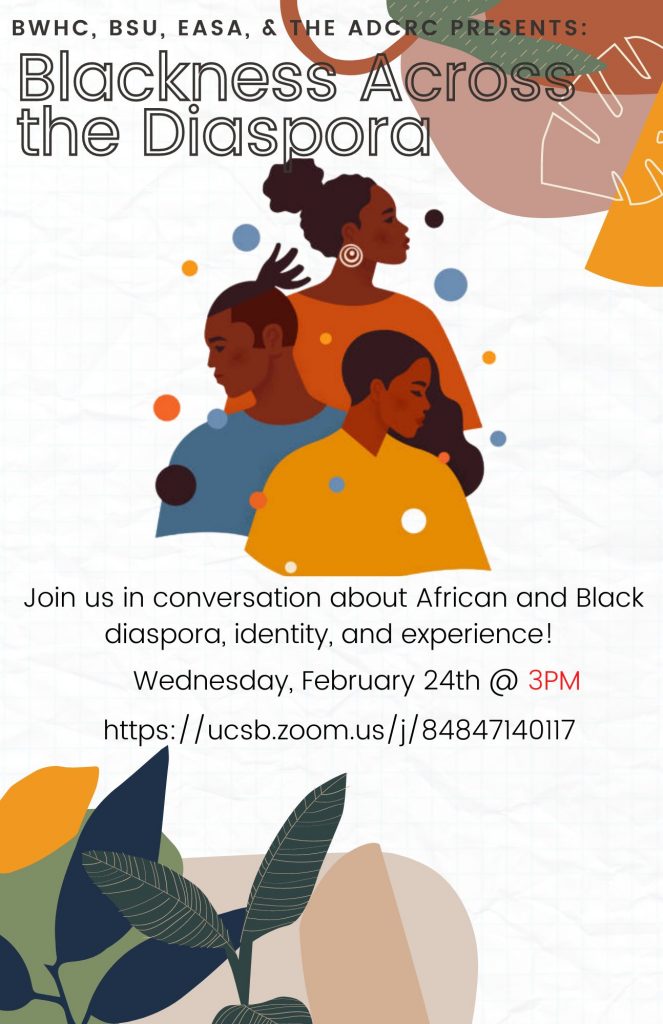 ---
A Conversation about Rape Culture
Wednesday, February 24, 2021 at 5:30 PM PST – 7 PM PST
CW: Sexual Assault
Join CMG with Bitter Brown Femmes in "A Conversation about Rape Culture" on Wednesday, February 24, from 5:30pm to 7:00pm, with a Q&A from the audience at the end. Please be aware of the sensitivity of this subject and the importance of respect in this space while attending.
---
We are so excited to announce that Community Financial Fund (CFF) is launching Peer Advising Sessions—a new service dedicated to helping students navigate through their financial literacy journey! Finances are a tough discussion topic, but CFF is here to change that. Come book an appointment with our peer advisors to get any resources you may want and get all your financial questions answered, at tinyurl.com/cff-advising/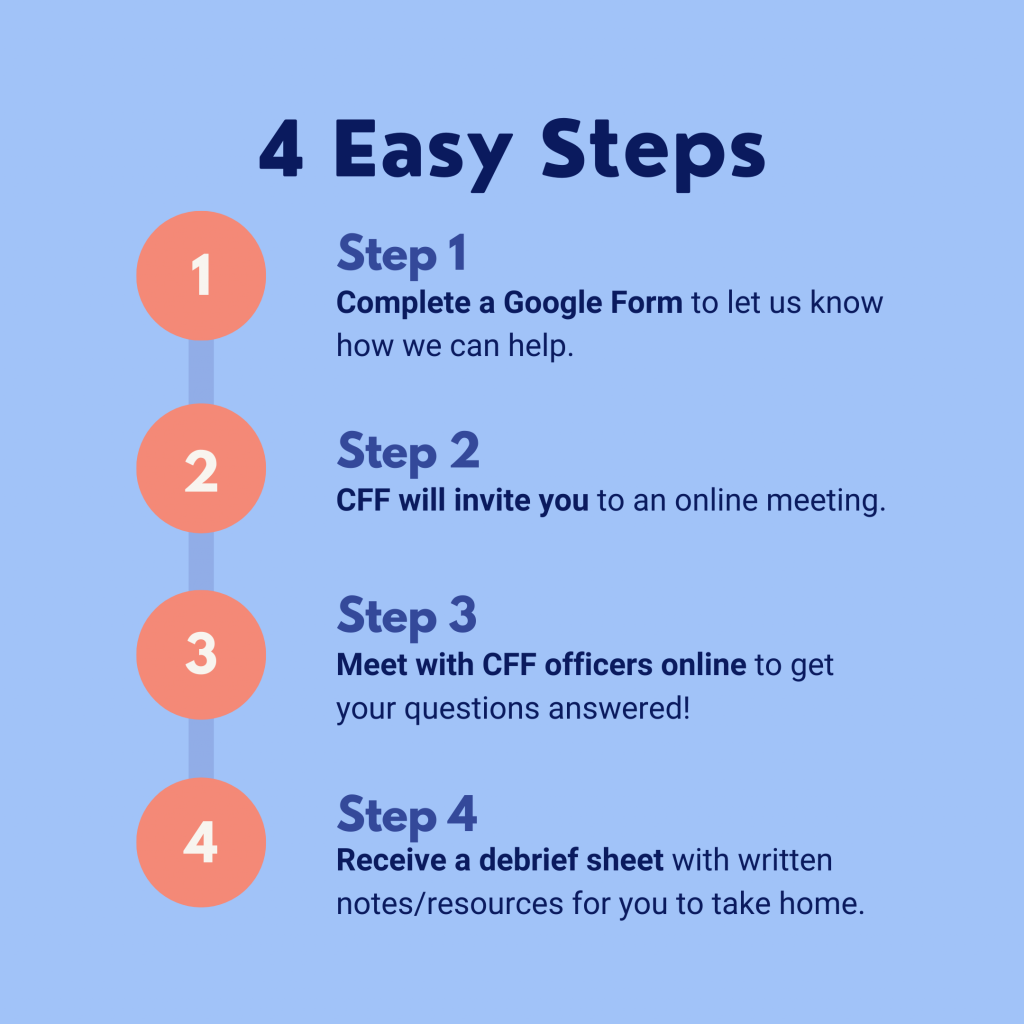 ---
Creative Compromises: Backpacking With a Camera with Alden Blake, February 24, 3 to 4 p.m. Zoom Link : https://us02web.zoom.us/j/89570490819. Travel photographer and UCSB alumnus Alden Blake discusses the unique challenges presented by packing light while leaving room for his photography essentials, including a drone, and also shares his favorite destinations for photography.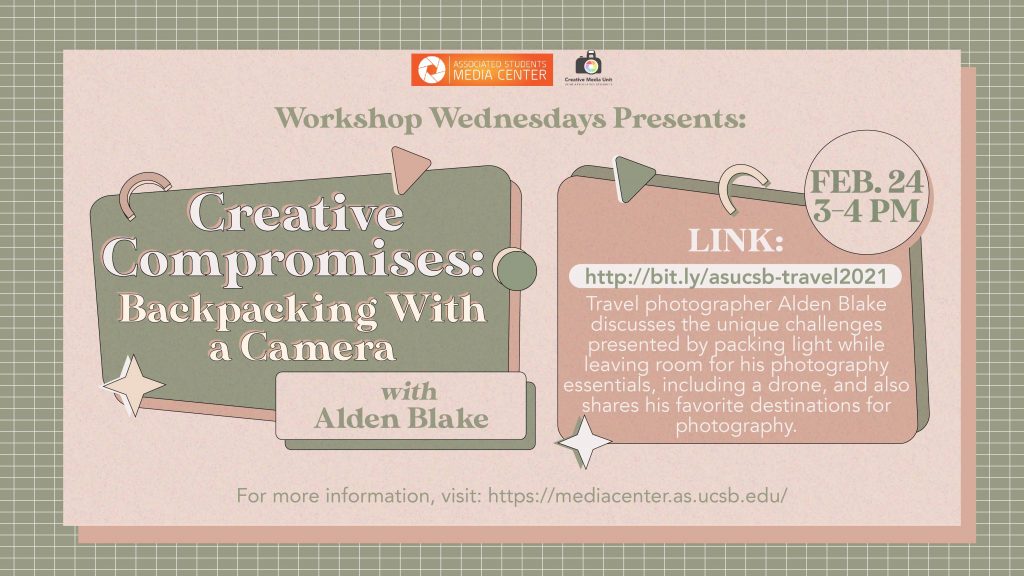 ---
Transfer Student Alliance is hosting a LinkedIn Workshop for beginners from 3-4PM today! We'll be talking about how to use LinkedIn Learning, how to network, and also how to get connections! Featuring special guest Matt Bitters who works for LinkedIn Learning! & invite your friends to learn too!
Join Zoom Meeting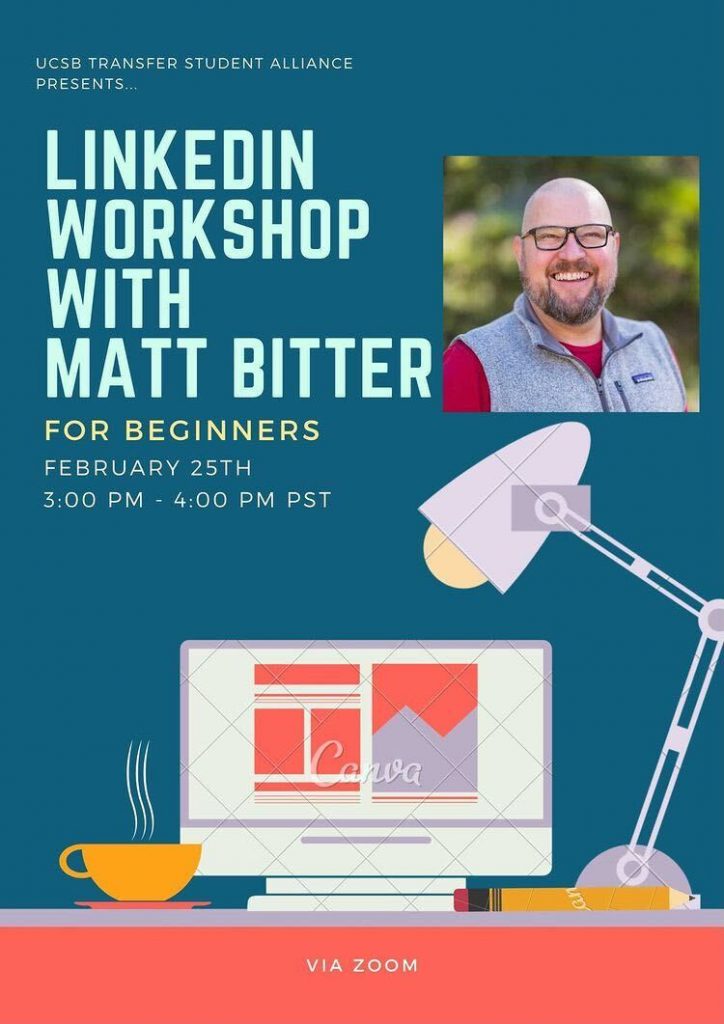 ---
AS Program Board Presents… Real Talk with Quinta on Sunday, February 28th, 2021 at 6 PM (PST) via Zoom.
_______________________________________________
The event is free and is closed to GAUCHOS ONLY.
*Absolutely no taping/recording (including on cell phones) is allowed*
SUBMIT YOUR QUESTIONS HERE:
http://bit.ly/quintaqa
REGISTER HERE:
http://bit.ly/quintareg
Be sure to register using your UCSB email address (ex: quinta@ucsb.edu OR quinta@umail.ucsb.edu, whichever works for you).
_______________________________________________
Named one of Forbes' "30 Under 30 in Hollywood & Entertainment" and one of The Hollywood Reporter's "Digital Disruptors," award-nominated actor, writer, and producer Quinta Brunson has quickly made a name for herself as a powerful force within the entertainment industry.
Originally from Philadelphia, PA, Brunson burst onto the entertainment scene in 2014 when the series she created, "The Girl Who's Never Been on a Nice Date," went viral on YouTube and Instagram, making it one of the first series to gain a mass following on both digital platforms. Since then, Brunson's original content has reached hundreds of millions of people and her followers across Facebook, Instagram, Twitter, and YouTube have exceeded 2.5 million. Brunson's online success quickly attracted the attention of BuzzFeed, where she landed an initial job as a video producer. Shortly after, Brunson's position quickly grew as she sold two web series as a development partner with BuzzFeed Motion Pictures: the scripted comedy "Broke" (which she wrote, produced, and starred in) for YouTube Red and "Up for Adoption," which was produced by Verizon's go90. Brunson's performance in "Broke" was nominated for Best Acting in a Comedy at the 2017
Streamy Awards.
Since leaving BuzzFeed in 2018, Brunson's career as a writer, producer, and actor has
skyrocketed. She landed a lead role in The CW pilot "The End of the World as We Know It,"
She wrote, produced, and starred in the series "Quinta vs. Everything" for Facebook Watch. Brunson has also appeared on The CW's "iZombie," and has lent her voice and writing skills to a plethora of projects, including Adult Swim's "Lazor Wulf."
Since 2019, Brunson has starred in HBO's breakout comedy series "A Black Lady Sketch Show". Created and written by Robin Thede and executive produced by Issa Rae, "A Black Lady Sketch Show" is a narrative series set in a limitless magical reality full of dynamic, hilarious characters and celebrity guests. The show presents sketches from week to week that are performed by a core cast of black women. It's safe to say that Quinta Brunson is a star in her own right. We hope you'll join us in watching her shine.
______________________________________________
MORE QUINTA:
YOUTUBE:
http://bit.ly/quintayout
INSTAGRAM:
http://bit.ly/quintaig
TWITTER:
http://bit.ly/quintatw
______________________________________________
Associated Students Program Board is a student-operated non-profit organization funded by lock-in fees that coordinates fun and educational events for the UC Santa Barbara community. Appointed student board members gain hands-on experience in planning, booking, advertising, and running various events ranging from intimate open mics to 12,000 capacity festivals. Some of our more well-known events include Free Tuesday Films, Storke Shows, Delirium, The Warm Up and Extravaganza.