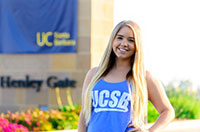 The Pearman Fellowship program helps introduce incoming new students to the ins-and-outs of A.S. The program includes a mentorship in an A.S. entity, as well as information sessions guided by students, staff, and elected officials. The mentorship program will begin later in the quarter, and prospective Fellows will be given an elected official mentor. They'll be available to answer questions, provide hands-on experiences, and demonstrate their daily duties.
The Fellowship program is intended to establish a basis for incoming students so that they can spend their time thriving in all ASUCSB offices through the coming years. As a Pearman Fellow in an office, you'll have the opportunity to network with elected officials in A.S, as well as other individuals working to help improve UCSB. Some Fellows even get the chance to develop their own project within A.S.!
Every applicant needs to attend a mandatory information session. The times are TBD.
Applications will be available in the Fall 2021
---
To learn more about the naming of this fellowship program, click here