Facebook
Living History Project: First General Meeting
Monday, January 28, 2019 at 5 PM – 6 PM
Media Center
Come Rewrite History with The Living History Project!
The Living History Project was started by Mahader Tesfai in 2012 and serves as an online archive of student activism at UCSB. From the Isla Vista Bank Burning to the North Hall Takeover, this project aims to pull from primary documents, oral interviews, and first-hand accounts to revitalize our school's rich history of sparking change on and off campus.
And we want you to join!
Come out to our general meetings on Mondays, 5 PM, in the AS Media Center (bldg. 434) to learn how to:
-Dive deep into Special Collections Research with documents dating back to the 1920's
-Sift through personal testimonies of past AS Presidents
-Conduct and transcribe oral interviews
-Practice social media/content management
-Gain real-world journalistic experience
-Document the visible social change spearheaded by students at UCSB
No previous writing experience needed!
So stop by this upcoming Monday, January 28th at 5:00 pm, in the AS Media Center (bldg. 434, across from Storke Tower) to learn how you can help contribute to The Living History Project!
(Note: There will be FREE FOOD at the meeting, and if you have any questions/concerns, email us at livinghistory@as.ucsb.edu for more information!)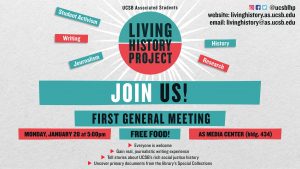 ---
Voting in the AS Winter Special Elections is now LIVE. Submitting for your vote for the next EVPSA just takes a minute. Vote on GOLD or click the link below to vote!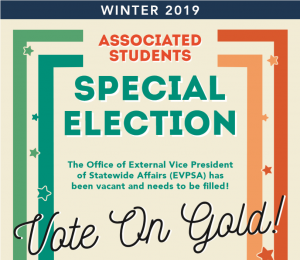 ---
On today's edition of The Freak Power Ticket (Monday, January 28th, 11am on KCSB-FM 91.9 in Santa Barbara): "Spike Lee: The First 5."
This coming Thursday night, January 31st, at the historic Arlington Theatre, the Santa Barbara International Film Festival presents its Outstanding Directors of the Year Award sponsored by THR to Alfonso Cuaron (ROMA), Yorgos Lanthimos (THE FAVOURITE), Adam McKay (VICE), Pawel Pawlikowski (COLD WAR), and Spike Lee, for BlacKkKlansman.
With a filmography spanning 40 years, Shelton Jackson "Spike" Lee is the senior member of this group of award recipients. The Brooklyn-based writer/director/actor has about 25 feature film credits, while also creating numerous documentaries, concert films, music videos, TV movies and series, advertisements, and books. So many impressive accomplishments are associated with his name.
This morning, "The Freak Power Ticket" will celebrate Lee's impact with selections of music from the first half-decade of his Hollywood career, primarily from the movies SHE'S GOTTA HAVE IT, SCHOOL DAZE, the Oscar-nominated DO THE RIGHT THING, MO' BETTER BLUES, and JUNGLE FEVER.
To open the show, producer / host Ted Coe will also welcome occasional FPT cinema & culture contributor Harry Lawton back to the KCSB-FM control room for a live preview of the 34th annual SBIFF. Harry will share insights about the films and special "side bars" that will command his personal attention over the course of the ten days of this important fest
(Time permitting, we'll also share a couple bonus tracks to bring home Lee's breadth and depth and his musically-oriented cinematic sensibility.)
The Santa Barbara International Film Festival kicks off at the Arlington Theatre on Wednesday night, January 30th, with the world-premiere screening of DIVING DEEP: THE LIFE AND TIMES OF MIKE deGRUY, about the late biologist turned award-winning filmmaker who swam, dived and filmed in oceans around the world.
"The Freak Power Ticket" airs on Mondays in the Winter from 11am-12noon PST.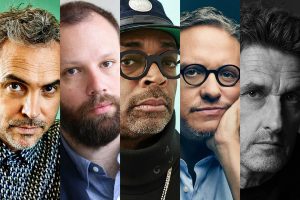 ---
EVPLA Winter quarter office hours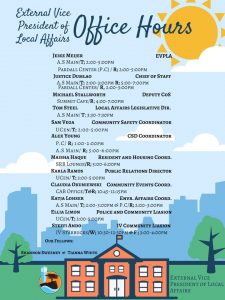 ---
Have you voted? https://vote.as.ucsb.edu/
---
A.S. Student Commission on Racial Equality (SCORE)
Week Four Winter Meeting! – https://mailchi.mp/ca8f882ec9f8/week-four-winter-meeting
Come join us WEDNESDAY 1/30 for FREE FOOD and an informational meeting about the government shutdown! We will be talking about how folks are affected across the nation and across the world! Come hungry and bring questions!
1/30 7:30 PM in the ONDAS Center!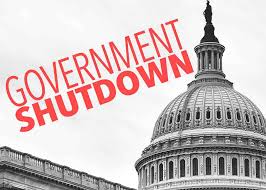 ---
Are text, gifs and emojis not enough to express the truth inside of you? Make your conversations more interactive and adorable with our UCSB AS Sticker Pack!
https://itunes.apple.com/us/app/ucsb-as-stickers/id1443674037#?platform=iphone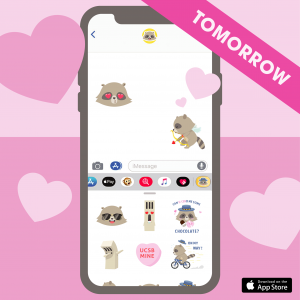 ---
POSTPONED: Battle of the Bands 2019
Thursday, January 31, 2019 at 8 PM – 11 PM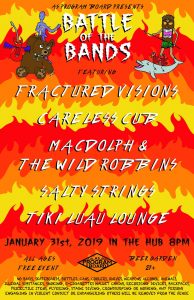 Unfortunately, due to unforeseen circumstances, Battle of the Bands will need to be postponed to a later date and time. We're sorry for any inconveniences this may have created, but stay tuned for the release of a new date for the event!
---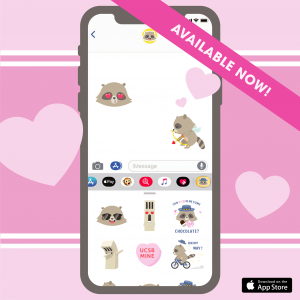 ---
Twitter
Senate Office Hours for Winter 2019! https://docs.google.com/spreadsheets/d/1-EDz2VZUn_3SXQUjsopKeqCTnKzlbeJ5MzBz_Q572h4/edit?fbclid=IwAR28QP-qADV5gFzZf4FTAhV94Hr4VEEhejZrEpx2V9EXIffAUH_b7_NPO8Q#gid=1201543090
---
Do you like what COSWB does? Want to get involved?
Our Winter 2019 board meetings will take place at the African Diaspora room in the SRB from 6:30-7:30 every Tuesday! Everyone is welcome to come 🙂
---
AS Media Center's Workshop Wednesday: From Lens to Lightroom with Andy Doerr, 1/30, 3-4pm An intro to the mechanics of photography, visual expression, and overview of processing in Lightroom. AS Annex, Building 434 by the Storke Tower bike circle. Staff, students, faculty welcome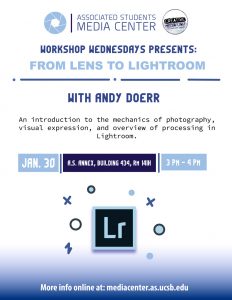 ---
Another major storm will be hitting us. Take precautions, better safe than sorry! Here are some safety tips from IVTU.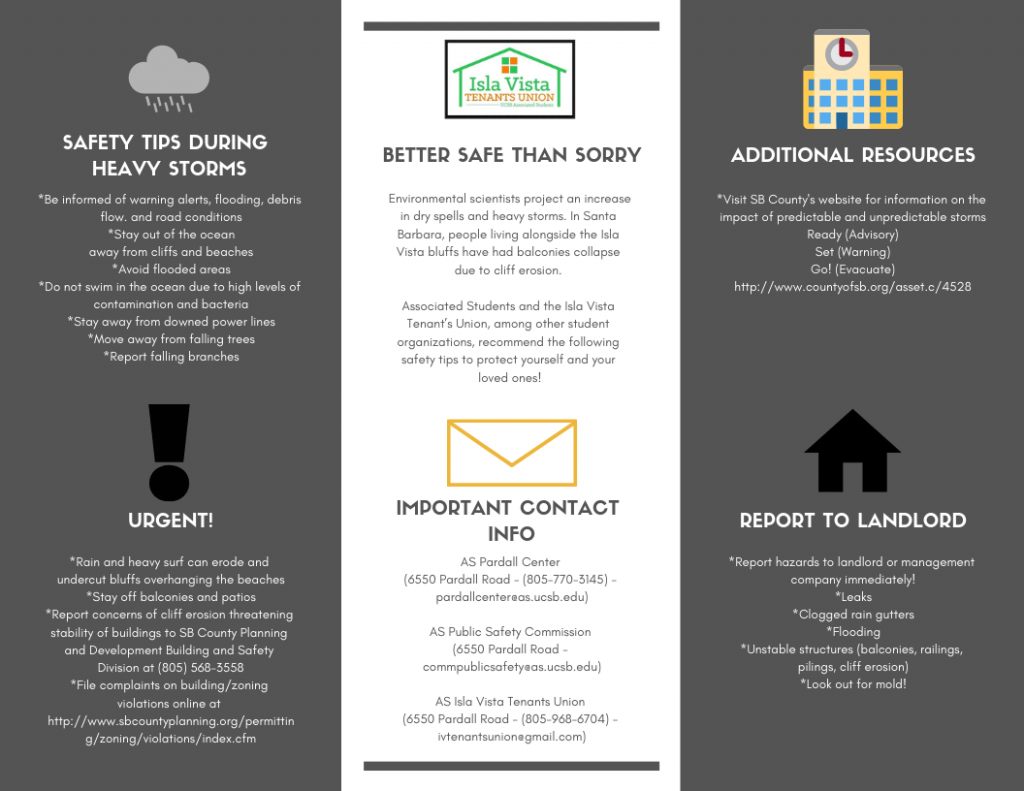 Google+