Facebook
Let's Talk: Reusable Menstrual Products
Hosted by UCSB Women's Center and co-hosted by AS Zero Waste Committee and AS Womxn's Commission
Tuesday, January 22, 2019 at 6 PM – 7:30 PM
MPR
Ever considered reusable menstrual products? Find yourself wondering how they work? Are they clean? Are they comfortable? Will it really save the planet? Join us for a free-flowing conversation and get all the information you need to choose a product that is right for you!
We will be giving away free menstrual cups & reusable pads to the first 40 people! Free food catered by Aladdin Cafe!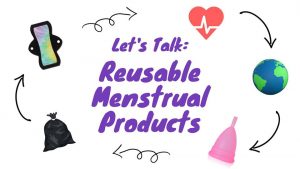 ---
Last week's flu shot clinic has been rescheduled to today.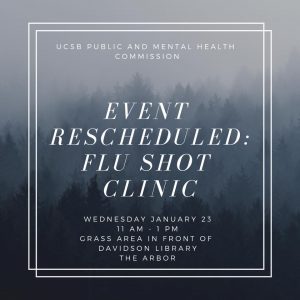 ---
Where are your student fees going? Here's this week's report.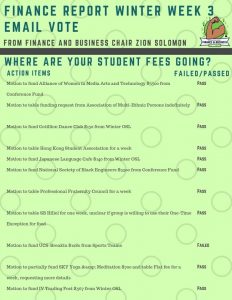 ---
Friday, January 25, 2019 | 12:00pm-1:00pm at Associated Students | Annex Building 434 RSVP Encouraged: http://bit.ly/w19openhouseservices Description: Join us to learn more about UCSB's Immigration Legal Services and meet the team, Managing Attorney Vivek Mittal and Attorney Ron Perry, supporting undocumented students. Appetizers and drinks will be served.
---
Twitter
Over 3,000 UC Santa Barbara students visited the Associated Students Food Bank in the 2017-2018 school year, making up approximately 13 percent of the student body, according to the A.S. Food Bank's annual report. https://t.co/b4Sdl3mMZP
AS Media Center Workshop Wednesday is"Podcasting Fundamentals" with KCSB News Dir. Lisa Osborn. This workshop will provide you with the skills you need to get started. 1/23, 3-4pm AS Annex, Bld 434, Rm 141H next to the Storke Tower bike circle. Students, staff, & faculty welcome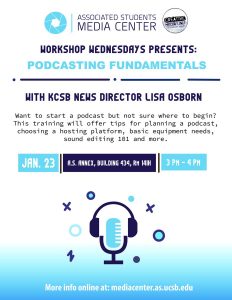 Living History Project's First General Meeting will be Monday, January 28, 2019 at 5 PM – 6 PM in the AS Annex
Community Service Organization is having its Quarterly Bike Sale Saturday, January 26, from 12-3pm Lot 32, behind the Public Safety Building (Mesa and Stadium Roads). 100s of bikes available for sale priced from $10-$50. UCSB Concessions will be there.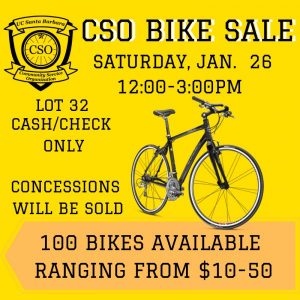 ---
Instagram

Linked In
Helpdesk Technician – position is open Under the Direction of the Information Technology Administrator, the Helpdesk Technician will be part of the A.S. IT/Web Team. The desired candidate will possess skills in three main areas: Desktop Support, Network Support, and Web Maintenance. This position will be providing support for A.S. groups and personnel in a wide capacity at both local and remote locations (KCSB, Bikeshop, Recycling, Pardall Center, etc.). https://lnkd.in/eKdktmR
Google+