Filing taxes can be confusing- do I need to file? Do I have enough income? What about my scholarships, grants, and other financial aid? Come to this workshop with CFF to learn all about filing taxes as a college student and have your questions answered by a certified financial planner (CFP).
Susannah Snider is the Senior Editor for Financial Advisors at U.S. News and World Report and a certified financial planner. Since 2010, Snider has reported on a wide range of personal finance topics, from consumer travel to college financial aid, student loans and employment. She has appeared as a personal finance expert on television, radio and in print, including on "Cheddar," the "The Tavis Smiley Show," "Your Money" on Wharton Business Radio and "Fox Business News."
Register to get a chance to win a Doordash gift card in raffle!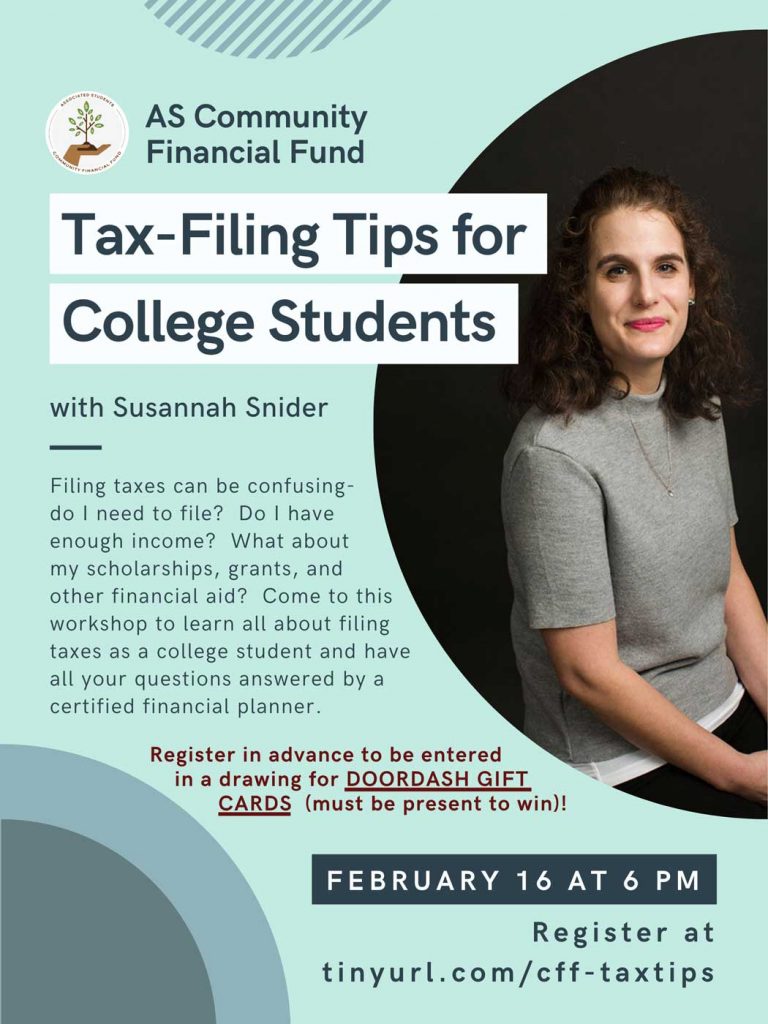 ---
Interested in the field of immigration law?
Join the AS Legal Resource Center (LRC) and the Phi Alpha Delta (PAD) pre-law fraternity for our Immigration Law Panel on Monday 2/8 at 5:30pm! We will be hosting a panel of two immigration attorneys who will share their experiences in the field and answer any of your questions.
We look forward to seeing you there!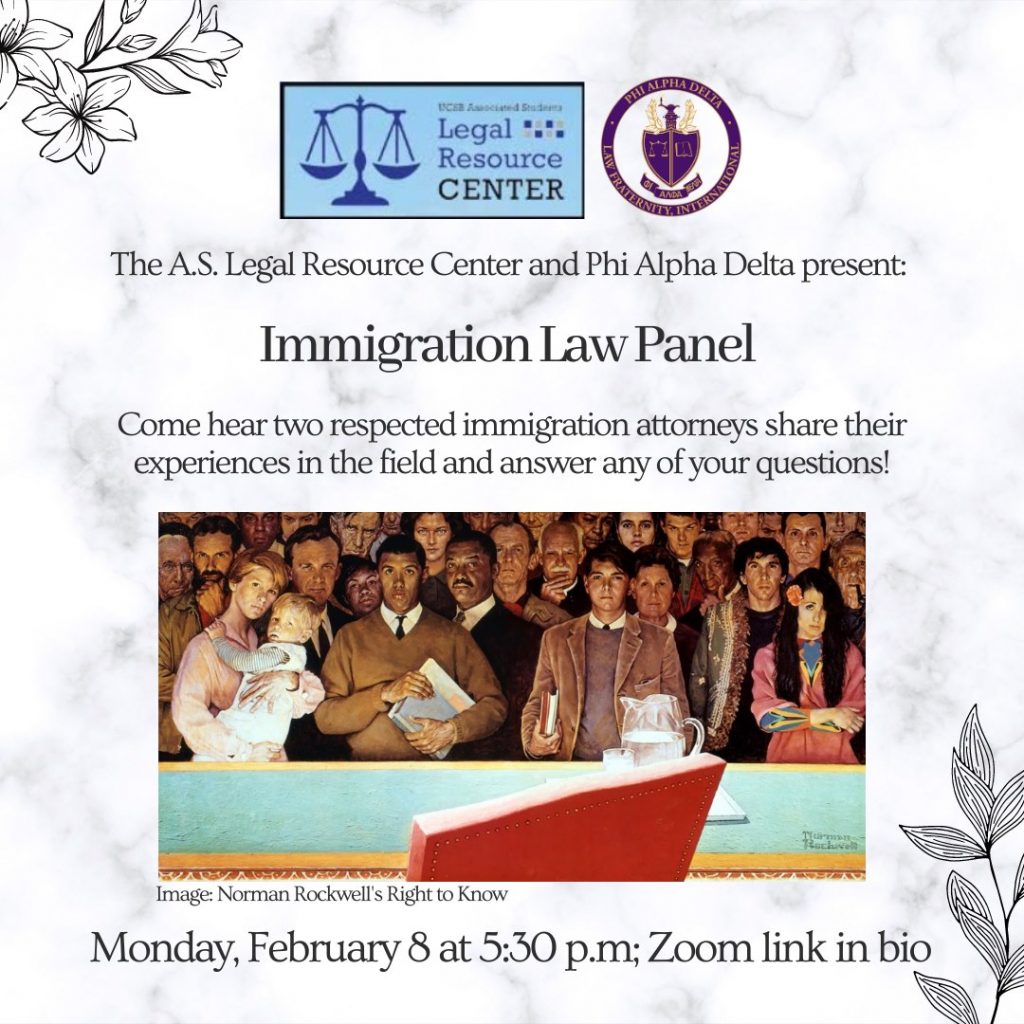 ---
Kicking off Human Rights Week is @ucsbpmh with a Mindfulness & Positive Psychology Worshop with Guest Speaker Myah Mashhadialireza. See you tomorrow (2/8) at 6pm!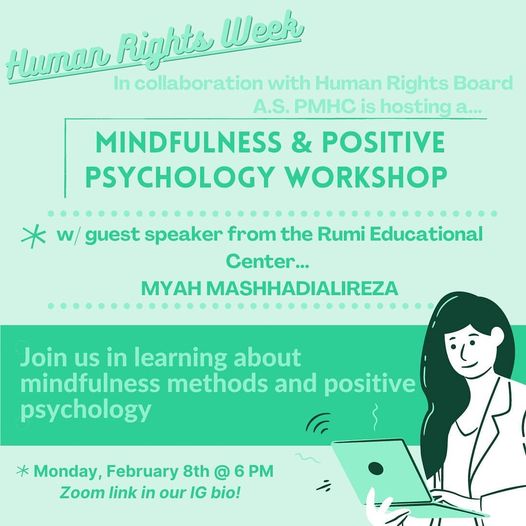 ---
The AS Strategic Vision Committee has created an "All Undergrad Survey" to receive feedback on the needs of the student body. Our goal is to receive as much input on how Associated Students can grow and change to best serve the student body. The survey is 10-15 mins and at the end you will be entered into a drawing for either a $100 gift card or one of 20, $20 gift cards. Here is the link: https://www.surveymonkey.com/r/ASUCSBUndergradSurvey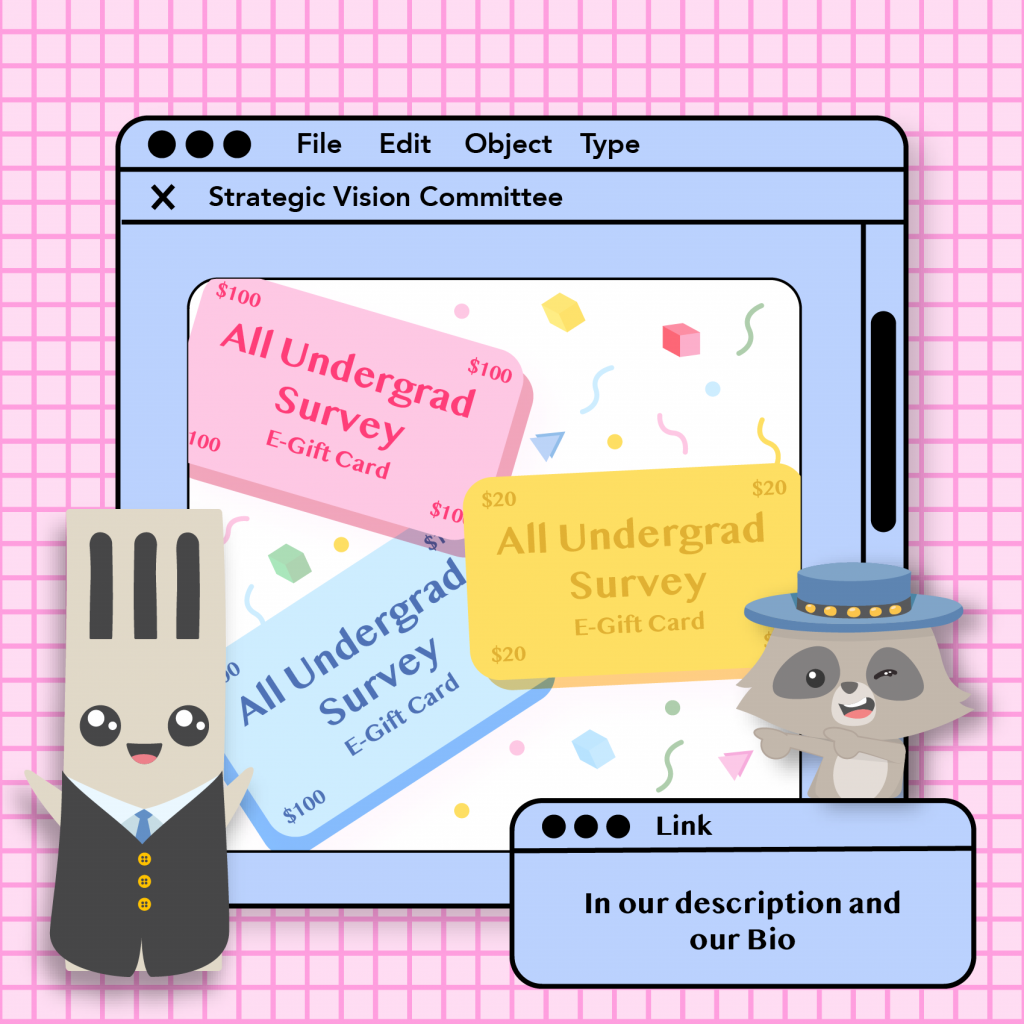 ---
Interested in student leadership? Coming up next week: your opportunity to join the largest ever group of student leaders!
Timeline:
Elections Informational during Week 7 (2/15 – 2/19, date/time TBA)
Declaration begins Wednesday 2/17
Stay tuned to this page for more details later this week!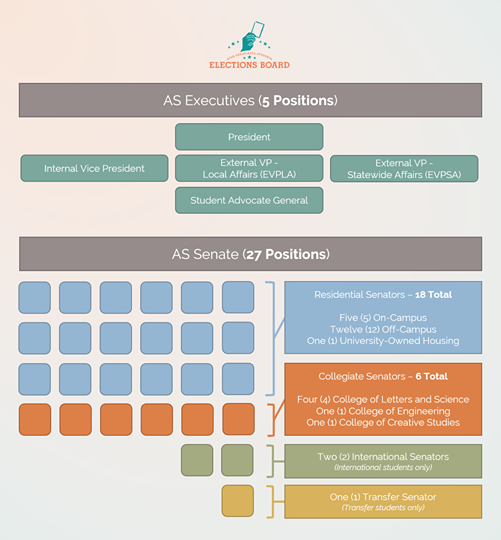 ---
Join us this Wednesday (2/10) at 7 PM (PST) for a FREE evening Storke show featuring Yung Fuzz, live on our IG story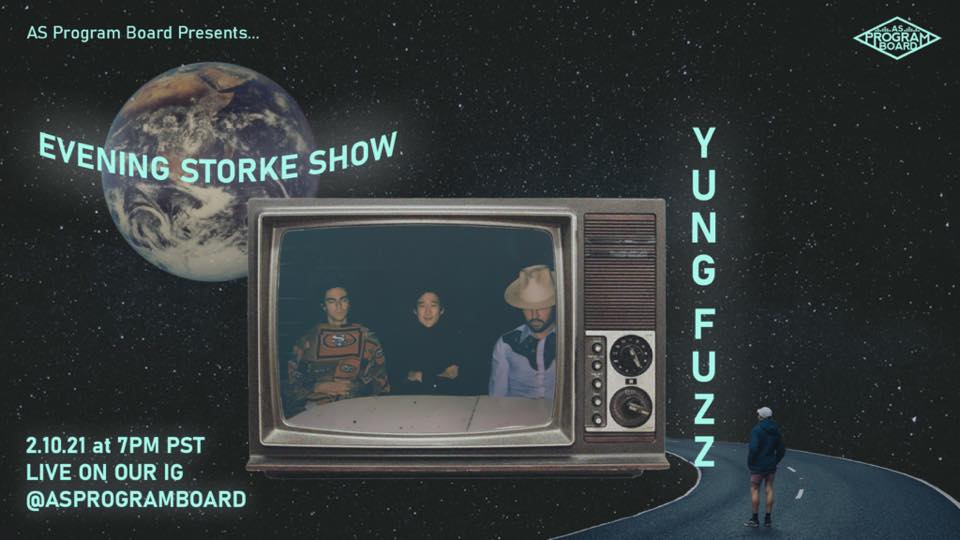 ---
Calling all future student leaders! Here's your opportunity to run for a leadership position in UCSB's student government! Next week, the AS Elections Board will host info sessions about this year's schoolwide Spring Election. There are two Zoom webinars; both are the same:
Please register using one of the above links to reserve your spot; there is a capacity limit on attendees due to Zoom limitations.
This is a unique opportunity to be a student advocate while you make friends & start your future career with great networking opportunities. Join us to learn about the Associated Students elections process and learn how to sign up as a candidate. There are 32 elected leadership positions in total: 27 seats on the AS Senate and 5 executive positions, including UCSB's student president. This year's election dates are Week 4 of Spring quarter – 4/19 to 4/22. The last day to declare candidacy is 3/3.
Please share with your friends!

---
---
Yesterday, Santa Barbara County reported 10 additional deaths from COVID-19. Continue to take proper precautions to slow the spread and enjoy a safe three day weekend
*these numbers represent updated cases since last week's post*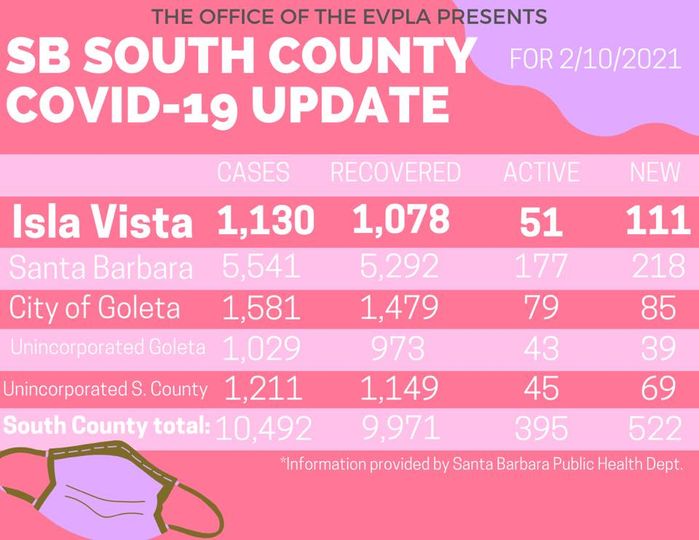 ---
The AS/UCSB Community Affairs Board (CAB), UCSB's Volunteer Action Center, is dedicated to enhancing the educational experience of all UCSB Students by providing information and easy access to community service work. Through a wide range of projects and community programs, CAB seeks to augment classroom experiences, create opportunities for career exploration, connect UCSB to the community in a meaningful way, and promote the ethics of public service.