Facebook
– AS Food Bank will stay open through Finals Week, closed for Spring Break.UCEN, Second Floor next to Subway – M-Th: 9:30am – 6pm & F: 9:30am – 4pm.
– Chromebooks available for FREE rental at UCSB Food Security and Basic Needs Advising Center
– More basic needs resources at http://food.ucsb.edu/
---
Happy St. Patrick's Day! The newest AS Sticker pack has the green theme and all the cuteness of the Mapache to share. Virus free! Download at https://apps.apple.com/us/app/ucsb-as-stickers/id1443674037?ls=1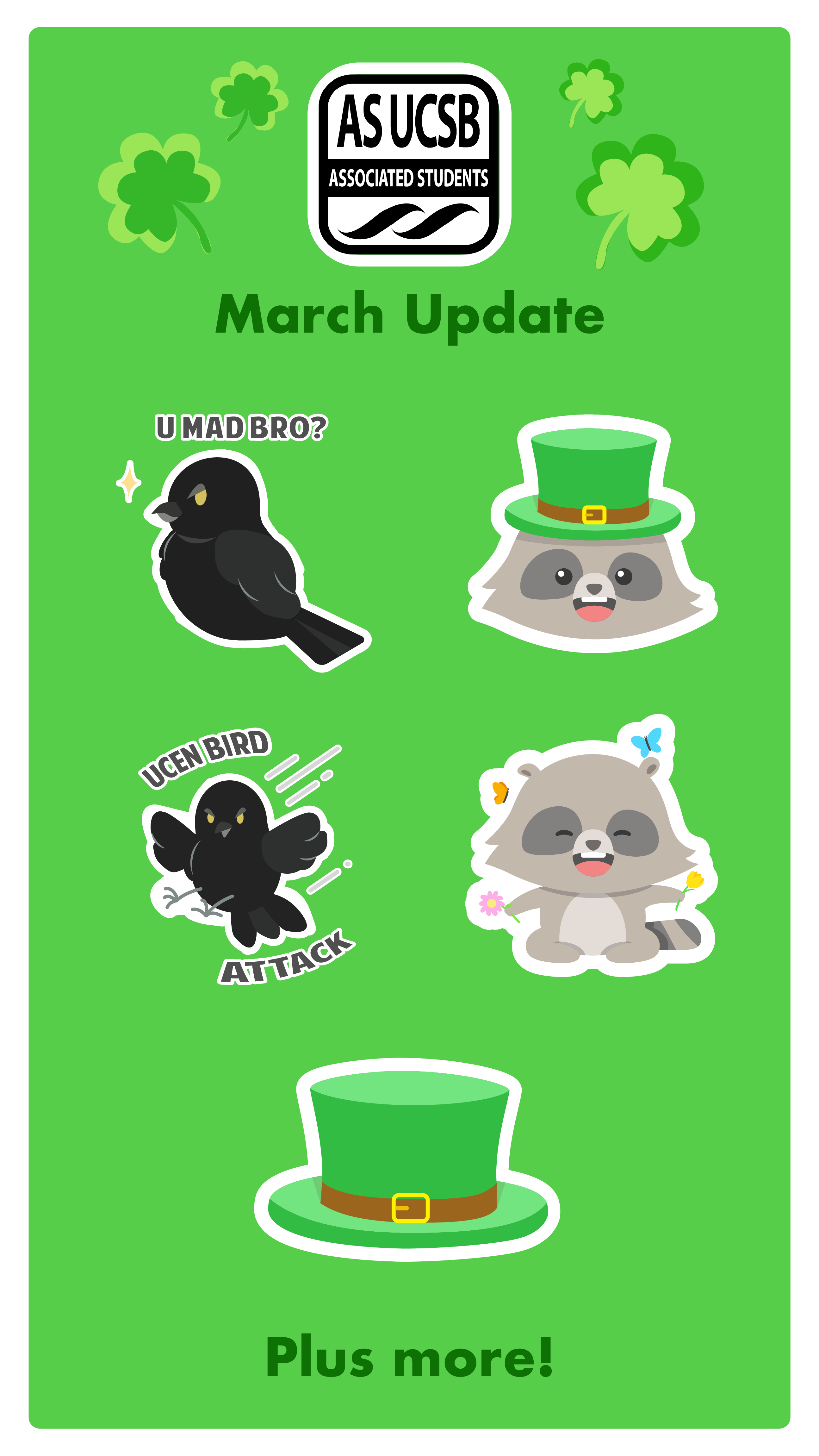 ---
2020 AS Spring Election
If you're reading this and you're a candidate: Please share this infographic & the Elections FB page in your chats with other candidates. This page is our main form of communication to the student body. A Facebook account is not required to view our posts.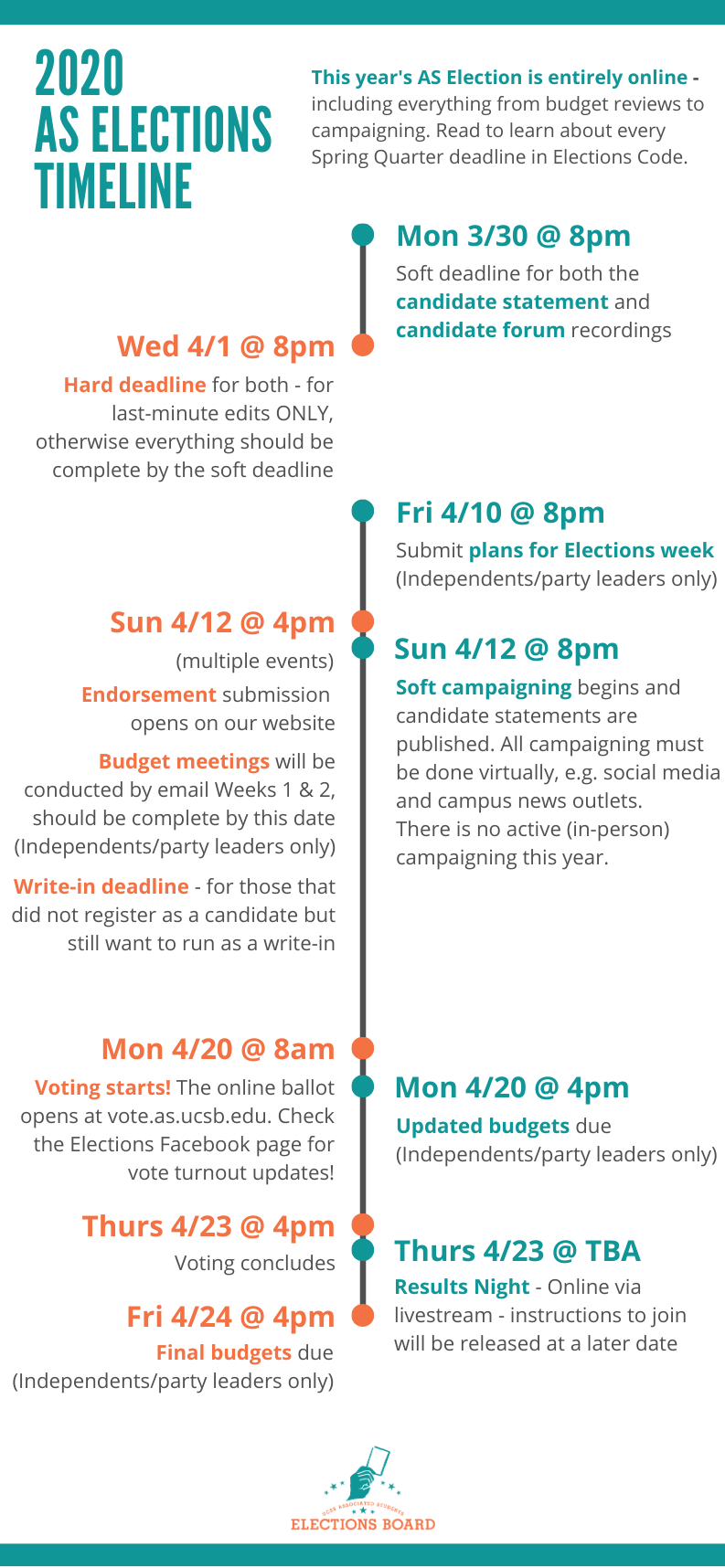 ---
Congratulations to all those finding out they have been accepted to UC Santa Barbara! Welcome, Class of 2024, to the Gaucho family. #FutureGaucho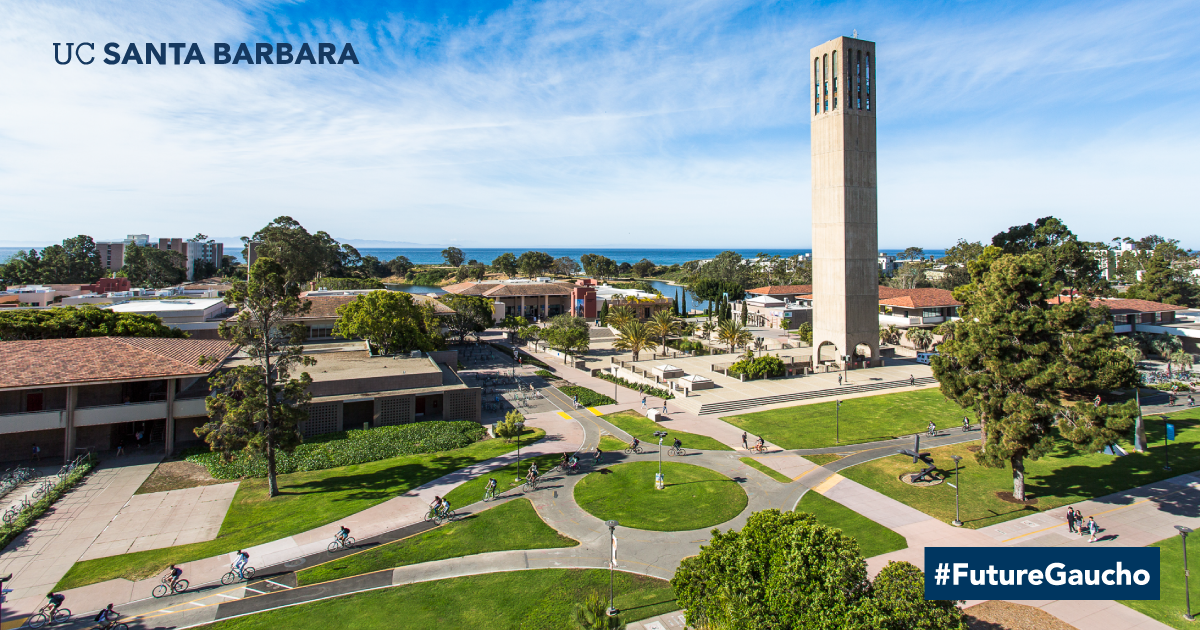 ---
Emergency Funding Application
https://docs.google.com/forms/d/e/1FAIpQLSdQ9Qq5uclcuej1fcm9qj5nN-9Xpcb0chETLrhrUs9W42YBKQ/viewform
---
Isabella Liu (AS Human Rights Board) created this mental health resource guide in hopes that it is helpful. Breathe.
---
Get to know AS Staff. Once a week, in alpha order, we'll intro you to an AS staff member. This week, meet Marisela Márquez – Executive Director
What can she do for students? She is responsible for the fiscal management of the department, all staff personnel and legal matters. She advises all elected student executive officers and senate, as well as all entities, and units within the department. She oversees the enforcement of all Associated Students, and Regental policies and procedures as they pertain to this department and non profit agency.
What other duties does she have? She serves as an advocate of Associated Students interests and concerns. For example, she provides students with information and on career development in either Student Affairs or Academic Departments. She serves on various campus -wide projects, such as serving as the facilitator for town halls. She sits on the Campus Community Council, on various campus wide search committees, and task forces as assigned by the Vice Chancellor for Student Affairs and/or the AS President
Where is her desk? UCEN 2537
When is a good time to drop in? When not "sheltering in place" Office hours are on Fridays 3-5 pm and by appointment.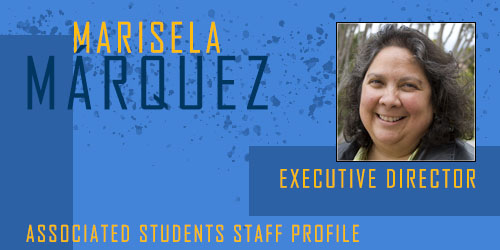 ---
Instagram