Facebook
Weekly General Body Meeting
February 21 7pm
Women's Center Conference Room (1st floor of the SRB)
Join Take Back the Night during our weekly general body meeting to hear about what we're planning and contribute your own ideas!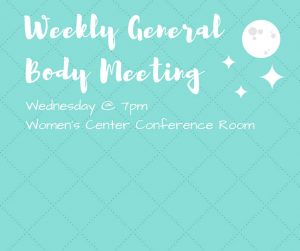 ---
Next up in the Workshop Wednesday Series: Photojournalism with UCSB staff photographer Eric Isaacs, February 14, 3 to 4 p.m. at the AS Annex, Building 434, Rm 141H right by the Storke Tower bike circle. Students and staff welcome. Spread the word and bring friends!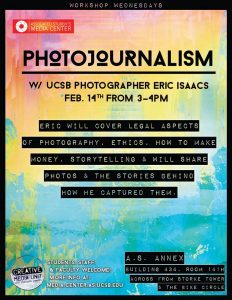 ---
TODAY @ 12pm w/ A.S. Journalism Advisor Leah Bartos:
Learn best practices for journalists reporting on sexual assault and sexual harassment. We are in a watershed moment of accountability journalism surrounding the #metoo movement, and the stakes for getting the story right couldn't be higher. We'll share tips on how to report impactful, accurate and fair stories on the trickiest of topics.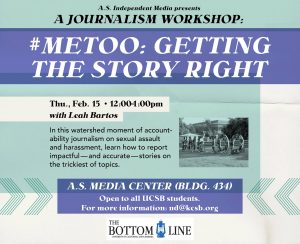 ---
Twitter
Learn storytelling w/sound: a must-go for anyone interested in radio, podcasting, or video reporting — TODAY w/@Lisa_FM cc: @KCSBNews
TODAY at noon: Learn how to find original story ideas, identify sources and get people to talk to you — plus how to tell a great story.
#METOO
JOURNALISM WORKSHOP: Learn best practices for reporting impactful — and accurate — stories on the trickiest of topics. TODAY-12pm @tblucsb @dailynexus @KCSB @KCSBNews
Instagram

Linked In
Let's welcome new staff members! Alexandra Meallet and Edgar de la Cruz are now working part time supporting UCIV and administrative work in the Pardall Center.