Get to know our A.S. Entities! The Bottom Line provides an independent printed and online space for journalism that engages UCSB and the community. Their mission is to provide reliable reporting, offer an outlet for student voices, and serve as a primary training ground for aspiring student journalists, writers, photographers, artists, and videographers. https://thebottomline.as.ucsb.edu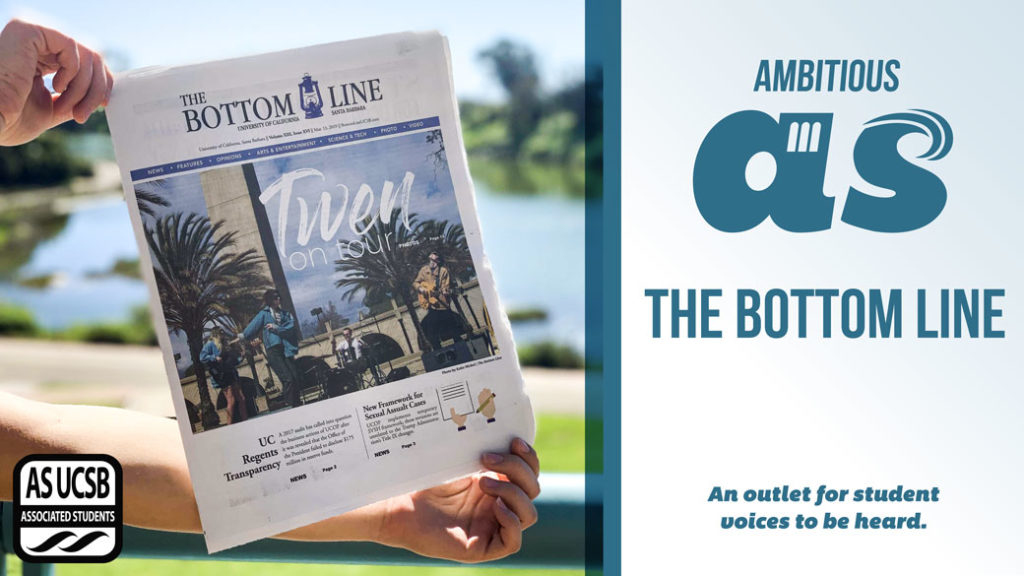 ---
---
Day 1 Voter Turnout Update
The voter turnout requirement for undergrads is 20%. Please continue sharing
vote.as.ucsb.edu
with your friends so we can hit the threshold on time!
Note: Percentages are currently estimates because we are waiting on the census update with the number of registered students this quarter. The update should arrive soon.
---
Elections day 2: it's your turn to vote!
Here are some glimpses of pre-covid AS
---
Happy Week 4 Gauchos! Stressed about the future? This week on
#MentalHealthMonday
, we cover post-grad/career stress, and what on-campus resources UCSB has to support students
---
Looking for a paid internship in Student Affairs for 2021-2022?
Stephen S. Goodspeed Internship, Office of the Vice Chancellor for Student Affairs
Through this position, the Goodspeed Intern will:
Gain leadership and networking skills while working with Student Affairs professionals
Represent student interests on campus committees with students, staff and faculty
Plan and emcee the annual Student Affairs Student Staff Appreciation Dinner
Serve as co-chair of the Margaret T. Getman and William J. Villa Service to Students Awards Committee
Undertake self-initiated projects
Completed applications (which include two recommendation forms) are due Monday, April 3rd, at 5pm. For more information please contact Liseth Santos at liseth@ucsb.edu.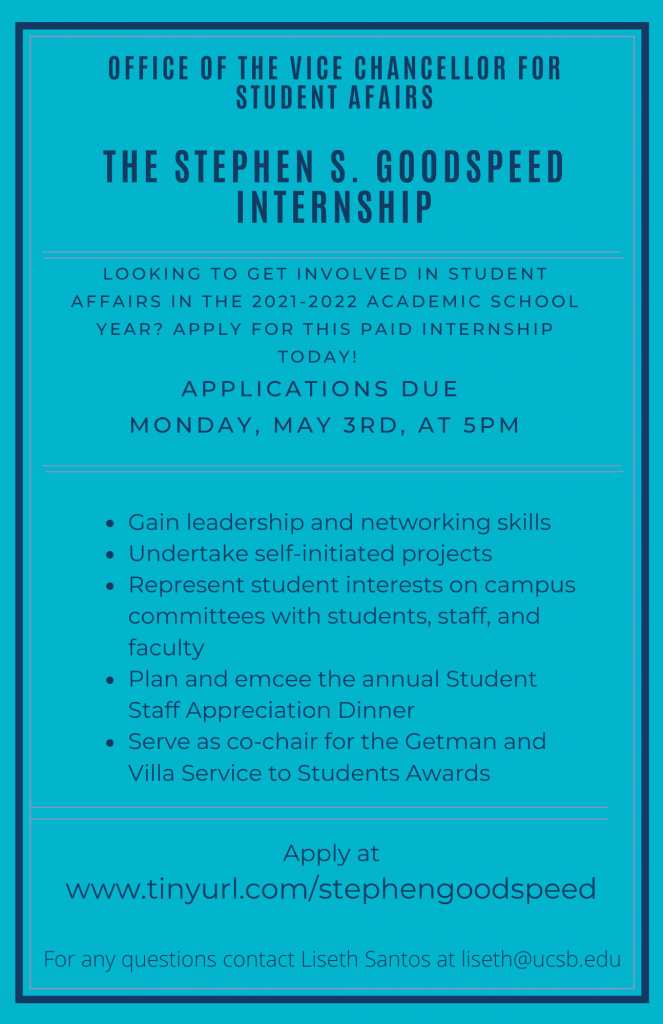 ---
---
The AS Media Center Workshop Wednesdays has begun! First up is WordPress Overview with JudyAnn Dutcher, April 21, 3 to 4 p.m., Zoom link: http://bit.ly/asworkshopwed-wordpress . Come learn WordPress tips and tricks for making your website great. This workshop will include discussion of digital image resources and copyright considerations. Students, staff, and faculty are encouraged to attend. Check out the Media Center website for more info and the Learning Center tab that's your gateway to a whole host of online media skills building resources: https://mediacenter.as.ucsb.edu.
---
Time to vote in the AS elections! We need a 20% turnout by Thursday at 4 pm. https://vote.as.ucsb.edu/
---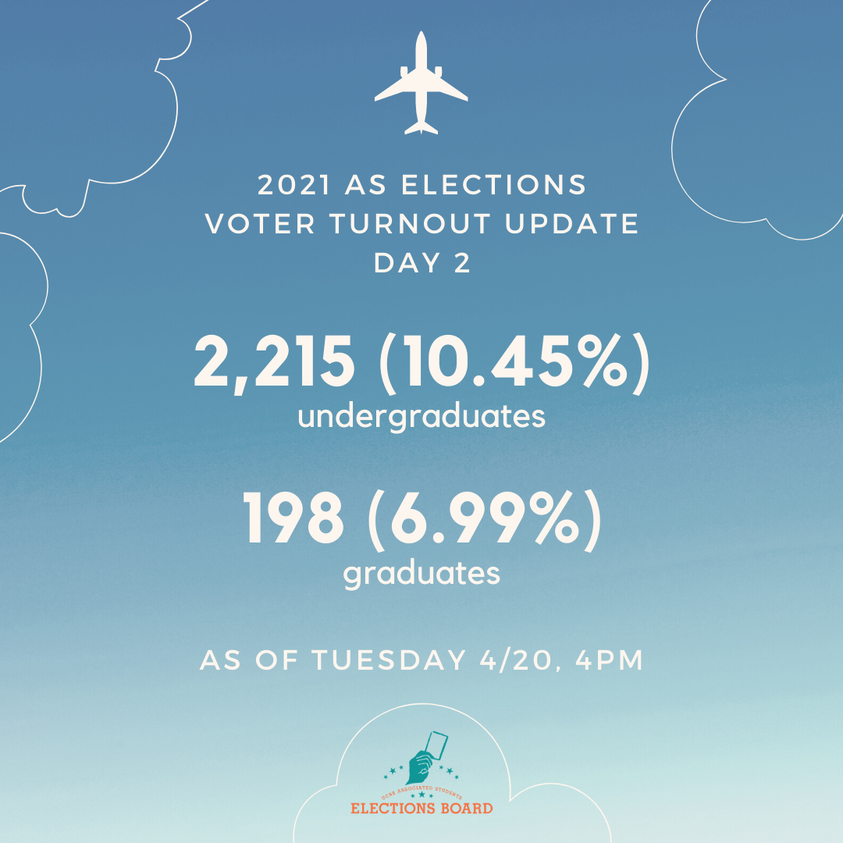 ---
Voting closes at 4pm, have you voted? https://vote.as.ucsb.edu/
---
Join us this Earth Day (4/22) at 7 PM (PST) on our IG live (@/asprogramboard) for a FREE virtual Storke show with Happy Medium!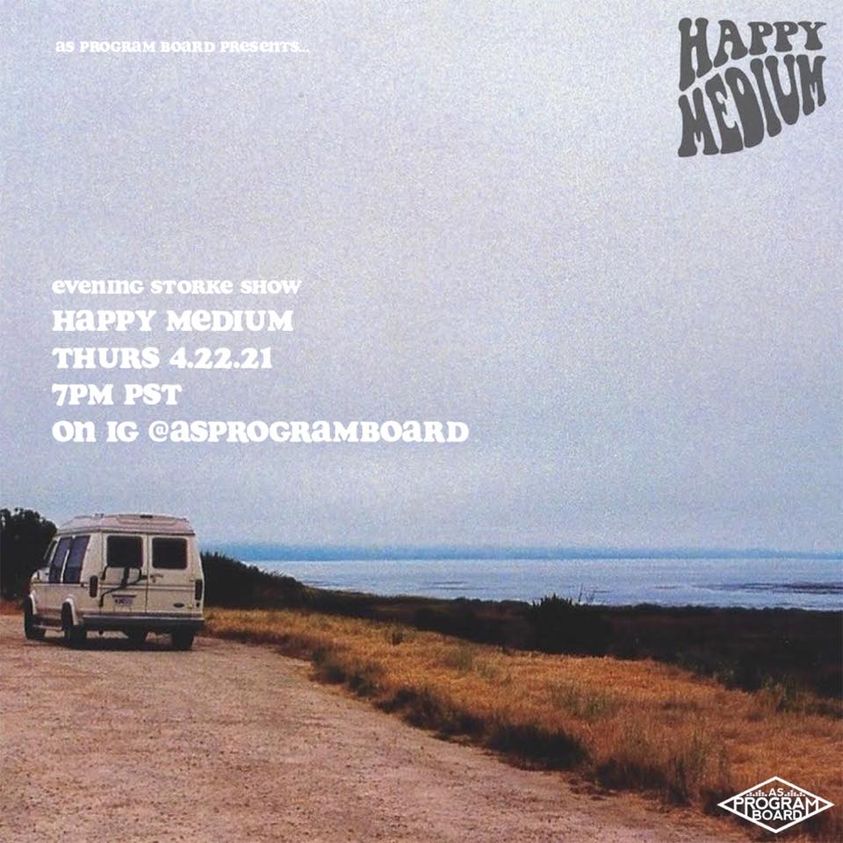 ---
The AS Elections Board would like to invite everyone to tonight's live results show. The webinar will start at 8pm TODAY, Thursday 4/23.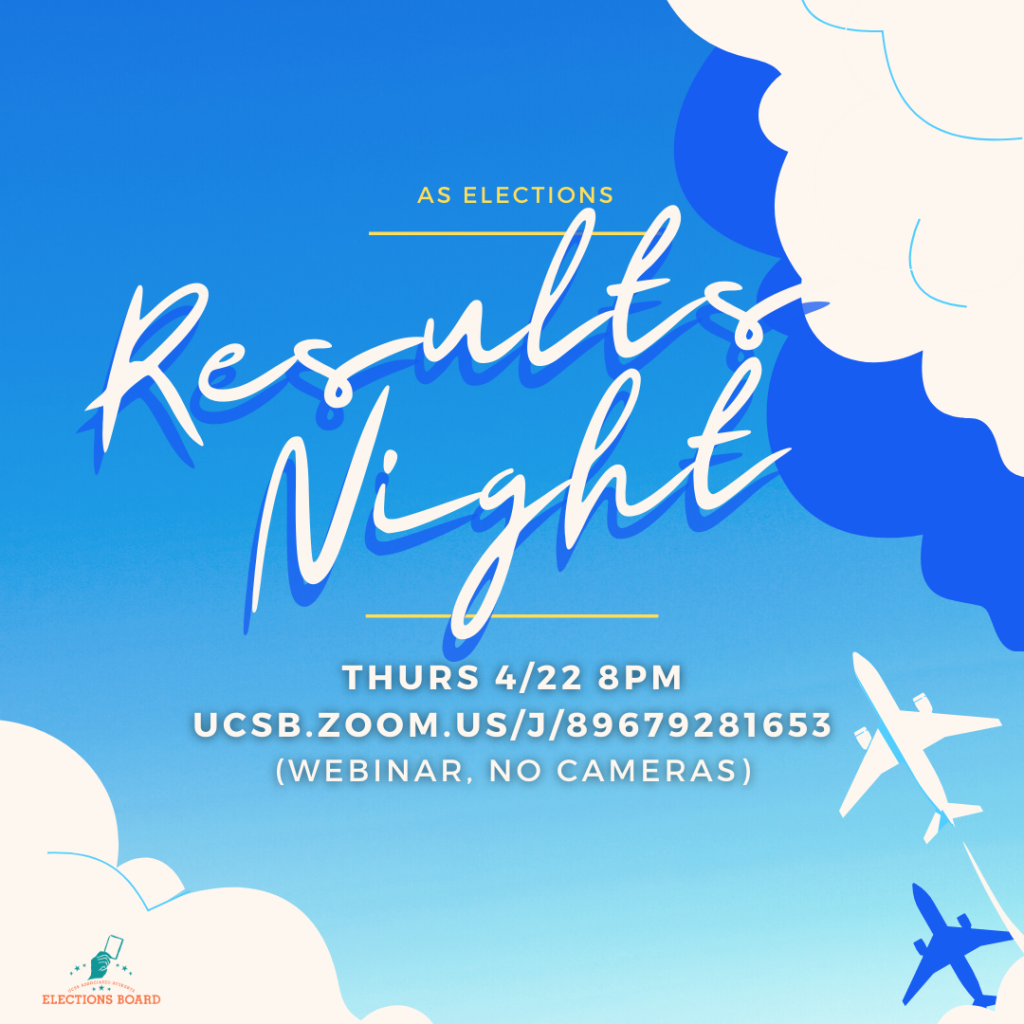 ---
Spring 2021 General Election Final Voter Turnout:
Undergrad – 5122 (24.16%)
Grad – 702 (24.78%)
---
Did you know that IV Arts is part of AS? IV Arts is seeking new board members.
IV Arts co-sponsors weekly arts programming, such as Magic Lantern Films, IV LIVE and IMPROVABILITY as well as on-going projects like Shakespeare in the Park, WORD: Isla Vista Arts & Culture Magazine, Nuestra Voz, and The Box.
The pdf flyer details the positions and their descriptions, as well as the link to apply and next meeting's Zoom link. The deadline to apply is MONDAY, APRIL 26 at MIDNIGHT