A.S. Elections Board
April 5, 2021
There's less than a week before campaigning begins!!
Want to join in on the fun? You can still declare as a write-in before Sunday, April 11 at 4pm.
Definition: A write-in is an individual whose name does not appear on the ballot, but for whom voters may vote for by writing in the person's name.
If you're interested, email elections@as.ucsb.edu for registration.
---
Get to know our A.S. Entities! The Commission on Student Well Being (COSWB) is committed to the general well being of UCSB undergraduates, with a particular emphasis on physical, nutritional, and mental well-being. Its purpose is to increase awareness, educate, advocate, and serve as a reference point for student social services.
https://www.facebook.com/COSWB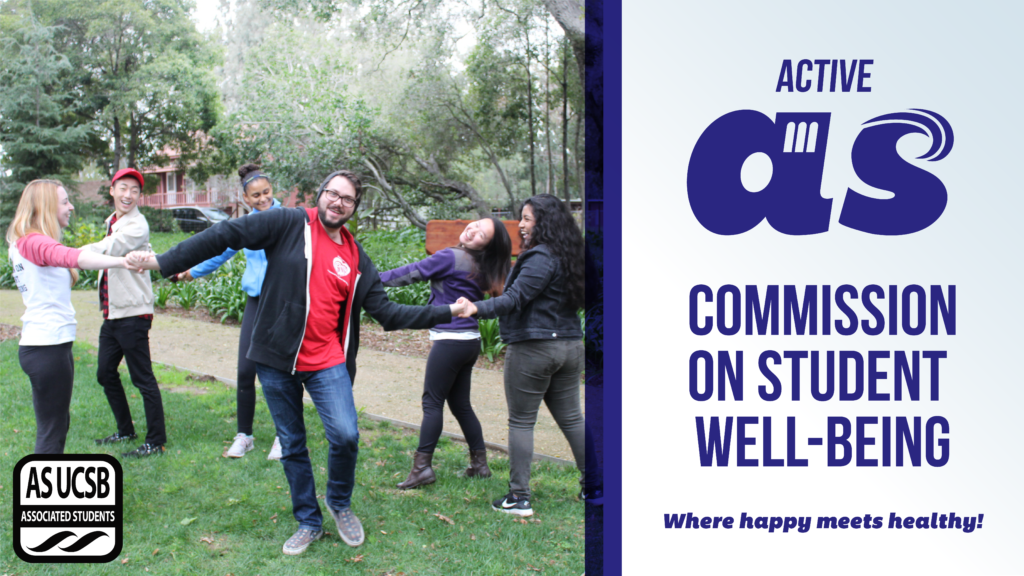 ---
UCSB PRIDE is proud to present UCSB's 2021 Virtual Pride Week: PRIDE INSIDE
We have a whole week of events lined up including several special guests that will be announced throughout the week! Check out the following schedule of events and navigate to this linktree to find all the Zoom registration links!
linktr.ee/ucsbpride
Stay tuned to our Facebook and Instagram pages (@ucsbtqc & @prideucsb) for updates and special guest announcements!
MONDAY:
– Kink Outside Cisnormativity, 5pm
– International Karaoke Night, 7pm
TUESDAY:
– Healing Community: Spiritual Self Care, 6pm
WEDNESDAY:
– Makeup Masterclass featuring a special guest, 2pm – TBA soon!
– Feminist Front with UCSB's RCSGD, 5pm
THURSDAY:
– Bingo Night featuring a special guest, 7pm!
FRIDAY:
– UCSB PRIDE Student Drag Show featuring special guests, 7pm!
ALL WEEK LONG you can view our FREE virtual art showcase titled "Queering Art" featuring local LGBTQ+ artists! See the linktree above for access.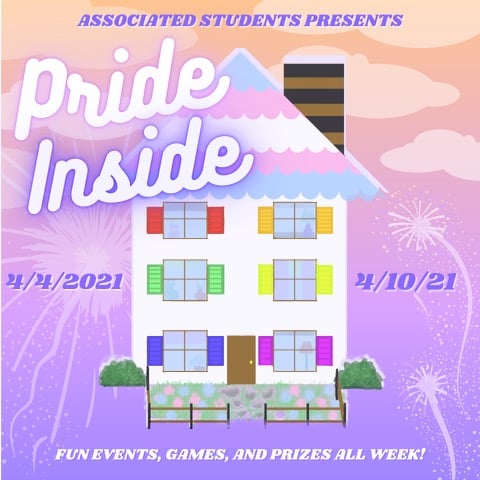 ---
Happy Week 2 Gauchos! Substance abuse is a pervasive issue on college campuses. In this week's segment of Mental Health Monday, we focus on what resources UCSB has to offer on aiding students in their path to recovery and also for advocacy.
---
Free Tuesday Film: Twilight
AS Program Board Presents… a FREE screening of Twilight on Tuesday 4/6 at 7 PM (PST).
Join AS Program Board this Tuesday for our first virtual FREE TUESDAY FILM. We'll be watching the first film in the wildly popular Twilight saga.
Stream on your own, with your housemates, or join the fun on Twitter, where we'll be livetweeting the stream on our account (@asprogramboard).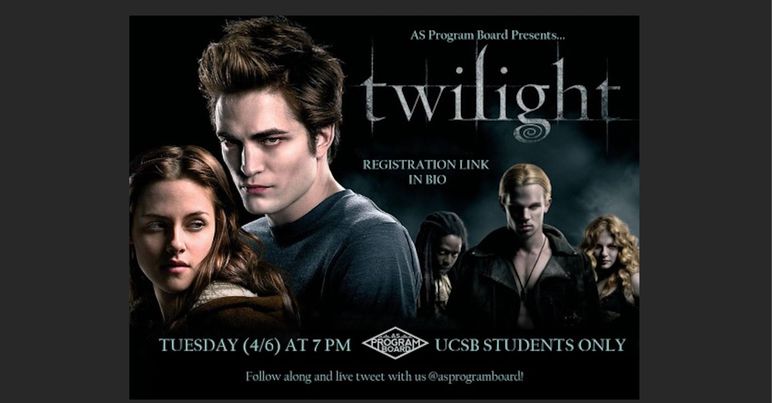 ---
Get to know our A.S. Entities! The Commission for Marginalized Genders (previously known as Womxn's Commission) is committed to representing and improving the status of women, non-binary, and trans* folks on campus and in the community.
https://www.facebook.com/UCSBCMG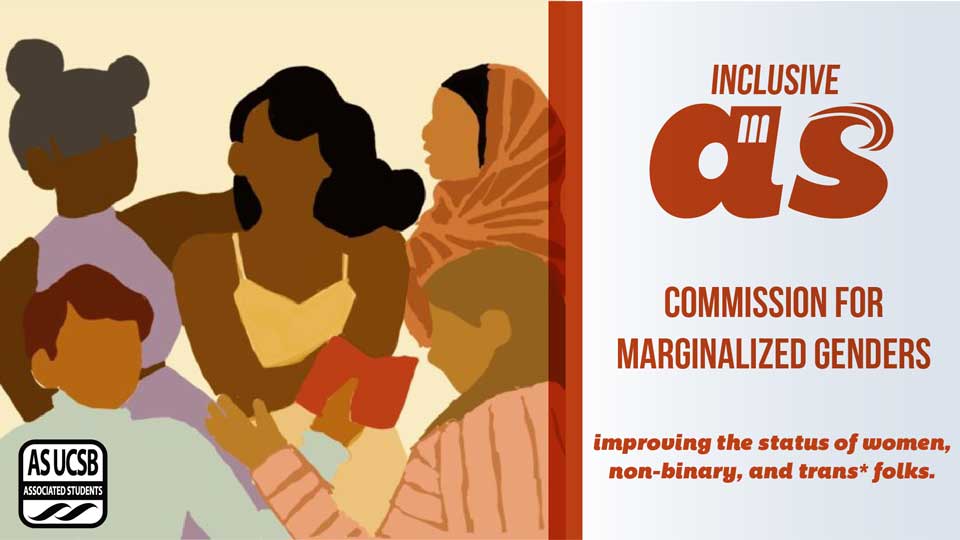 ---
Join us Wednesday, April 7th at 6 PM for KCSB's Spring 2021 virtual orientation to learn how you can get involved (remotely) in creating independent, community radio!
If you're interested in having your own music radio show, news/public affairs show, cultural arts show, or if you want to get involved with KCSB News, KCSB Sports, or even our Zine, RSVP on the event page to receive the Zoom link tfor this quarterly orientation here:
We hope to see you there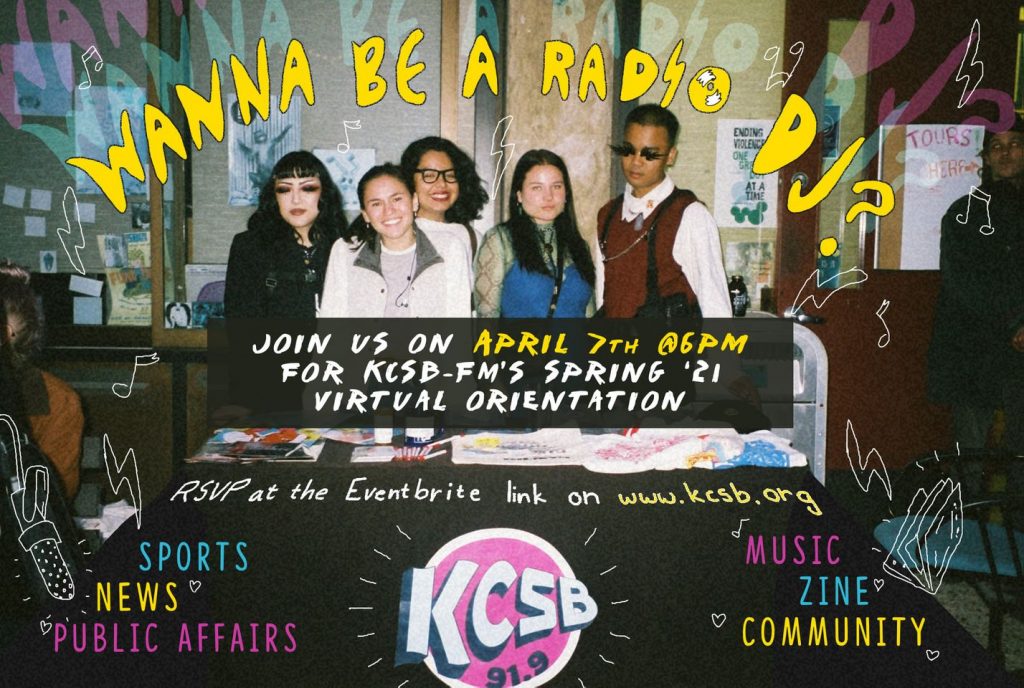 ---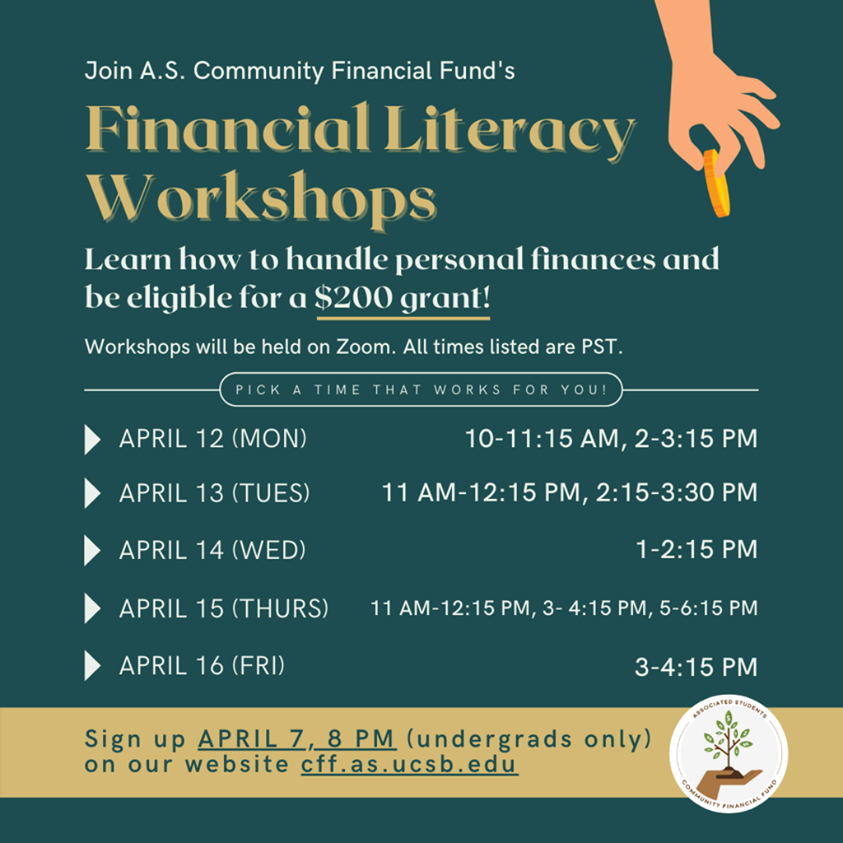 ---
Get to know our A.S. Entities! Community Affairs Board is dedicated to enhancing the educational experience of all UCSB Students by providing information and easy access to community service work. Through a wide range of projects and community programs, CAB seeks to augment classroom experiences, create opportunities for career exploration, connect UCSB to the community in a meaningful way, and promote the ethics of public service. https://cab.as.ucsb.edu/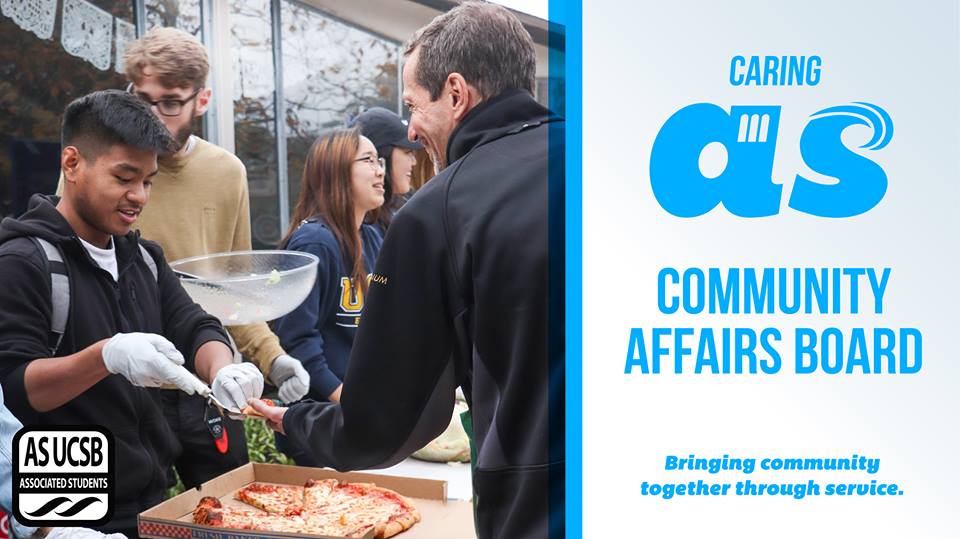 ---
The Bottom Line is printing a special edition issue for the 2020-2021 academic year. Inside this issue, you will find the highlights from this year's publication as well as fun activities like coloring pages and puzzles. Each preordered copy includes a special TBL sticker designed by last year's design contest winner! Available only for UCSB students.
This issue will be shipped out to students who are unable to pick up a copy in our distribution spots around IV. Don't miss the chance to order them before they're gone!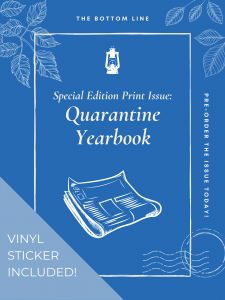 ---
Get to know our A.S. Entities! Community Financial Fund promotes financial literacy awareness and educates students on various personal finance topics. Their mission is to prepare students for a lifetime of financial wellbeing, and those basics start in college. https://cff.as.ucsb.edu/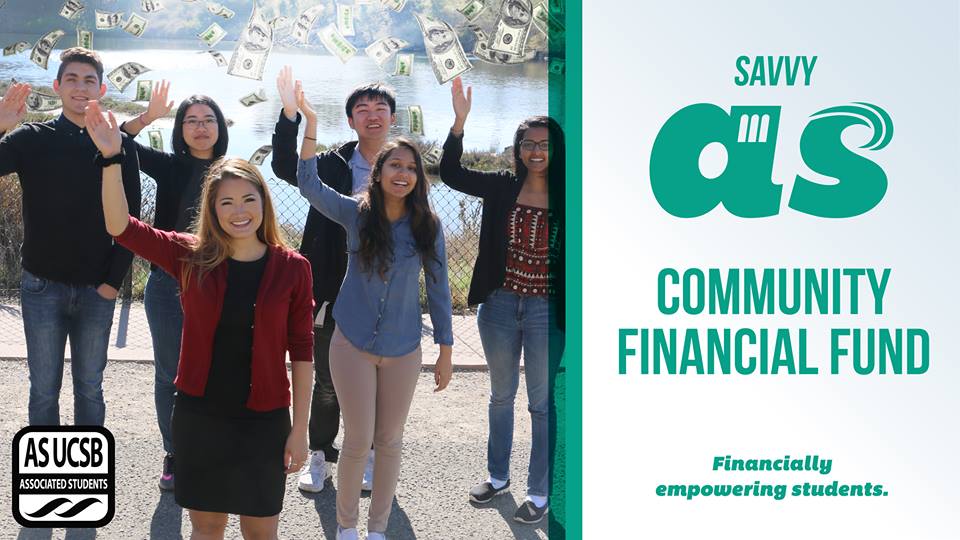 ---
Get to know our A.S. Entities! The Environmental Affairs Board was established to protect, preserve and enhance the environment at UCSB and its surrounding communities. https://eab.as.ucsb.edu/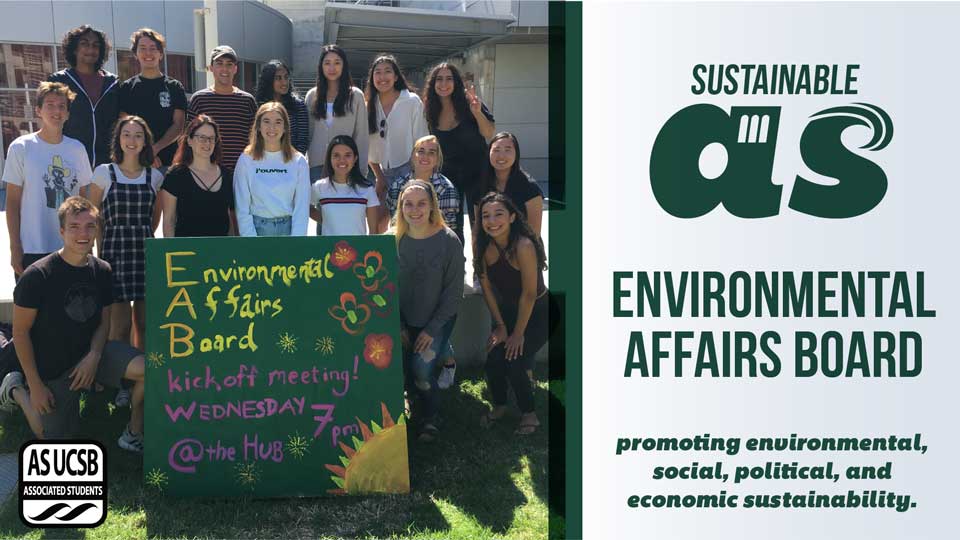 ---
UCSB Student Drag Show feat. PLASTIQUE TIARA & ROXXXY ANDREWS
UCSB PRIDE is proud to continue our long-standing tradition of Spring student drag shows by presenting our 2021 virtual drag show! Join us Friday night on Zoom for LIVE performances starring student drag queens as well as RuPaul's Drag Race royalty, Plastique Tiara and Roxxxy Andrews! Our show will also feature performances from our hosts and UCSB legends, Maddy Mokes and Vivian Storm!
Come by starting at 7pm to see performances from all of our queens and come with some questions ready for Q&A with Plastique and Roxxxy!
This event is FREE and open to ALL UCSB STUDENTS. Registration for this and all PRIDE events can be found here:
linktr.ee/ucsbpride
Check out our hosts and special guests on their social media here:
-Maddy Mokes IG: @maddymokes
-Vivian Storm IG: @vivianstorm001
-Plastique Tiara IG: @plastiquetiara
-Roxxxy Andrews IG: @roxxxyandrews