TONIGHT at 7:30PM several members of our community are hosting a candlelight vigil honoring George Floyd and every other black life lost to police brutality in the US. If you are in Isla Vista, please join us 🖤
---
Masks are now available at the Pardall Center Mondays & Tuesdays 11am-1pm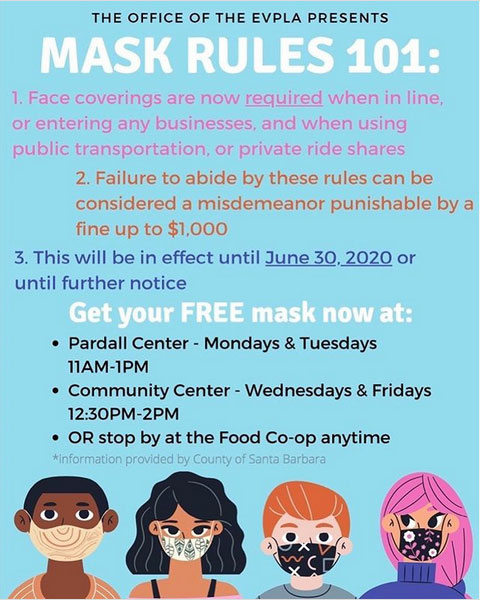 ---
Want to know what IVTU can offer you? Find out at ivtu.as.ucsb.edu!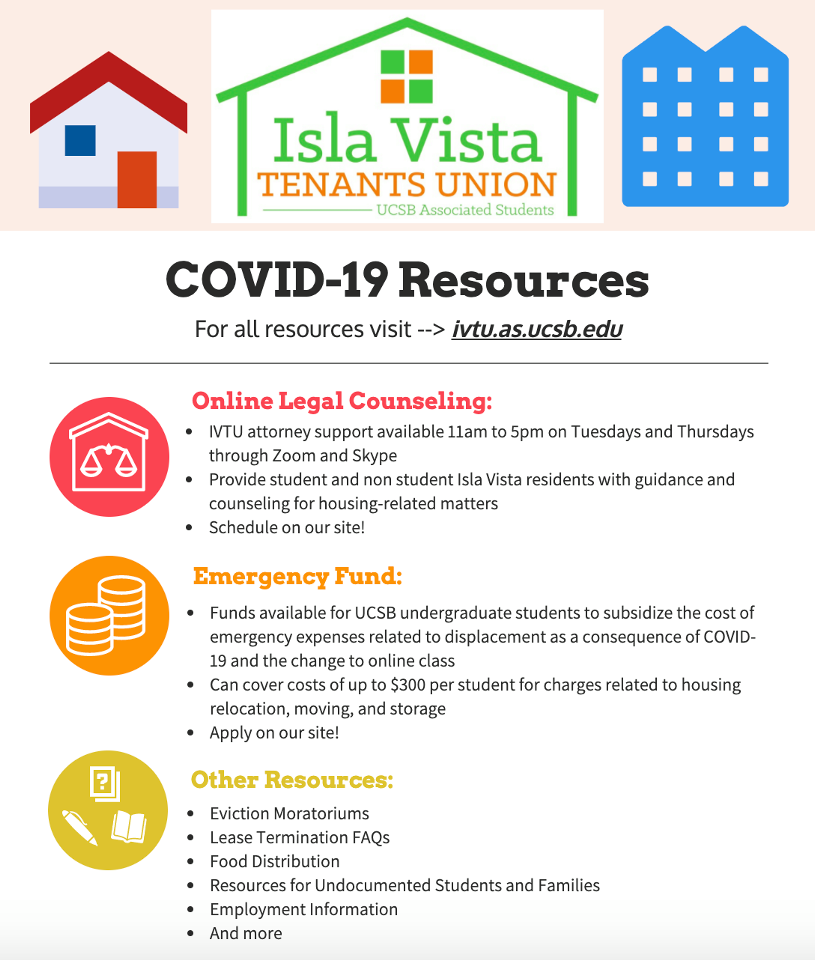 ---
CAB aims to uplift communities and lend support and a voice to those who are too many times unheard. The injustices and violence that members of the Black community constantly face deserve to be heard. It would be wrong to turn a blind eye to the painful reality of systemic racism. We must stand in solidarity as allies with the Black community and support them in any way we can. We must be compassionate and empathetic, keeping an open ear to the current dialogue about the oppression and racial violence that Black men and women must endure. We must also participate in actively supporting the Black community and reaffirming the demand and truth that Black lives matter. Attend protests, sign petitions, donate to organizations that support the fight for justice, post on social media to raise awareness, engage in difficult conversations with people in our lives about racial issues to facilitate the process of learning and unlearning. The ways for substantive activism are endless. We cannot afford to be complacent about this. We extend our open arms and love to anybody who has been affected and as always, we will continue our commitment to values of volunteerism and community.
---
The MultiCultural Center is sharing on behalf of the Center for Black Studies Research who are presenting:
STATE VIOLENCE, ANTI-BLACKNESS AND THE BLACK STUDENT EXPERIENCE
FRIDAY, JUNE 12
12:00-2:00 PM
Registration required: tiny.cc/tuhjqz
The goal of this Black student-centered town hall is provide a space to discuss and analyze the ongoing persistence of Black genocide and how it shapes student experiences.
Moderated by Dr. Sharon Tettegah and Dr. Victor Rios with over 20 UCSB panelists, faculty, and postdoctoral supporters. Sponsored in collaboration with the Center for Black Studies Research, the Department of Black Studies, the Division of Social Sciences, Office of the Chancellor, Office of Research, Office of the Vice Chancellor for Administration Services, Office of the Vice Chancellor for Student Affairs, and Equal Opportunity & Discrimination Prevention Office. Facilitated by Bryana H. French, Ph.D., L.P., Associate Professor, University of St. Thomas in Minneapolis, Valene A. Whitaker, Ph.D., and Carlton E. Green, Ph.D.
#ucsbmcc #socialjustice #activism #ucsantabarbara #gauchos #resistance #empower #empowerment #uplift #education #solidarity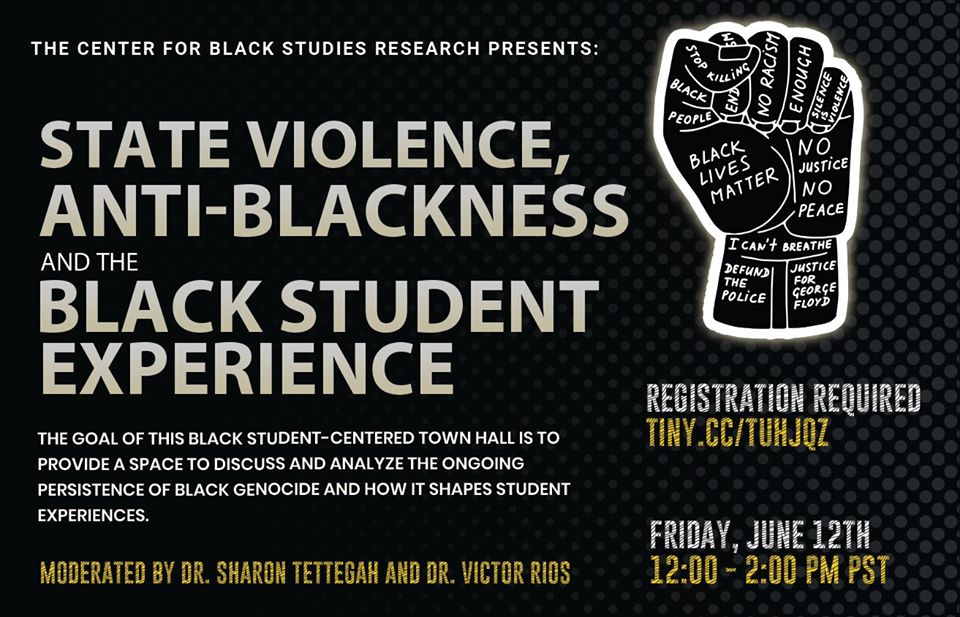 ---
Get to know AS Staff. Once a week, in alpha order, we'll intro you to an AS staff member. This week, meet Kathleen Versola – Assistant Publications Coordinator
What can she do for students? Take care of all their printing and bindery needs.
What other duties does she have? She's in charge of Maintenance for 6 buildings and taking care of all Department Furniture needs.
Where is her desk? AS Pubs office UCen 1531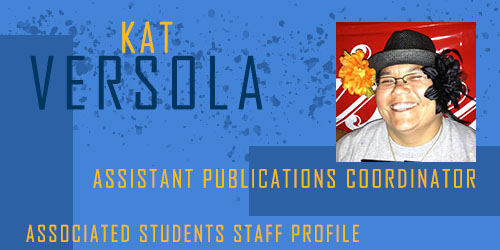 ---
Congratulations to the Class of 2020!
"The beautiful thing about learning is that no one can take it away from you." – B.B. King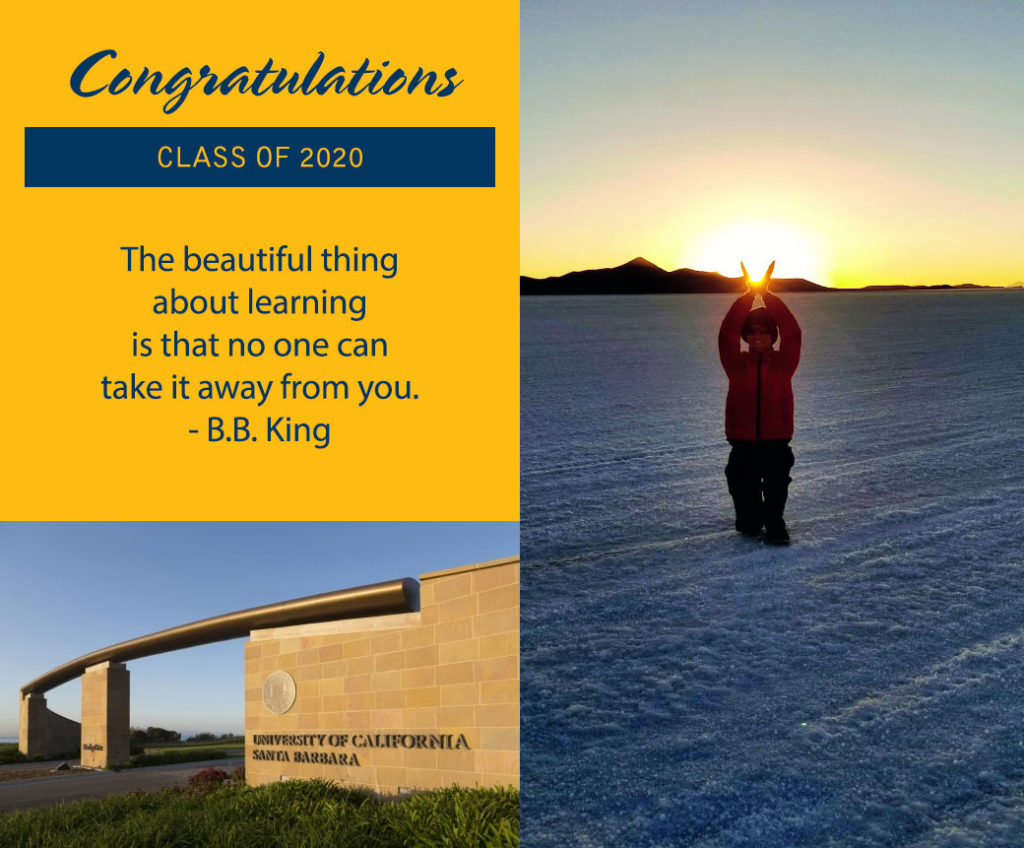 ---
UCSB students, faculty, and staff are encouraged to submit their own images, creative writing, social media posts, blog entries, video and audio files, etc., documenting their personal experiences during this life-altering global event.
UCSB Library Special Research Collections is building a digital community archives collection comprised entirely of user-generated content related to the COVID-19 pandemic. UCSB students, faculty, and staff are…
instagram.com/p/CA_sT8yFsQV/
---
---
On Sunday, June 7, 2020, hundreds of members of the Isla Vista community gathered together at Sea Lookout Park for a vigil in remembrance of all those who have lost their lives to police brutality. The Black organizers handed out candles, or attendees brought their own, and the group was led on a silent, candlelight walk around Isla Vista. This was a space to remember and honor those lives that were lost, including George Floyd, Breonna Taylor, Tony McDade, Ahmaud Arbery and countless other Black lives. Once the group returned to the park, the rest of the night was spent lending ears to the speakers. Black students and community members shared their stories of grief, pain and frustration as the group listened intently. Some shared their personal interactions with law enforcement, some expressed how tired they were and others gave advice on how non-Black allies can be genuinely helpful. As the night came to a close, folks were invited to place their candles, flowers and signs at the memorial and write notes of solidarity.