Sticker Pack June Update!
– The UCEN bird misses you!
– Minecraft Mapache
– Father's Day
As always, feedback is welcome at: https://www.as.ucsb.edu/sticker-packs/
We've also got new videoconferencing virtual backdrops featuring all our characters! https://www.as.ucsb.edu/virtual-background-for-zoom/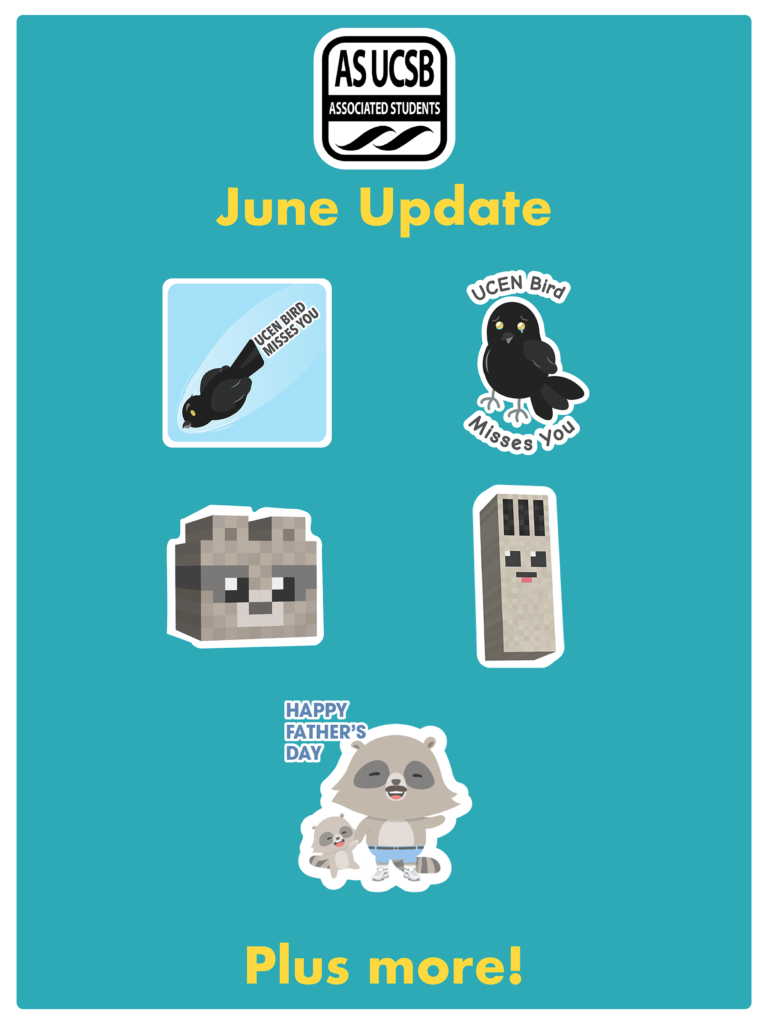 ---
UPDATE:
-Register before 12:00 on Monday, June 22: https://bit.ly/19-20ASAwards. You will not be admitted if you do not register.
-Students & staff: please register with your ucsb.edu email address.
-Guests are encouraged to attend, but will need to be verified if they don't have a ucsb.edu email.
The rescheduled AS Awards celebration will be
Monday, June 22 at 3:00 p.m. on Zoom
https://ucsb.zoom.us/s/97217792856
Graduated Seniors and all AS students are welcome!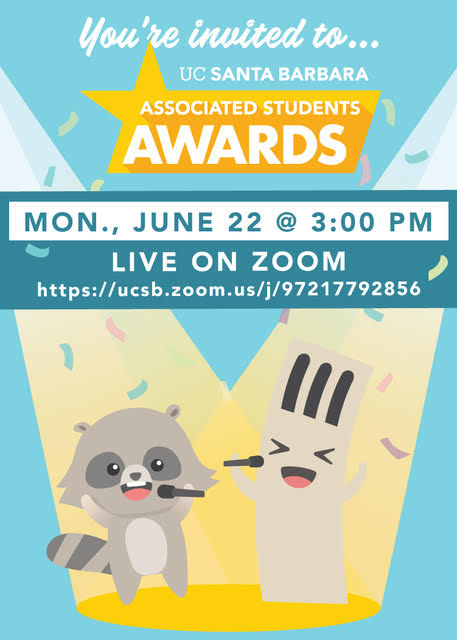 ---
UCSB Associated Students Office of the President
*Grant Deadline Extended*
UCSB Students: Please fill out this Google Form by Saturday, 6/20 at 12pm PST if you are a student in a financial crisis due to the pandemic. With this information, we can see how best to provide resources to you. The maximum funding provided at this time will be $300 per student.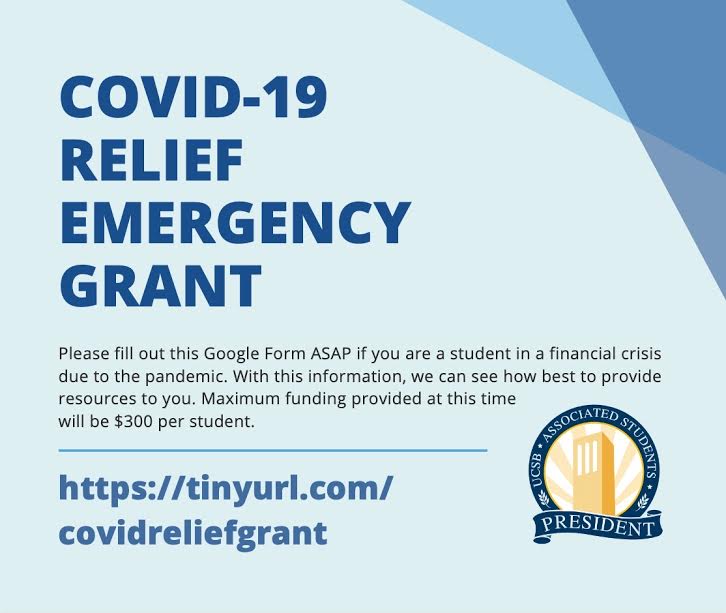 ---
Phishing alert!!! There are emails going around that are using the Associated Students name, working from home, and Covid relief funds as the hooks. Do not click on links or respond to these emails. If you get one of these emails, please send the original email to tech@as.ucsb.edu. To do that, log into gmail.com go to the message. Click the three little dots in the upper right of the message, select "Show Original" and send that text.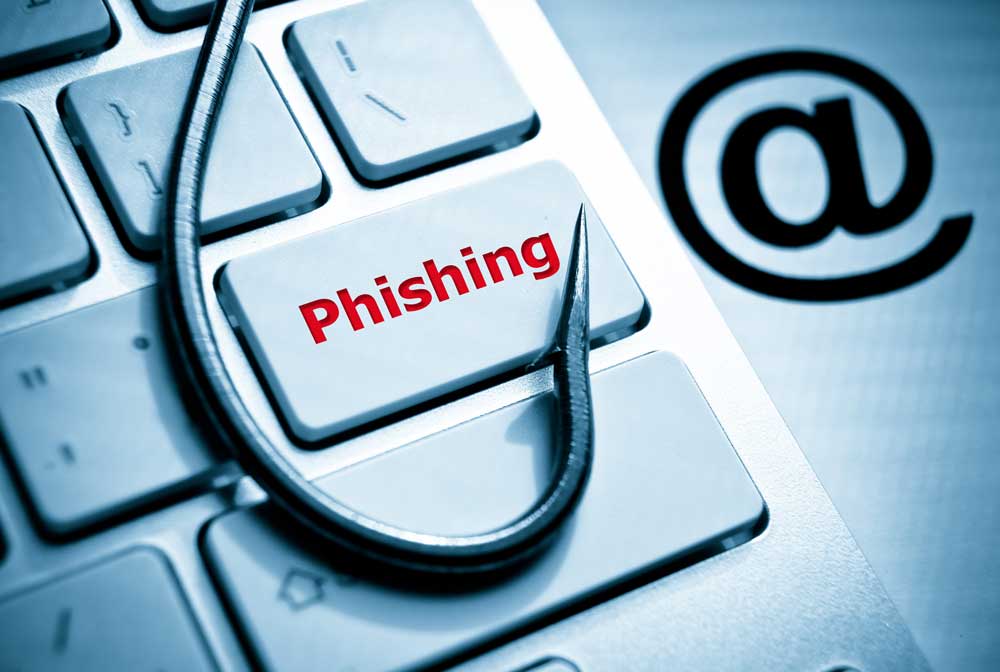 ---
Make sure you know your rights when you're protesting! Here are some tips on how to do that
*information provided by ACLU and the CDC
---
ICY GRL Takeover ft. Saweetie
Monday, June 22, 2020 at 7 PM – 8 PM
AS Program Board Presents… an ICY GRL takeover ft. Saweetie (LIVE with Q&A) on Monday June 22, 2020 at 7 PM PST.
________________________________________
Join AS Program Board this Monday night for an IG live Q&A session + set with the ultimate ICY GRL, Saweetie!SEND IN YOUR QUESTION SUBMISSIONS HERE:
https://bit.ly/SaweetieQuestions
**Must be following @asprogramboard on IG to attend.**
We will be putting our account on private at 6pm on Monday so don't sleep, follow us now!–––––––––––––––––––––––––––––––––––
San Francisco Bay Area born rapper Diamonté Harper, better known as Saweetie, has quickly risen to the top of the music scene. With her 2017 debut single, "ICY GRL" going RIAA platinum and the music video currently sitting at over 100 million views, it's safe to say that Saweetie is not the one to be slept on.Garnering praise from Vibe Magazine, XXL Mag, and MTV UK as a 2018 artist to watch, the rapper, songwriter, actress, and designer started her career turning heads left and right. But, the USC grad was just heating up with "ICY GRL". Her 2019 single "My Type" also went double platinum, and the video skyrocketed to 88 million views in less than a year.A woman of many talents, Saweetie has collaborated with heavy hitters in the music industry such as Kehlani, City Girls, Jhené Aiko, Rich the Kid and G-Eazy, as well as fashion and beauty giants like Morphe and PrettyLittleThing. With the video for her latest single "Tap In" racking up a quarter of a million views in less than 24 hours, it's clear this "ICY GRL" shows no signs of cooling down.
MORE FROM SAWEETIE:
Twitter: https://bit.ly/SaweetieTwitter
Instagram: https://bit.ly/SaweetieInsta
Facebook: https://bit.ly/SaweetieFB
Soundcloud: https://bit.ly/SaweetieSoundcloud
Spotify: https://bit.ly/SaweetieSpotify
Youtube: https://bit.ly/SaweetieYT
–––––––––––––––––––––––––––––––––––
Associated Students Program Board is a student-operated non-profit organization funded by lock-in fees that coordinates fun and educational events for the UC Santa Barbara community. Appointed student board members gain hands-on experience in planning, booking, advertising, and running various events ranging from intimate open mics to 12,000 capacity festivals. Some of our more well-known events include Free Tuesday Films, Storke Shows, Delirium, The Warm Up and Extravaganza.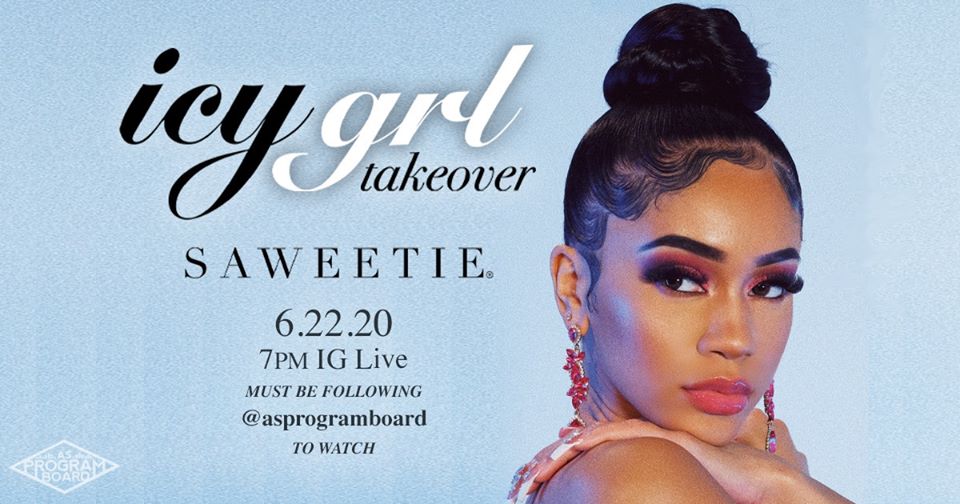 ---
On June 22, 2020 via Zoom, these groups and individuals were honored for their contribution to Associated Students. Congratulations to all!
To view the Individual Board Member Awards, visit https://www.as.ucsb.edu/awards-2019-2020/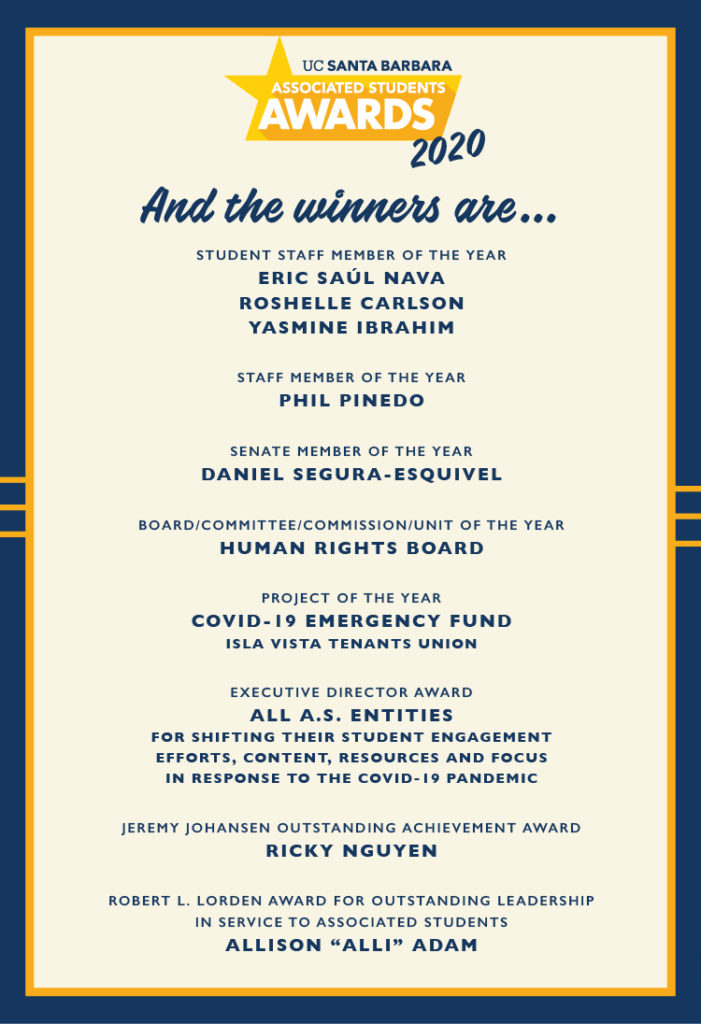 ---
The Media Center will be offering zoom workshops this summer! At https://mediacenter.as.ucsb.edu/ you can access more opportunities for building your media skills.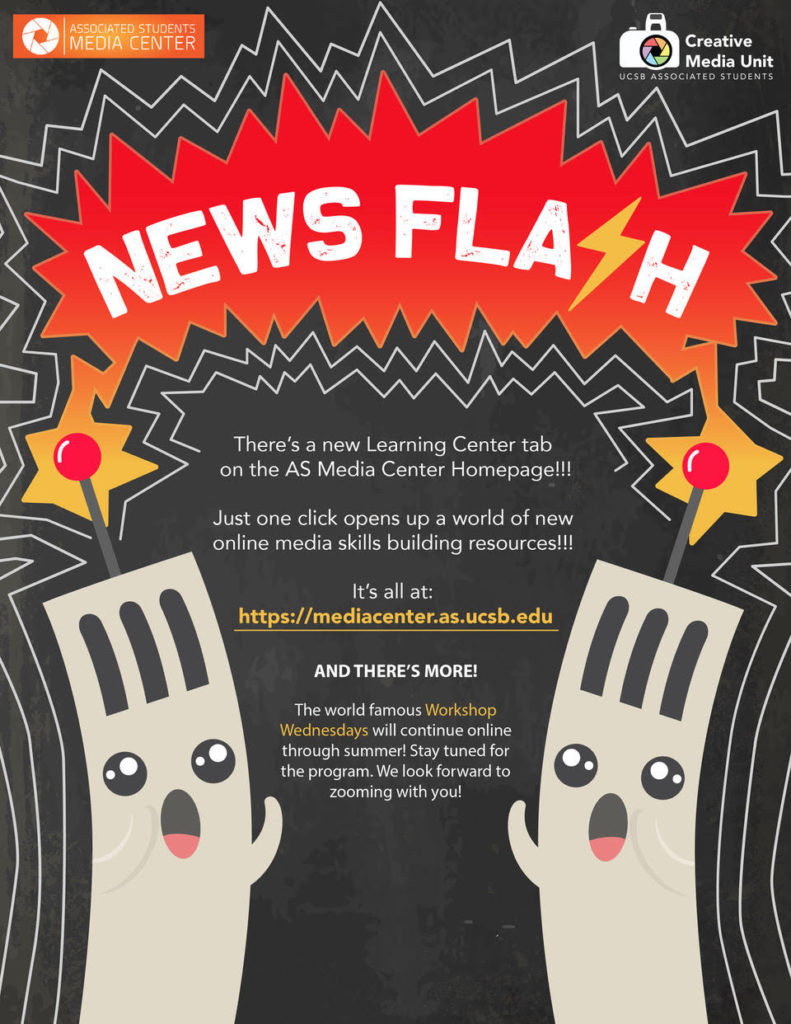 ---
Get to know AS Staff. Once a week, in alpha order, we'll intro you to an AS staff member. This week, meet Edwin Zepeda – Ticket Office Cashier Coordinator
What can he do for students?
– He assists the AS Ticket Office cashiers and student managers to perform their duties on campus for both the office and events on campus.
– Assists student orgs to create and launch events
– Provides information on services that Associated students can offer
Where is his desk? AS Ticket Office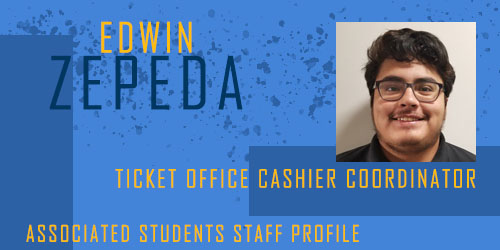 ---
#HappyPride
! – International Pride Month may be in June, but UCSB students typically organize it to be in April. Here are some images of Pride Week at UCSB throughout the years.