Facebook
Media MAYhem continues TONIGHT at UCSB Career Services:
CAREER CHAT: READY FOR RADIO?
Date: Monday, May 8
Time: 6 – 7:30pm
Location: Career Services, Room 1109
Join local radio stars for an overview of their career experiences in the broadcasting industry. We will address what strategies have been successful in the past, what strategies will be successful in the future, and what strategies will never change for a successful career in broadcasting.
For more info and full schedule: http://career.sa.ucsb.edu/mediamayhem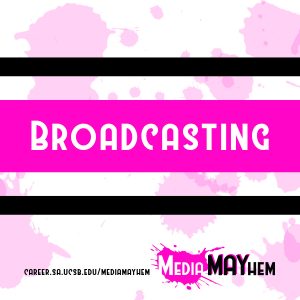 ---
Coastal Fund's Spring Minor Grant Deadline!
Spring is in full force, and so is our grant deadline! Now is the time to submit your Minor Grant Application to Coastal Fund. Our deadline is coming up soon, so make sure to submit in time!
Minor Application due date: May 19, 2017
Spring is the final funding cycle for the 2016-2017 academic year. Minor grant applications are intended for proposals seeking less than $1,000. To be eligible, a project must further the Coastal Fund mission, be overseen by a UCSB department or be part of a registered non-profit or government agency, and take place within the Santa Barbara area.
For more information on how to apply and about the funding process head on over to our website at https://coastalfund.as.ucsb.edu/funding or feel free to contact us at coastalfund@gmail.com with any questions.
---
Next in the Workshop Wednesday Series "How to Market Your Student Org. 3 to 4 p.m. in the AS Annex, Bldg. 434. Rm 141H right by the Storke Tower bus circle. Student and staff welcome. More info at: mediacenter.as.ucsb.edu.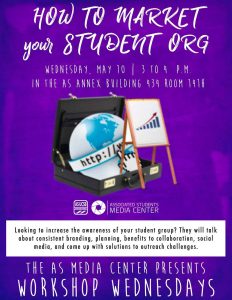 ---
Calling all print journalists!
Please join us for our series on media career talks, continuing this week with top editors from the world of print journalism. Thursday's event will feature Jennifer Sahn, Executive Editor of the Pacific Standard, a bimonthly magazine combining long-form narratives with research and investigative reporting, and Tyler Hayden, Senior Editor of the Independent, Santa Barbara's trusted weekly newspaper of record.
Thursday, May 11
6:00 – 7:30 pm
Career Services, Room 1109
TYLER HAYDEN, Independent, senior editor
JENNIFER SAHN, Pacific Standard, executive editor
For more info on the entire series: http://career.sa.ucsb.edu/mediamayhem

---
Week 6 UCSB TV Update!
---
Join UCSB Associated Students Bike Committee!! They are looking to appoint two positions for the next academic year 2017-2018: Admin Coordinator and Project Manager. Deadline for application is due on 5/17/17 at 4 PM.
The Associated Students Bike Committee is responsible for maintaining and implementing campus bike infrastructure such as bike lots, paths and intersections as well as for educating students on best practices regarding bike safety through events such as bike fairs, workshops, and tabling. We incorporate student feedback into our decision-making and collaborate with campus planners, architects, and other stakeholders.
If you are interested in applying for the Admin Coordinator position please go to this link: https://goo.gl/forms/SUQzQbbZ8k92dFfE3
If you are interested in applying for the Project Manager position please go to this link: https://goo.gl/forms/BxipgZymE6sFbyLH3
For any question, please email bikecommchair@gmail.com
---
Twitter
Interested in a radio career? Join us TONIGHT @UCSBcareer for a chat w/local radio stars @NEWSKCSB @TBLUCSB http://career.sa.ucsb.edu/mediamayhem
The nomination period for the Lorden award has been extended until Friday, May 12. Please get your nominations in! https://www.as.ucsb.edu/resources/awards …
Calling all #UCSB journos: @UCSBcareer talk TOMORROW w/editors @throwin_shadows @TylerHayden1 deets: http://career.sa.ucsb.edu/mediamayhem
With the recent fee increase, the Legal Resource Center will stay open five days and will hire a second attorney. https://thebottomline.as.ucsb.edu/2017/05/a-great-unknown-the-ucsb-legal-resource-center
retweeted @COSWB Stressed about midterms?? Don't forget we have our FREE Yoga class on Fridays from 2-3pm in San Cat Linda Vista Room!!
---
Other
Linked In: Coraline Vercruysse has accepted the position of Human Resources and Payroll Analyst. Coraline has a BA in Human Resources from the University of South Brittany in Vannes France along in addition of an Associate Degree in Business Management and studies in English Literature and Civilization. She brings a strong background as a Payroll and Human Resources Assistant in a large corporation in France with over 4,000 employees and 70 companies. Coraline begins work with AS on June 8 and will be located in the Admin Office at x3374.
Google+: Resilient Love in a Time of Hatred Series.
Monday May 22, 5:30-7:00pm, followed by a reception.
UCSB MultiCultural Center Theater
Documenting Our Community Healing: Responses to the May 23, 2014 Isla Vista Tragedy
Panel of speakers from the May 23, 2014 Isla Vista Memorial Archive project will show photographs from the collection that document the many ways our community came together through planned and unplanned memorial activities to help each other heal. Speakers will discuss community building, student activism, and continued acts of remembrance.
Presenters Include:
Melissa Barthelemy, JD, MA, Doctoral Candidate in Public History, UCSB
Margarita Cazares, UCSB Alumna 2014, MA student in Education, Cal Poly San Luis Obispo
Aaron Jones, Doctoral Candidate in Education, UCSB, Associated Students Staff Member
Julia Diane Larson, MA, Reference Archivist, AD&A Museum at UCSB, MLIS student SJSU
Spencer Mermelstein, UCSB Alumnus 2014, PhD student in Psychological & Brain Sciences UCSB
Annie Platoff, MS, MA, UCSB Reference Librarian, PhD student University of Leicester, UK
Lauren Trujillo, UCSB Alumna 2015, MLIS student UCLA