We live I'm such a beautiful place here in Santa Barbara, but we are definitely not the first ones to be here. I want to start off by acknowledging the various Chumash peoples who called these lands home for generations. I hope they can enjoy these public lands we have now. And we do have many public lands, but I included some closest to campus for anyone who wants to discover or get to know better the. beautiful oases of UCSB! Comment down below your favorite public lands, and let's thank all the dedicated people who worked and continue to work to protect these areas!
---
Apply to be the A.S. Pearman Fellowship & gain experience working within Associated Students and the chance to pursue your own passion project! Link in bio!

---
Welcome to Week One Gauchos
We're looking forward to diving back into our weekly Mental Health Monday posts! Caring for your Mental Health takes on so many different forms, so be sure to checkout all of our campus resources for a happy and healthy fall quarter!
#mentalhealth
#ucsantabarbara
---
Join AS Program Board throughout Fall Quarter for free screenings of the latest blockbuster films and new seasonal classics!
With two screenings every Tuesday at 7PM and 10PM, don't miss out on the opportunity to kick back, relax, (bring snacks), and enjoy that cozy movie-going experience in-person at UCSB.
Access cards are required for entry.
____________________________________
Lineup:
September 28, 2021 – Luca (2021)
October 5, 2021 – F9 (2021)
October 12, 2021 – Raya and the Last Dragon (2021)
October 19, 2021 – Snake Eyes (2021)
October 26, 2021 – Candyman (2021)
November 2, 2021 – The Forever Purge (2021)
November 11, 2021 – Hitman's Wife's Bodyguard (2021)
November 16, 2021 – Jungle Cruise (2021)
____________________________________
COVID protocols will be in place. In accordance with UC policy and CDC recommendations, Free Tuesday Film screenings in IV Theater will require all faculty, staff, students, and visitors to wear masks in this shared indoor space.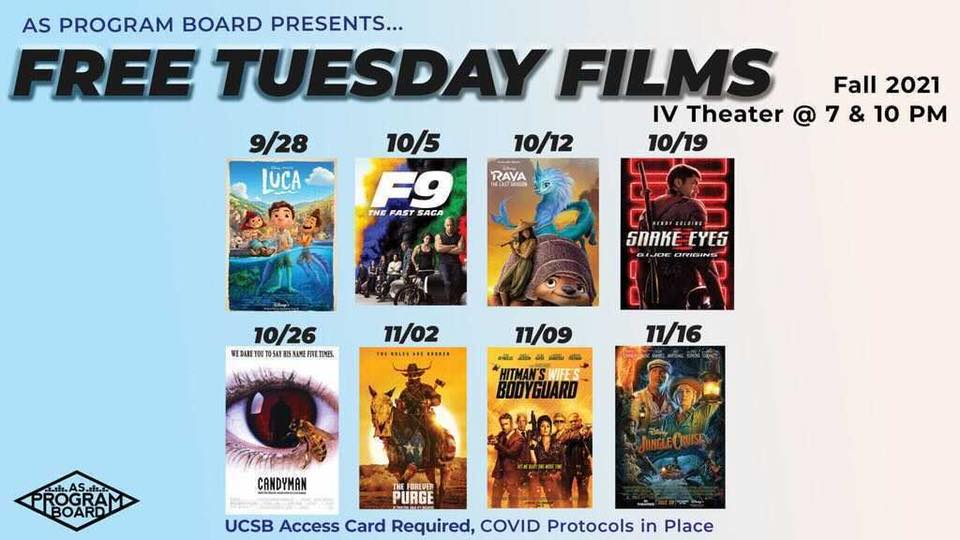 ---
The AS Bike Shop is excited to be open for the fall 2021 quarter. We will be open for service – by appointment only – Monday, Wednesday and Friday from 10am to 4pm. At this time bicycle repair will solely be conducted through a scheduled appointment. Additionally, at this time the shop will not be able to provide self-service stations for air inflation and or oil application. We will have portable pumps and 2oz oil bottles available for sale. No appointment is necessary to buy items at the bike shop. When visiting the shop please wear a mask. For more information about the shop, where to buy a bike, our pricing, biking on campus and to book an appointment please visit our website at https://bikeshop.as.ucsb.edu/ or follow us on Instagram @as.bikeshop.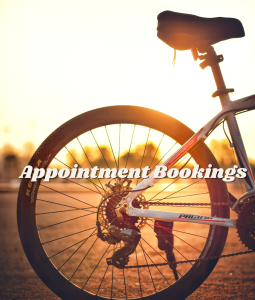 ---
Coastal Fund
Add this to your calendars: the deadline for major grants is 10/8!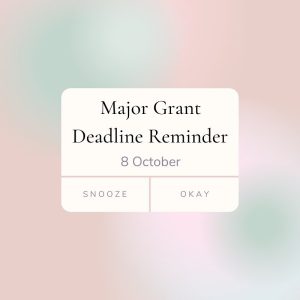 ---
A.S. Department of Public Worms is maintaining the Edible Campus Student Farm, Urban Orchard, and a variety of on campus composting operations. DPW is also regularly donating fresh produce to the A.S. Food Bank. DPW is also planning a ton of exciting workshops and opportunities for students to get involved this school year. For more information go to worms.as.ucsb.edu or email asdpw@as.ucsb.edu. You can also follow our Instagram @ucsbdpw for more updates on our department.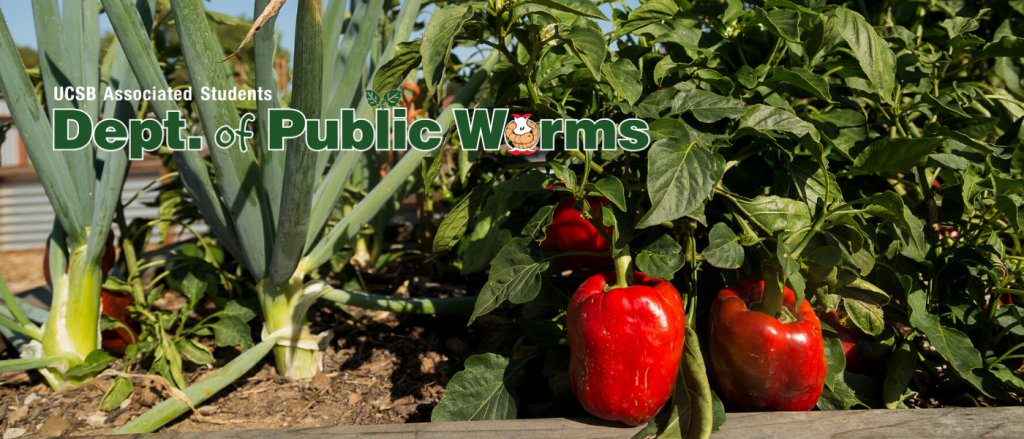 ---
The 2021-2022 AS Legal Code is now available. You can view it and all previous year codes at
https://www.as.ucsb.edu/documents/governing-documents/