Facebook
Trying to buy Delirium tickets?
FOR NEW STUDENTS OR THOSE W/O AN AS TICKET OFFICE ACCOUNT: When purchasing your ticket from http://events.ucsb.edu you will be taken to a page that will provide the options "Existing User" or "New User." Select "Existing User" then click "Forgot password" then reset all your information using your current UCSB email ending in "@ucsb.edu".
FOR RETURNING STUDENTS: We highly suggest you update your email addresses in order to avoid any complications!
Students will have 5 minutes to buy their tickets. Only 1 ticket per perm number. Your ticket will be loaded onto your Access Card and you will not be allowed admission into the show without it. NO EXCEPTIONS
---
In light of resolutions passed by the 69th A.S. Senate and limited staff availability, A.S. offices are providing limited services from October 23 – 25.
---
Free Yoga Series
Wednesday, October 24, 2018 5:15-6:15pm
AS Pardall Center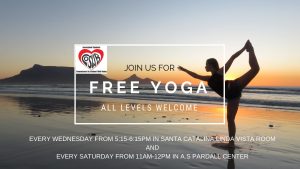 ---
The Associated Students UCSB External VP for Statewide Affairs and the UCSB group Students Against Gun Violence will be holding a forum on gun law reform.
Hosted by the Coalition Against Gun Violence (CAGV), A Santa Barbara County Coalition and the Santa Barbara Response Network. Community Members are very welcome to attend.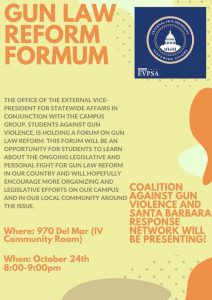 ---
Come to SIRRC's first study jam of the academic year! Come for free scantrons, blue books, food, snacks, and coffee or tea! Your choice! It'll be TONIGHT IN THE SRB from 9PM – MIDNIGHT!
Halloween in IV! Keep it Safe and Local!
If so, PLEASE continue reading or visit website (VISIT: https://halloween.as.ucsb.edu) We want to make sure that all IV residents are informed of what will be going on and any precautions that have to be taken.
In preparation for Halloween, here is some important information:
– Surveillance cameras will be set up on Del Playa, Pardall and
Embarcadero del Mar to be used by the IV Foot Patrol.
-No cars will be towed on DP or Sabado as in previous years but
it is strongly encourage that cars be moved. Vehicle
access to Del Playa and Sabado Tarde will be restricted on
October 26, 27 & 31. You will not be able to re-enter with
your vehicle once you leave.
– Parking restrictions will be implemented on October 26, 27 &
31. Cars parked on the 6500 block of Trigo will be
towed starting on October 26 and the following
intersections:
– Trigo and Embarcadero Del Norte
– El Embarcadero and Trigo Road
– Camino Pescadero and Trigo Road
-Camino Del Sur and Trigo Road
-Sabado Tarde and Camino Corto
-Del Playa and Camino Corto
-6750 Alley Way from Del playa to Sabado Tarde
-Festival Ordinance (Santa Barbara County Section 7.70.01)
from October 26th until November 4th. This means that
no amplified noise or music will be allowed between 6pm and
7am.
-Remember to lock your doors and record serial numbers of
laptops/phones/valuables as well as registering your
bikes with UCPD
(https:www.police.ucsb.edu/cso/bicycle-program)
Keep it Safe, Keep it Local!
Important Contacts:
IVFP: (805) 681-4179
UC Police: (805)893-3446
CSO Escort: (805) 893-2000
CAPS: (805) 893-4411
Student Health:(805) 893-5361
24 hour Nurseline:(800) 539-1387
Confidential Support for Survivors of Sexual Violence
CARE: (805) 893-4613
Standing Together to End Sexual Assault: (805) 564-3696
CALL 911 IN CASE OF AN EMERGENCY
VISIT: https://halloween.as.ucsb.edu/ for more information!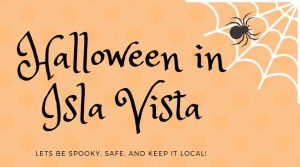 ---
Twitter
Tickets are SOLD OUT! Please pay attention to the FB page for important details and info about the event! For frequently asked questions please visit
aspb.as.ucsb.edu/delirium18
and scroll to the bottom of the page. See you all on Saturday!
---
The Associated Students Fall Special Election has not reached the required 16% minimum voter threshold. As a result, the initial voting deadline is extended to 11/2/18 at 4pm OR until the 16% voter threshold is met, whichever comes first. VOTE!!
vote.as.ucsb.edu
---
IMPORTANT ANNOUNCEMENT
Per request of the University, students attending Delirium will be required to pass through metal detector scanning before allowed admission into the venue. Delays are expected so we have moved doors to open at 8:00 PM. Thank you for your cooperation!
---
Instagram