Facebook
Attention Gauchos looking to get involved in AS: apply for the AS Pearman Fellowship!! Learn about all the AS entities & secure an internship in the office or board of your choice! Apply by FRIDAY 10/19 @ tinyurl.com/asfellowship2018 to build your resume while making life-long friendships!
---
HUGE CSO Fall Bike Sale
Saturday, October 20, 2018 at 12 PM – 5 PM
It's the event you've been waiting for! The CSOs will be selling a huge number (400+) of bikes this Saturday. All bikes are used and sold as-is, and payment must be made via cash or check. Prices will range from $10-$50.
The sale will be held at Lot 32, behind the UCPD station located at the intersection of Stadium Road and Mesa Road (just past Harder Stadium). Come on out!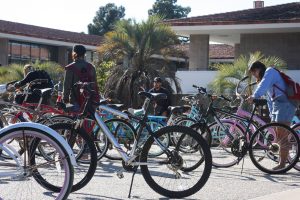 ---
Do you have key insight on how to navigate UCSB? Have tips and tricks you've accumulated as a Gaucho? Share your knowledge! Be a mentor for incoming freshman!
AS SIRRC (Student of Recruitment & Retention Committee) are looking for mentors to advise our incoming freshman that were a part of the Guides Summer Orientation program hosted.
Please be advise that this is a year long commitment and we are looking for individuals who will be fully dedicated. Please take your time on this application and try to be as detailed as possible.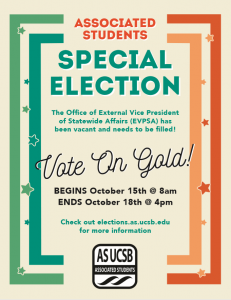 ---
The Department of Public Worms is hiring a new Operations Coordinator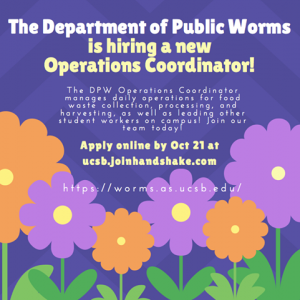 ---
Twitter
Happy Friday Gauchos! We're pleased to announce
@youngthug
will be performing at this year's Delirium with support from
@SocialHouseTC
! Tickets on sale Monday 10/22 at 10AM online! Hope to see you all there!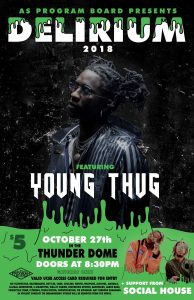 ---
Instagram
YouTube
Linked In
Human Resources and Payroll Analyst
Provides professional support to the Assistant Director for Human Resources and External Communication in administrative, financial and personnel functions. Primary payroll administrator for career and student staff of Associated Students, including: reviews employee timesheets, compiles work-study payrolls, reconciles Associated Students payroll reports, and provides payroll documentation for yearly audit. Compiles internal payroll reports, calculates payroll account balances and payroll projections for all units of Associated Students. Oversees key areas of Human Resource management including Associated Student's employee orientation, benefits. Oversees the key and security system. Requirements Excellent communication skills both oral and in writing. Knowledge of Human Resources and payroll. Ability to pay exceptional attention to detail. Advanced knowledge of Excel Knowledge of UCSB policy preferred. Ability to use discretion and maintain confidentiality. Ability to use sound judgment in responding to issues and concerns. Strong organizational skills and ability to multi-task within demanding timeframes.