Facebook
Shared UCSB Associated Students Bike Committee's post: We currently have an Administrative Coordinator position open for the academic year 2017- 2018. For more details about the position, please visit this link.
---
Hey Gauchos! Here are some events happening this Halloweekend!

#

getspooky

👻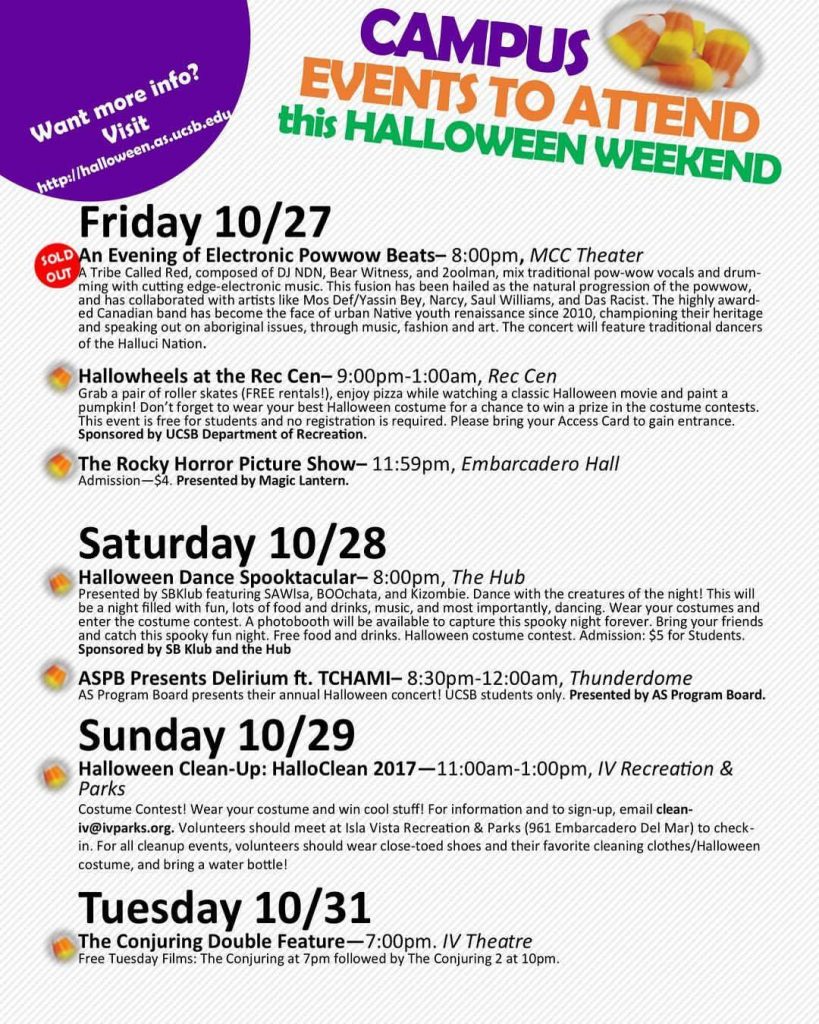 ---
***LIVESTREAM will be on the Associated Students – UCSB's Facebook page***
How can we be courageous in these times for racial justice? With racist hate, fear and violence on the rise, join us for an interactive talk that uses storytelling, along with lessons from social justice efforts historically and today, to help participants understand the impacts of racism and how we can work for an inclusive, multiracial democracy on our campuses, in our communities and in our country.
Chris Crass is a social justice educator who writes and speaks widely on courage for racial justice, feminism for men, lessons from past movements, and creating healthy culture and leadership for progressive activism. He works with community groups, schools and faith communities to develop leadership and momentum for social justice action. He was a founder of the anti-racist movement building center, the Catalyst Project, helped launch the national white anti-racist network, SURJ (Showing Up for Racial Justice). Rooted in his Unitarian Universalist faith, he works with congregations, seminaries, and religious activists to build the Spiritual Left. He is also the author of Towards Collective Liberation: anti-racist organizing, feminist praxis, and movement building strategy and Towards the "Other America": Anti-Racist Resources for White People Taking Action for Black Lives Matter. He lives in Louisville, KY with his partner and their two sons. You can learn more about his work at www.chriscrass.org
This event is co-sponsored by the Educational Opportunity Program, UCSB Office of Student Life, the Office of Title IX and Sexual Harassment Policy Compliance, UCSB MultiCultural Center, the Department of Communications, the Dean of Students, UCSB CommUnity Grants, and the URC Interfaith Fund.
---
Twitter
(posted the Halloween events flyer and Bike Committee's open position as posted on Facebook)
Our team took home an @acpress Pacemaker Finalist award and an honorable mention for Feature Story of the Year tonight! We're so thrilled and grateful. Thanks @KCSBNews for joining us. pic.twitter.com/kNONOV4jLY

— The Bottom Line UCSB (@tblucsb) October 29, 2017
Instagram
(posted the Halloween events flyer as posted on Facebook)
Linked In
AS offers many business services to the UCSB campus community. Bike shop, Cashiers & Ticket Office, Community Financial Fund, Publications, Department of Public Worms, Recycling, Foodbank, and Tech Rentals.

Google+