Facebook
Air quality due to the Thomas fire is unhealthy. Air masks are available at Student Health http://studenthealth.sa.ucsb.edu/ while supplies last.
---
---
Pick up your face mask while supplies last. A.S. Ticket Office is open until 5pm and Pardall Centered Students Pardall Center until midnight.

#

UCSB

#

ThomasFire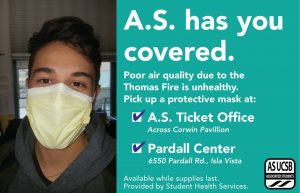 ---
Chancellor Yang officially announced all Thursday classes are canceled. UCSB administrators will send out an update tonight on Friday classes.
---
Masks will be distributed again today 12/8 + fire map from Cal Fire last night. #ThomasFire #KCSB #UCSB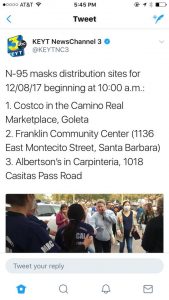 ---
Twitter
PlanItGreen Printing‏ @planitgreenprnt Dec 4
Feed the worms! UCSB Dept. of Public Worms. Compostable stickers for #compostablepackaging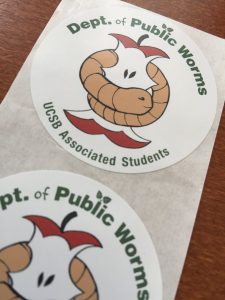 ---
SB County APCD‏ @OurAirAdvisory Dec 6
Unhealthy #airquality in Goleta & Santa Barbara yesterday due to smoke from #ThomasFire. #AirQuality Warning for @countyofsb in effect until conditions improve. See today's advisory for tips to protect your health and how to check current conditions: