Facebook
The last Journalism Workshop of the quarter is tomorrow. ETHICS / LEGAL FOR JOURNALISTS with Leah Bartos. Tues., Oct. 29 • 5:00 – 5:45pm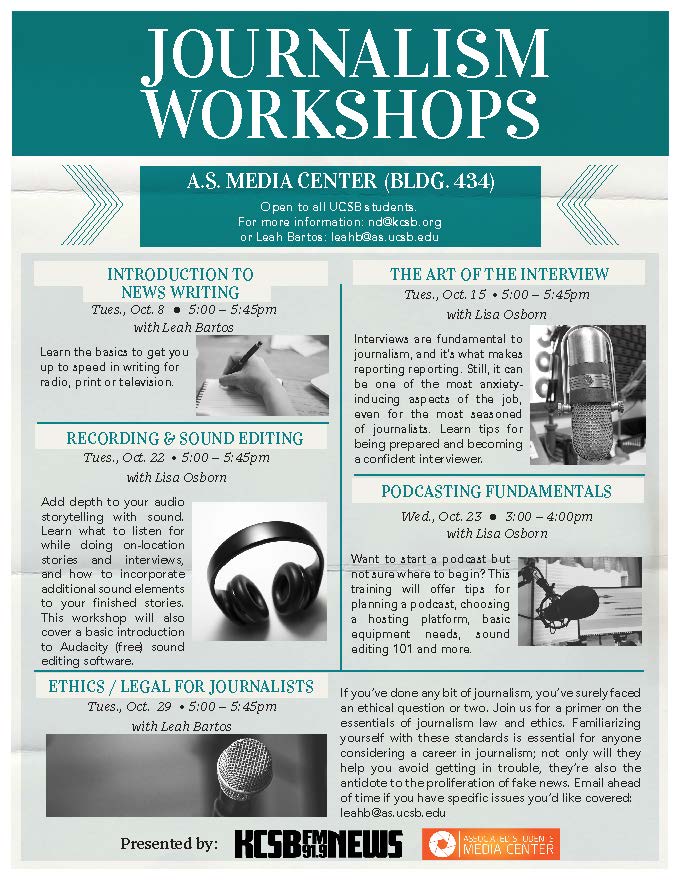 ---
---
Peek-A-Boo! BASH: zine + record release show
Hosted by KCSB-FM 91.9 in Santa Barbara and 2 others
Wednesday, October 30, 2019 at 7 PM – 9:30 PM Storke Plaza
WE WELCOME ALL GHOULS AND GHOBLINS TO KCSB'S HALLOWEEN CONCERT AND MEDIA RELEASE SHOW!
OUR ZINE COMMITTEE WORKED REALLY HARD ON OUR ANNUAL ZINE AND WE ARE EXCITED TO FINALLY SHOW AND GIVE U IT TO YOU FOR ~*FREEEEEE*~ !!!!
THERE WILL ALSO BE A COSTUME CONTEST WITH VERY SPECIAL PRIZES SO COME BOOGEY IN YOUR FRESHEST COSTUME FITS!
💀💀💀💀💀💀💀💀💀💀💀💀💀💀💀💀💀💀💀💀💀
LINEUP
/////// DJ CAMGIRL ///////
CAM GIRL is an internationally renowned DJ known for her infectiously high-energy, genre-blending sets filled with her expansive knowledge of hip hop, trap, and bass music. With her affiliation to No Jumper, she has toured right alongside Lil Pump and Smokepurpp on their first headlining tour. In addition, she has DJed for the biggest names in hip hop like Cardi B, Lil Uzi Vert, 21 Savage, and much more. She has graced the stages of G.O.O.D. Music events, Mad Decent parties, HARD Summer Festival, Day N Night Festival, HARD EDC Japan, as well as embarking on several global tours. You can hear her sets on Noisey Beats 1 Radio, NTS Radio, and Hypebae. The LA-based creative is an entrepreneur and a visionary, with a cult-like fan base growing tremendously each day..
(https://plus100.bandcamp.com/album/problems)
/////// ZAH ///////
Zah (formerly known as Nightspace), current based in Brooklyn, NY, creates dreamcore music that transcends multiple mediums and even, universes. Their many mediums are visual art, makeup, performance, fashion design and many more.
(https://zah333.bandcamp.com/)
/////// THEYWEPT ///////
theywept is the current general manager of KCSB and Biko Garage and has been since last year. He is currently studying Environmental Studies and Feminist Studies at UCSB. She also is also a graphic design artist and makes music in their free time!
https://soundcloud.com/theywept
EVENT IS FREE AND ALL AGES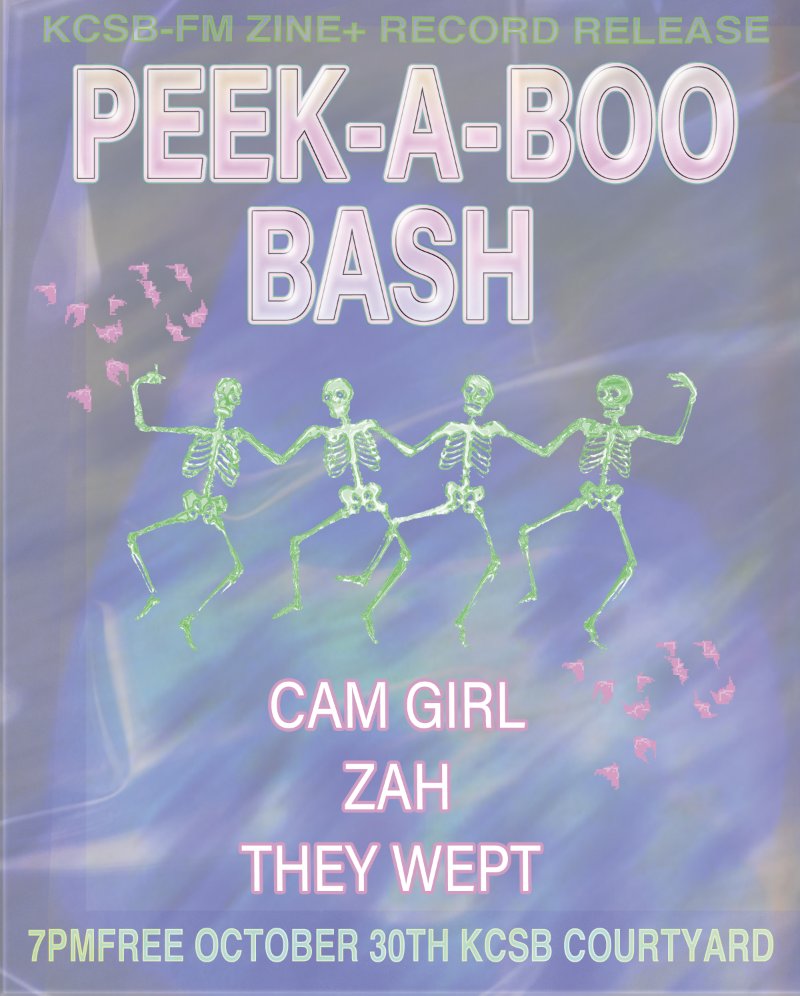 ---
Apply to join the PMHC Executive Board today! https://forms.gle/vK7xsiBaCzg38c749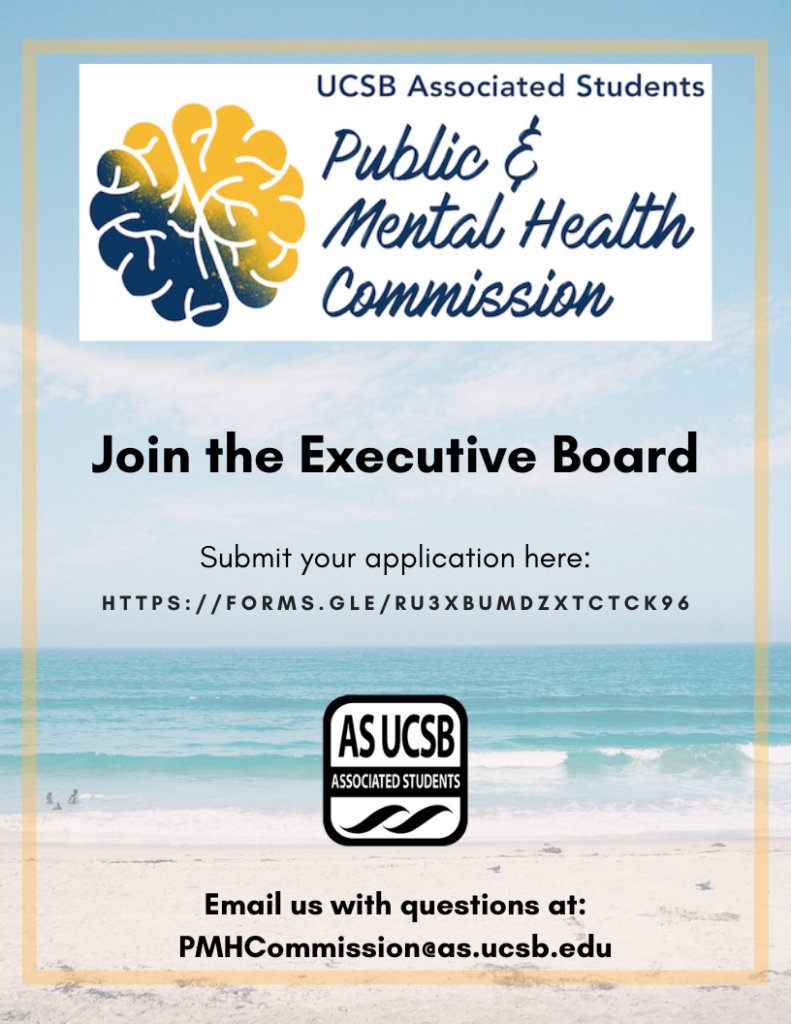 ---
Halloclean Event #2
Sunday, November 3, 2019 at 11 AM – 1 PM
Need some help getting in the Halloween spirit? Want some volunteer hours? We can help! Adopt-A-Block is having our annual HalloClean, and this year there are two different dates to attend!
The second event is on November 3rd, 2019 from 11:00AM to 1:00PM
Our generous sponsors will be providing some spooky treats, including Yerba Mate from Guayakí Yerba Mate, pizza from Pizza My Heart, CinnaBread from Woodstock's Pizza IV and fresh, local fruit from the Isla Vista Food Co-op.
If you have any questions, please send us a Facebook message!
The first HalloClean event is on October 27th, 2019. More information can be found at the link below:
https://www.facebook.com/events/963073460734209/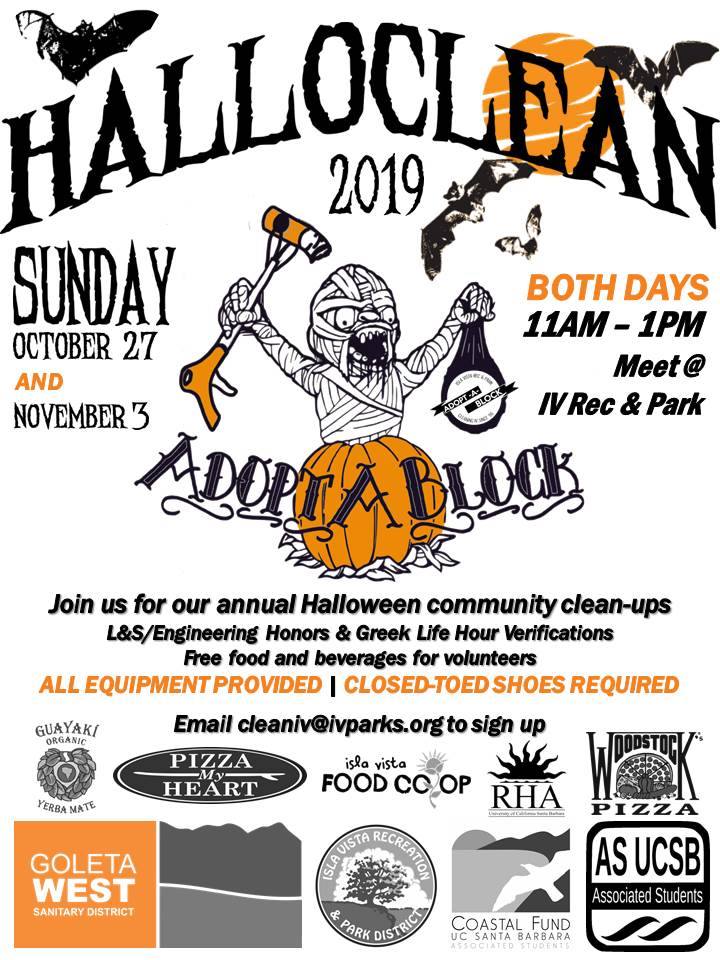 ---
It time for action! Join us in the arbor THIS THURSDAY to fight for our safety on and around campus. Let's stand up for our fellow gauchos and make the changes we deserve!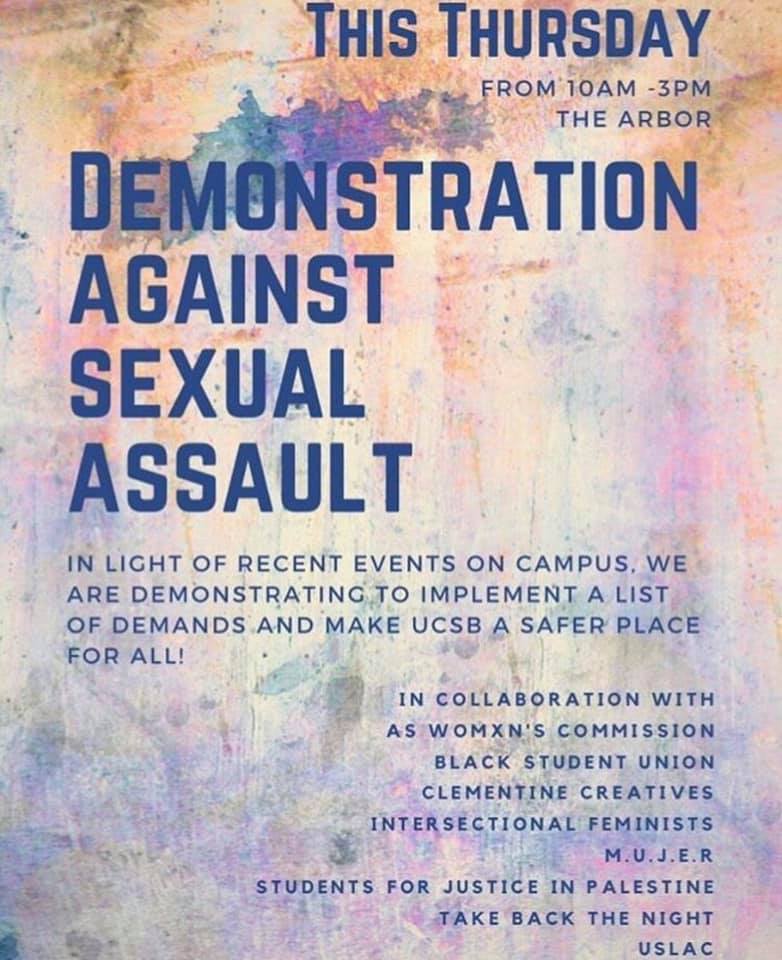 ---
FAQ:
What type of food does the Food Bank offer?
We keep a regular stock of breakfast, beans, starch, and soup items, as well as canned fruit and vegetables. Two days a week, we also have deliveries of fresh bread and produce from the Santa Barbara Food Bank. We also maintain a stock of toiletries.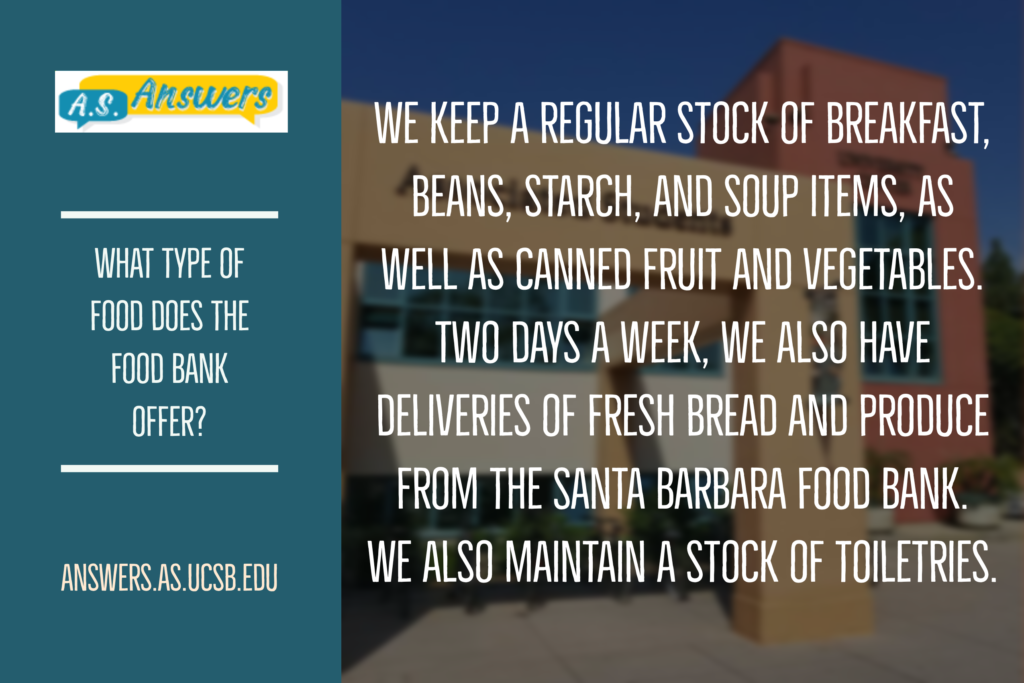 ---
A statement from the 70th AS Senate regarding the recent sexual violence on campus. The Senate also invites you to Students Against Sexual Assault's Sexual Assault Town Hall on November 14th at 6:00PM in Loma Pelona. https://www.as.ucsb.edu/…/…/10.31.2019-Senate-Statement-.pdf
---
Twitter
Check out all this awesome produce from the Food Bank! Be sure to come by to grab some potatoes, tomatoes, apples, and pears! Don't know what to do with this produce? Here's a recipe for roasted potatoes and tomatoes: https://foodnetwork.com/recipes/food-n
---
Are you in charge of updating your group's WordPress website? Come learn WP tips and tricks for making your site great. AS Annex, Building 434, Room 141H (next to the Storke Tower bike circle), from 3 to 4 p.m. Staff, students, and faculty welcome.