Facebook
UCSB Human Rights Board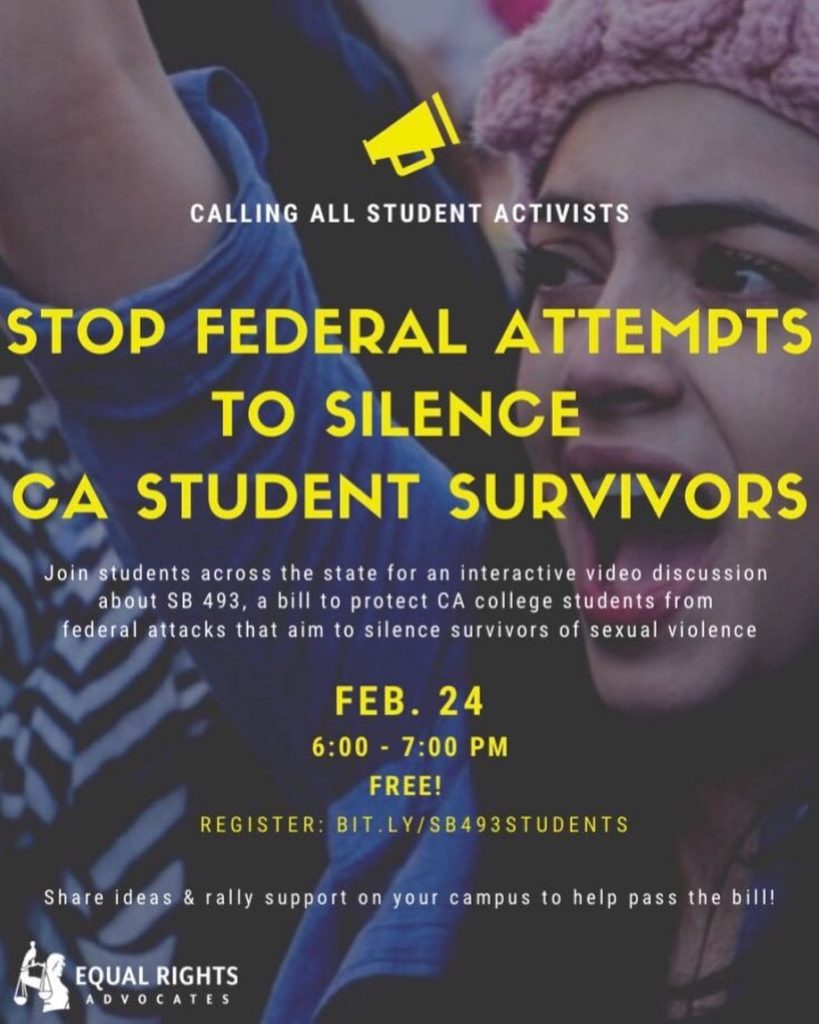 ---
UCSB A.S. Public and Mental Health Commission
Here are the times and locations for our Self Love Week! We can't wait to see you all there!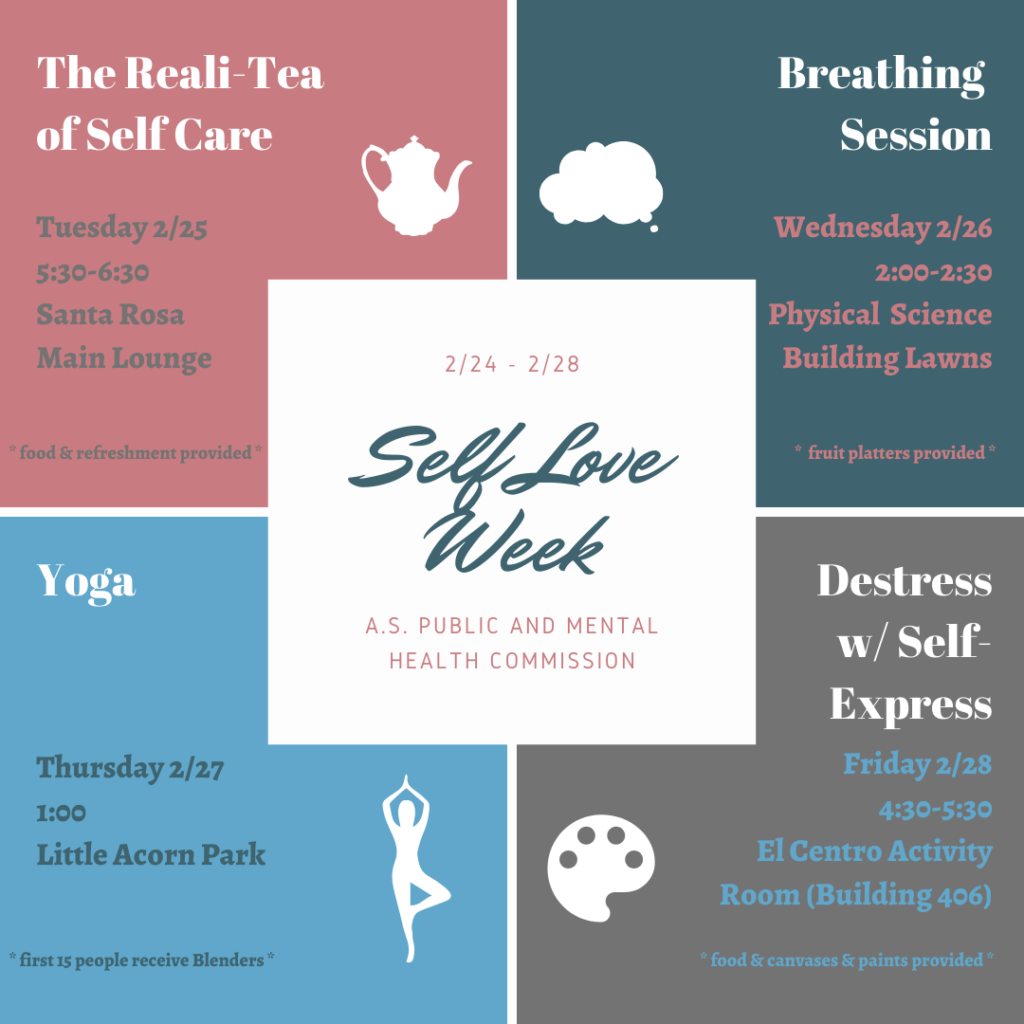 ---
UCSB Environmental Justice Alliance
Join us next Saturday, 3/7, for our Toxic Tour in Bakersfield/Kern County. We will be joining Julie Maldonado's Ecotourism class to learn from community leader and activist Rosanna Esparza about the Kern River Oil Field. If you are interested, please fill out the google form by March 2nd (link in the bio!)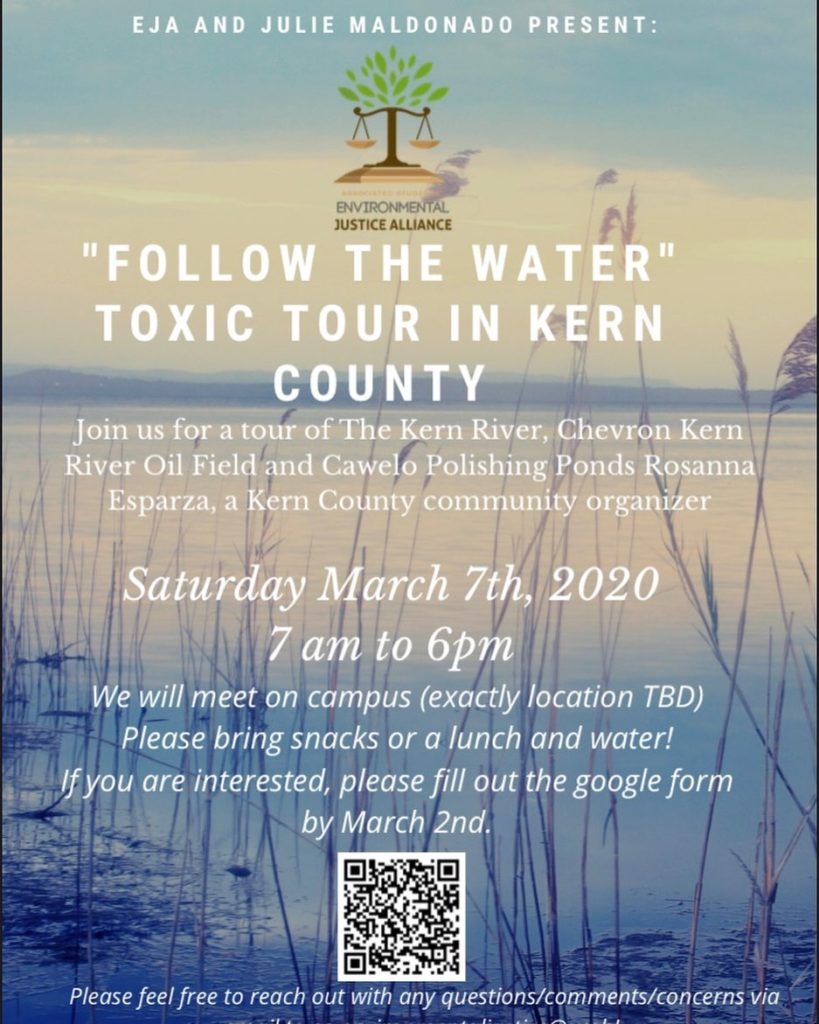 ---
UCSB Zero Waste Committee
Last Friday we had our annual Zero Waste Festival! 🥳Thank you to everyone who participated in our event! It was encouraging to see just how many UCSB students are interested and excited to learn more about living sustainably. All of the members of Zero Waste Committee were blown away by how many of you all came out. We hope that you learned more about sustainable practices from our wonderful tablers and can apply some of the tips you learned to your everyday routine. Thank you once again to our lovely tablers, planning committee volunteers, ZWC Festival Coordinators Jenny and Charu, and to all of you that came out! 🌱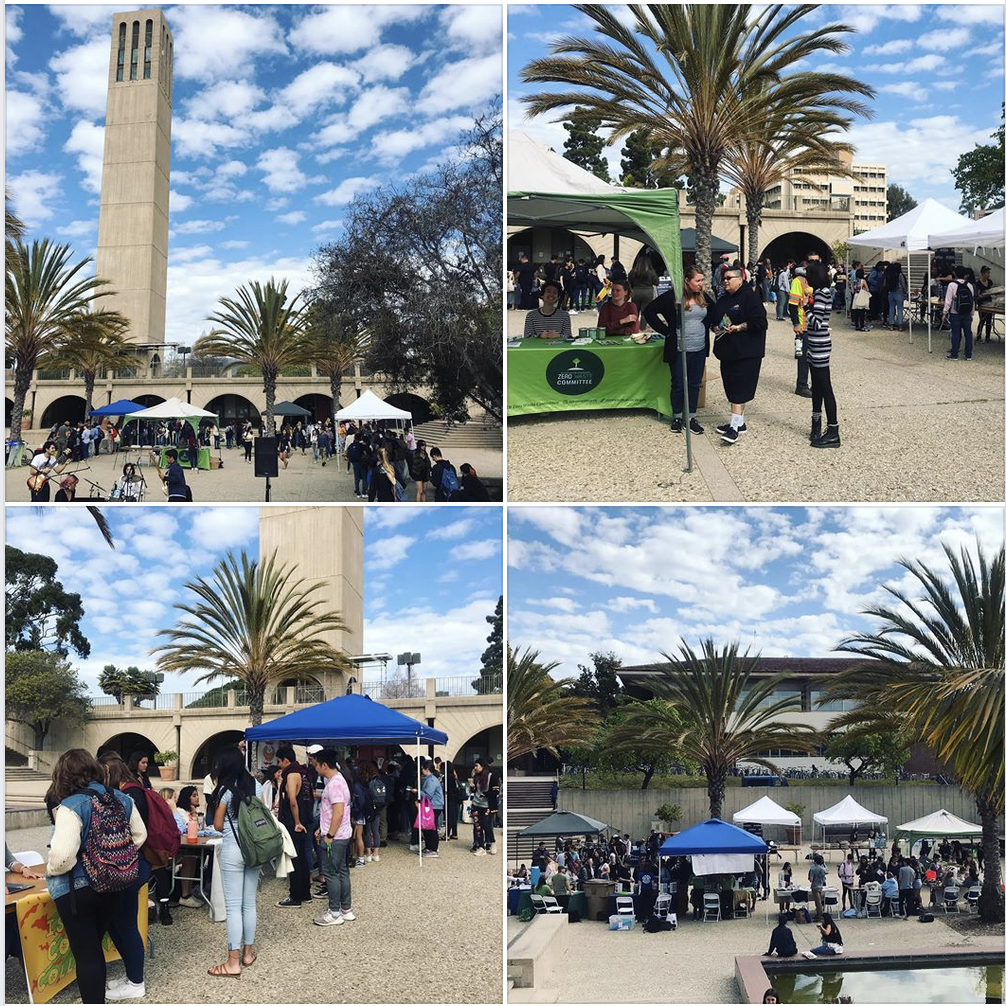 ---
UCSB A.S. Public and Mental Health Commission
We're spilling the tea ☕🤠 Come out tonight and learn about actual ways to implement self-care into your daily routine! Free snacks and tea 🙂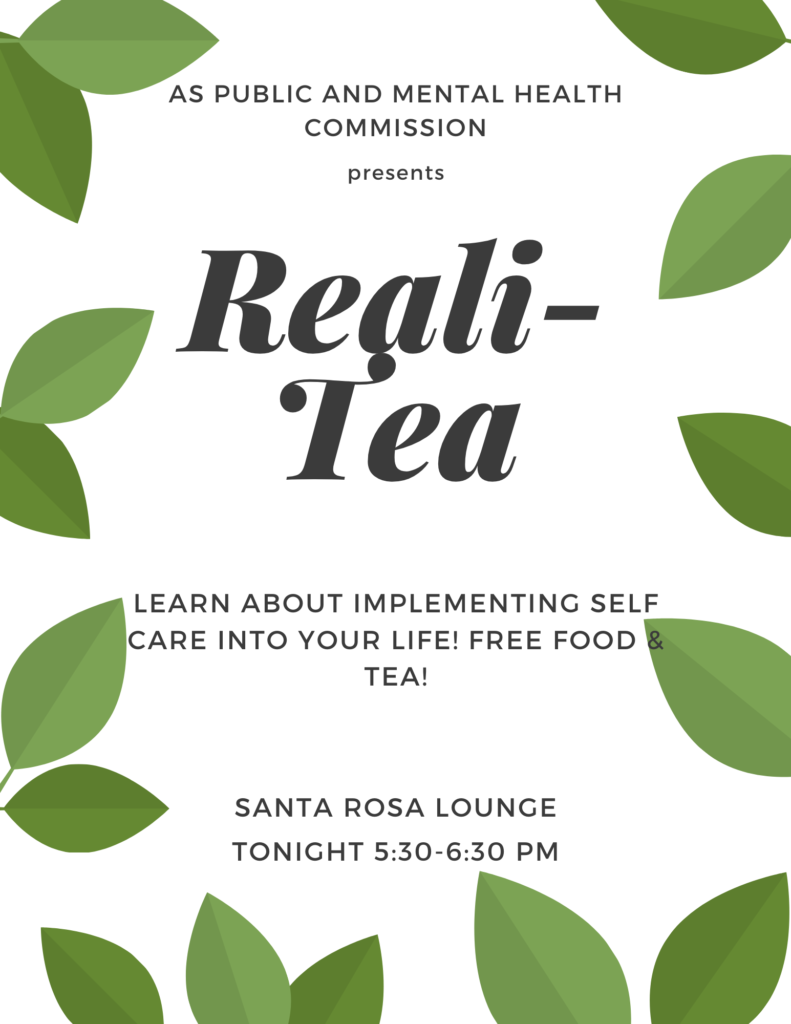 ---
Meditation Workshop
Hosted by UCSB A.S. Commission on Student Well Being – COSWB and UCSB Health & Wellness
Wednesday, February 26, 2020 at 5 PM – 6 PM UCEN
Join us for a night of Meditation practice. A brief overview of Mindfulness and its related practices will be discussed followed by explorations of self-compassion and self-love.
It will be in the Lagoon lawn closest to the UCen near outside seating. Light refreshments will be provided.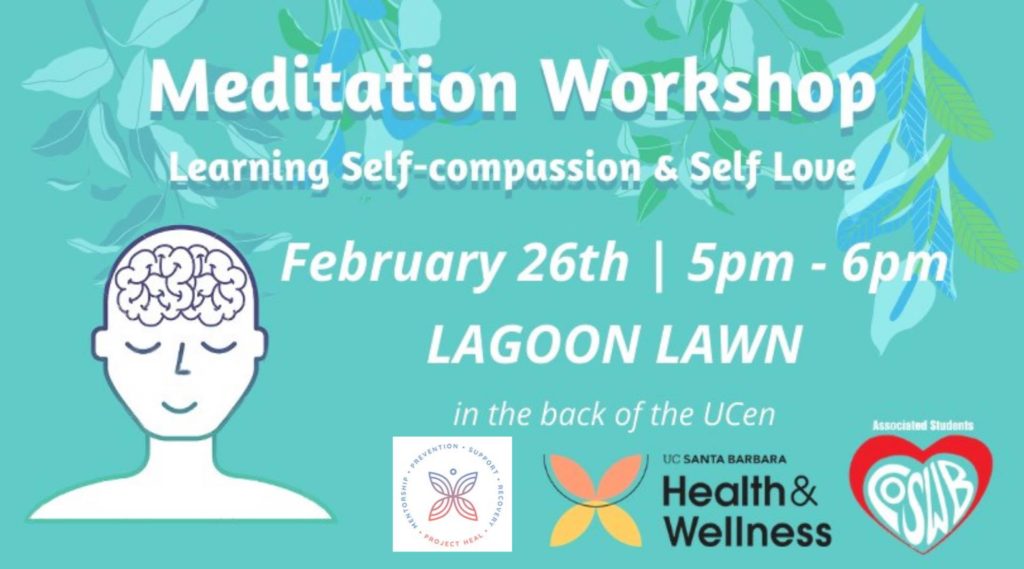 ---
Workshop Wednesdays Looking at Photos with Andy Doerr
Hosted by Associated Students Media Center
Wednesday, February 26, 2020 at 3 PM – 4 PM AS Media Center
Some photography basics plus a closer look at how photos communicate. Please bring links to photographers whose work speaks to you! All workshops meet in the AS Annex, Building 434, Room 141H, by the Storke Tower bike circle. Students, staff, and faculty welcome. Spread the word and bring friends!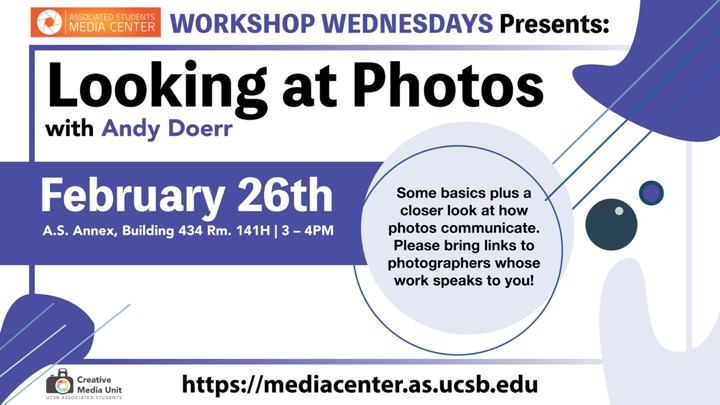 ---
UCSB 4 COLA
February 25
The strike begins today! 8am picket forms, noon rally. Spread the word! See you today. #UCSBstrike #cola4all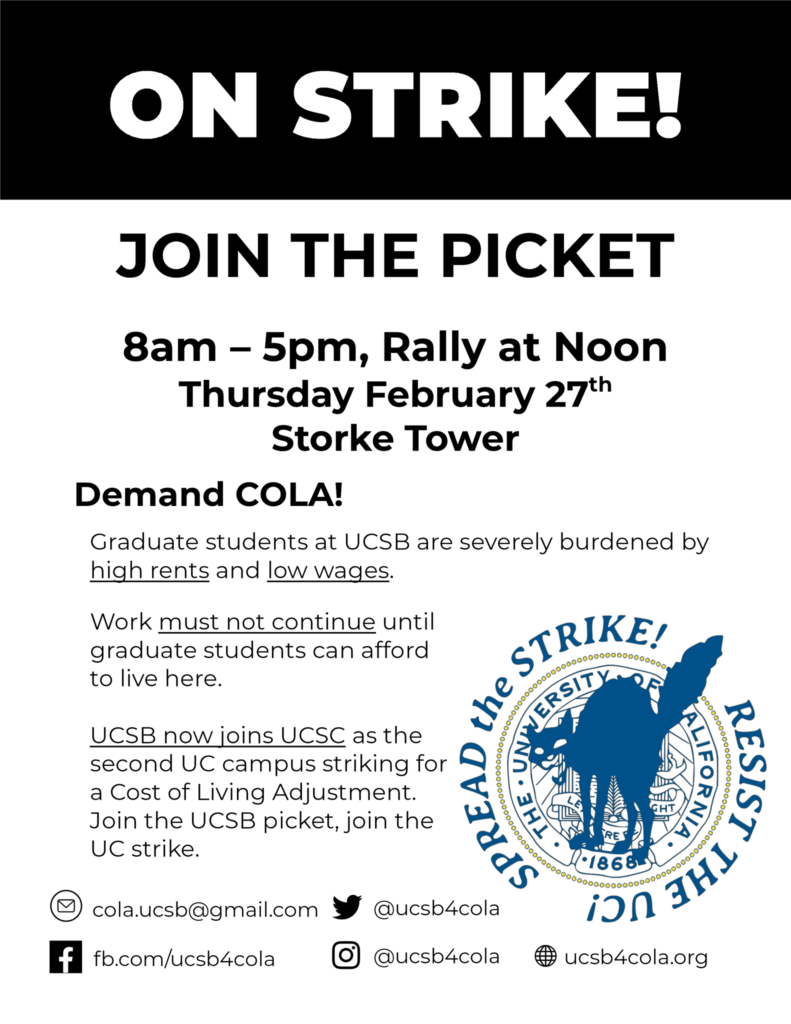 ---
Entertaining AS Program Board.
Fun and engaging events, from open mic nights to music festivals.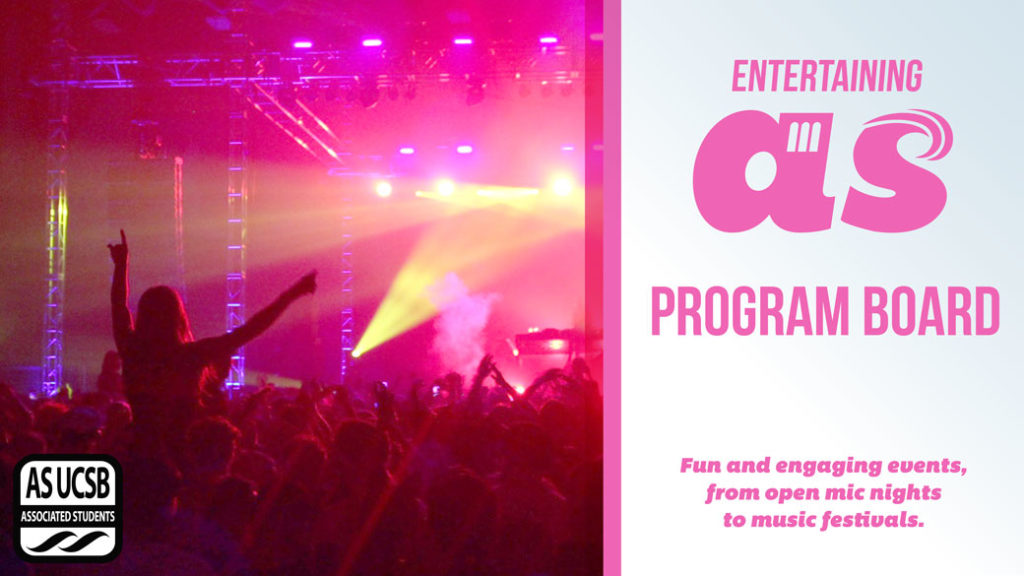 ---
LET IT FINALLY BE RESOLVED: The 70th AS UCSB Senate fully supports the strike of UCSB graduate
students for COLA, which will begin on Thursday, February 27th at noon, until their demands are met. Read the pdf at https://www.as.ucsb.edu/news/resolution-in-support-of-a-uc-system-wide-cola-and-the-ucsc-strikers
---
Get to know AS Staff. Once a week, in alpha order, we'll intro you to an AS staff member. This week, meet Sean Lieberman – Assistant Director for Technology
Who does he advise? Tech Committee
Campus committees: Connect Advisory Group
What can he do for students?
-Advise on computer/networking needs
-Create email/calendaring/Slack accounts
-Help plan out and structure complex web development projects for student groups
What other duties does he have?
-Photographer
-Campuswide Events/Ticketing System lead
-Elections Guy
Where is his desk? UCEN 2519
When is a good time to drop in? regular business hours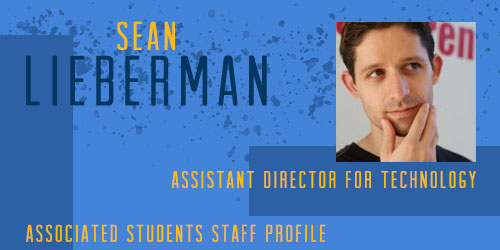 ---
Twitter
Free Tuesday Films Winter 2020 by @asprogramboard
Screenings will take place on Tuesday evenings at 7 and 10 pm in IV Theater. Tonight 2/25 is "Zombieland: Double Tap." Bring snacks, friends, and your access card for a great movie and a good time

---
Instagram