Facebook
UCSB A.S. Public and Mental Health Commission invites you to an event today.
For free and completely confidential HIV and HCV testing courtesy of UCSB Health and Wellness, come out to the SRB on the 11th of February!
Monday, February 11, 2019 at 10 AM – 3 PM
SRB MPR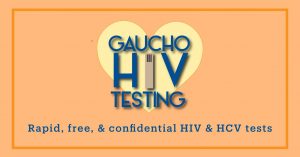 ---
Pop Up ASFood Bank
Tuesday, February 12, 2019 at 12 PM – 1 PM
Across from SRB
Are you a registered UCSB Student? Do YOU personally (not including loans, financial aid, parents' income, etc.) make less than $14,484 a year?
If you answered YES to these two questions, then you are eligible to use the AS Food bank!
Join us for a preview of the first-ever Pop Up AS Food Bank and find out how grabbing some free groceries from this great campus resource can not only put nutritious food in your belly, but save the environment!!
Please bring your access card and reusable bags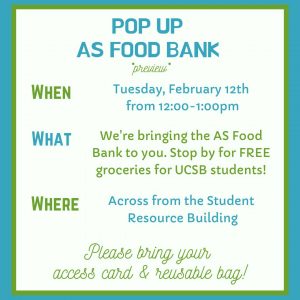 ---
Red Hearts & Red Flags (FREE BOBA TEA)
Wednesday, February 13, 2019 at 8:30 PM – 9:50 PM
MCC lounge
Join us for Valentine's day activities, food, and FREE BOBA TEA from Phresh! We will be making valentines cards and having a discussion about red flags and healthy relationships!
Take Back the Night UCSB is a student funded, student run organization of Associated Students. We are dedicated to raising awareness about issues surrounding sexual violence through activism, advocacy, and survivor empowerment.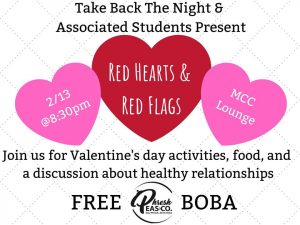 ---
DIY Body Scrub Workshop
Wednesday, February 13, 2019 at 7:30 PM – 8:30 PM
UCSB de Anza
Join COSWB on Wednesday, February 13th from 7:30-8:30 pm in De Anza 1018 for a relaxing night, creating your own sugar body scrubs! Everyone is welcome to come. Food and supplies will be provided on a first-come-first-serve basis! See you there!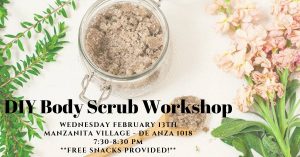 ---
Office of the External Vice President for Local Affairs (EVPLA)
Our lighting report is finally here! In collaboration with UCSB Lobby Corps, Isla Vista Community Services District – IVCSD, Associated Students – UCSB and community input we have created a preliminary lighting expansion plan for Isla Vista. We hope for this to be the first step in creating better lighting in IV to increase community safety.
Preliminary Lighting Expansion Plan
---
Missed our major grant deadline, but still have a project you want to pursue? Take advantage of our minor grant funding opportunity, which is intended for proposals seeking $1,000 or less. Applications are due on Friday, February 22nd. Check out our website for more information!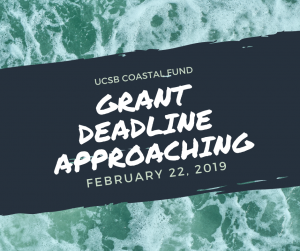 ---
Twitter
Today marks the start of Spring Elections season! The elections website has a list of Spring dates and deadlines. Any elections-related announcements will be posted to https://www.facebook.com/ucsbelectionscommittee … Website: http://elections.as.ucsb.edu Email: elections@as.ucsb.edu

---
Tomorrow's Workshop Wednesday: "Photoshop Poster Design" with Chelsea Lyon, 2/13 3-4pm AS Annex, Building 434. Participants are encouraged to bring their own laptop if they have Photoshop installed. Students, staff, and faculty welcome. More info at: http://mediacenter.as.ucsb.edu .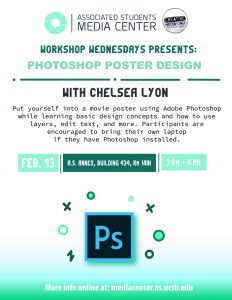 ---
Is your Calfresh sorted out? Do you have questions about your Calfresh account and benefits? SCORE is sponsoring a Calfresh enrollment party TODAY Wed. 2/13th 7:30PM A Calfresh representatives can help with your application and answer questions and FREE FOOD will be provided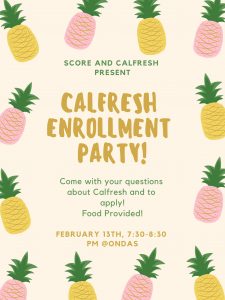 ---
The Women's Center Wellness Vending Machine is up and running at the Pardall Center! Products include thermometers, ibuprofen, menstrual products, emergency contraception, and more. You can find it at the back of the Pardall Center!


---
This Month with the Coastal Service Program: UCSBreakin' worked on a restoration project with Kipp Callahan at Coal Oil Point Reserve learning about invasive species! Keep on restoring and learning! Sign up your group up for Coastal Service Program at http://coastalfund.as.ucsb.edu