Want to be a DJ at KCSB? Our KCSB-FM Quarterly Orientation is coming up for Summer Session B, join us via Zoom next Tuesday, August 4th, to learn how you can get involved (remotely)!
Visit this link to register
https://www.eventbrite.com/e/kcsb-orientation-ssb-tickets-115538305181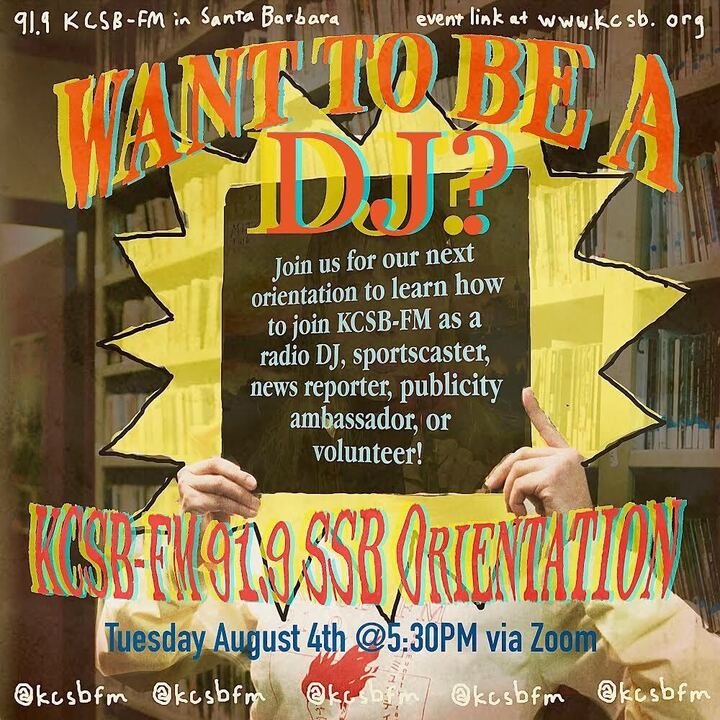 ---
Apply to be on UCSB's Environmental Justice Alliance's 2020-2021 Board!
EJA is reopening applications for the upcoming school year! EJA is a student-led organization that seeks to empower students in EJ activism, provide safe spaces for BIPOC (Black, Indigenous, and People of Color) and allies to engage with the concepts of environmental injustices, environmental racism as well as advocate for environmental justice locally, nationally, and globally.
We have one position open which is the Community Affairs Chair. The Community Affairs Chair is responsible for fostering and maintaining meaningful relationships with various environmental justice groups such as Food and Water Action, Central Coast Alliance United for Sustainable Economy (CAUSE), Mixteco Indigena Community Organizing Project (MICOP) as well as serving as an active ally for the local Chumash community to ensure our efforts are aligned with our surrounding communities.
Applications are due August 24th by no later than 11:59pm. There will be interviews the week after the application deadline! Please email us at as-environmentaljustice@ucsb.edu if you have any questions on the position or on our org!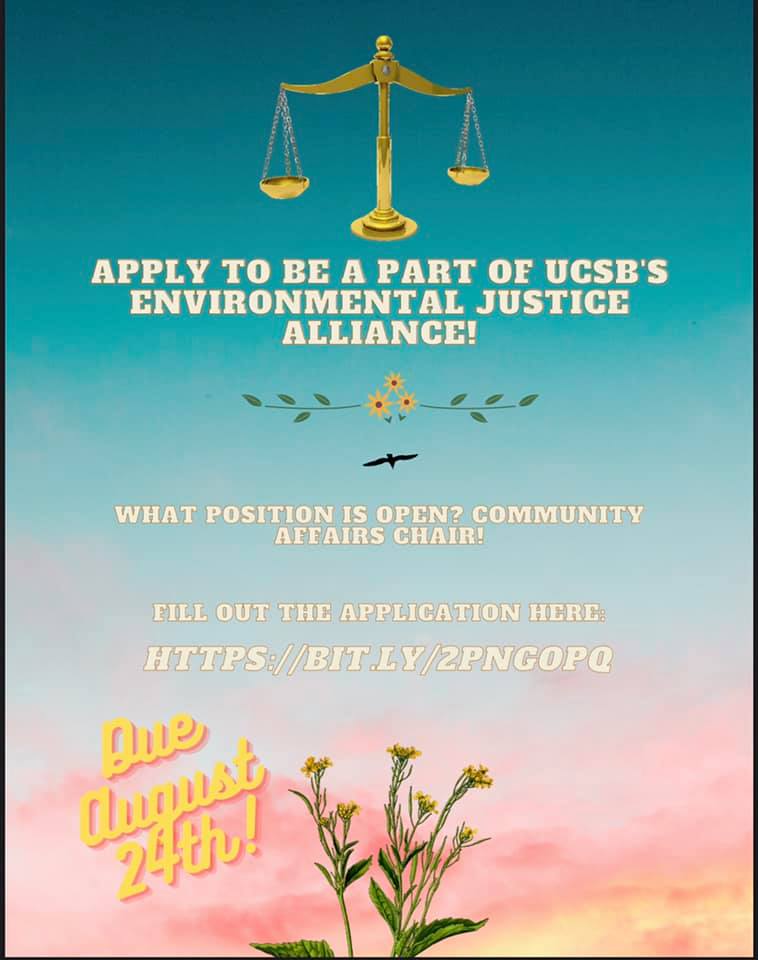 ---
Next in the Workshop Wednesday series, "Writing for TV and Film" with Sean Lieberman, August 5, 3 to 4 p.m. Zoom meeting: https://ucsb.zoom.us/j/98118351326. This ever-popular workshop will give you the solid pro tips you need to get started. Students, staff, and faculty welcome.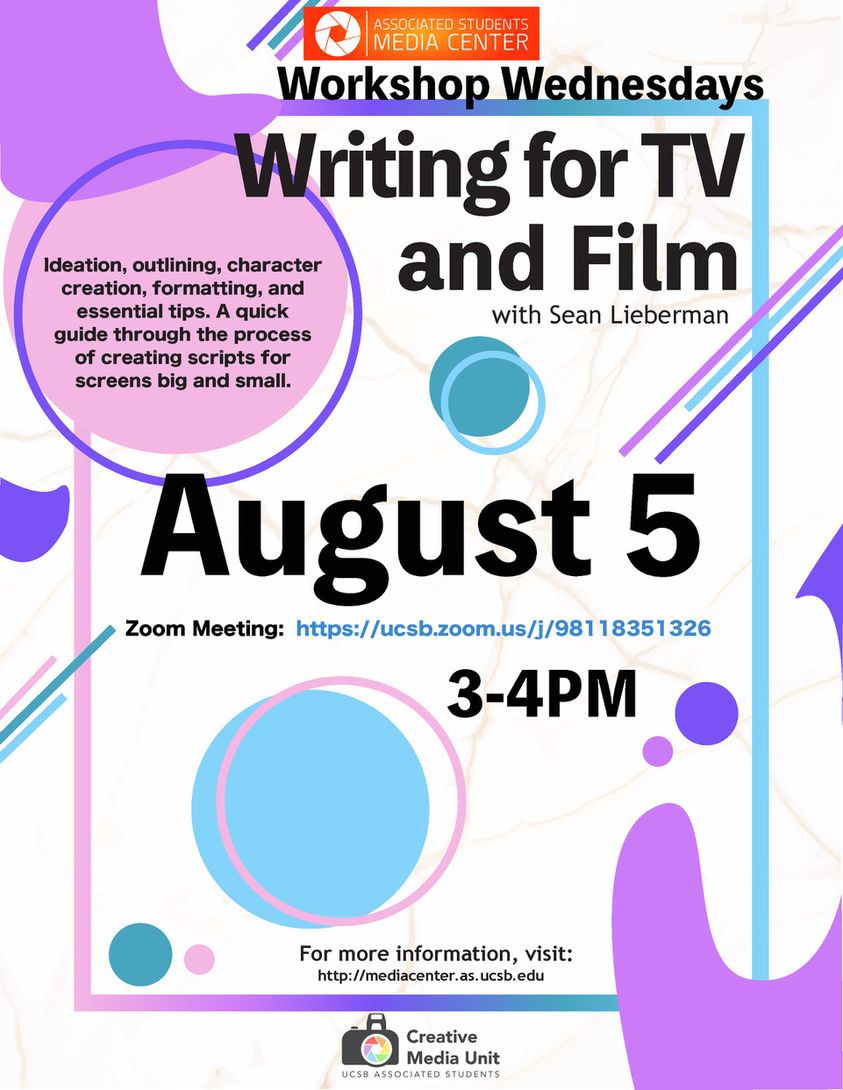 ---
---
Students, if you lived/are living in Isla Vista since before UCSB's closure, you have to respond to the census with your Isla Vista address (even if you are now at home with your family). Log in to https://my2020census.gov/ One resident answers for the whole household so make sure to have everybody's information before responding. It will take you less than 10 minutes. Complete by August 30. For more information on how college students should fill out the census, watch
https://www.youtube.com/watch?v=B4Ee8ol_LxY
---
When ICE first announced the new policy regarding international students, we contacted the congressman of Santa Barbara to exchange thoughts and ideas. Today, we received his feedback, in which he mentioned the irrationality of this new policy and conveyed his strong support to UCSB and international students.
UCSB A.S. Global Gaucho Commission never stops its dedication on supporting international students!
---
Next up in the A.S. Media Center Workshop Wednesday series. Field Recording & Sound Editing with Lisa Osborn, August 12. Zoom link:
https://ucsb.zoom.us/j/99725918835
. Add depth to your audio storytelling with sound. Learn what to listen for while doing on-location stories and interviews, and how to incorporate additional sound elements into your finished stories. This workshop will also cover a basic introduction to recording and editing in Audacity, a free sound editing software program. Students, staff, and faculty welcome. Spread the word! Also, check out the Learning Center tab on the AS Media Center website for more online media skills building resources:
https://mediacenter.as.ucsb.edu.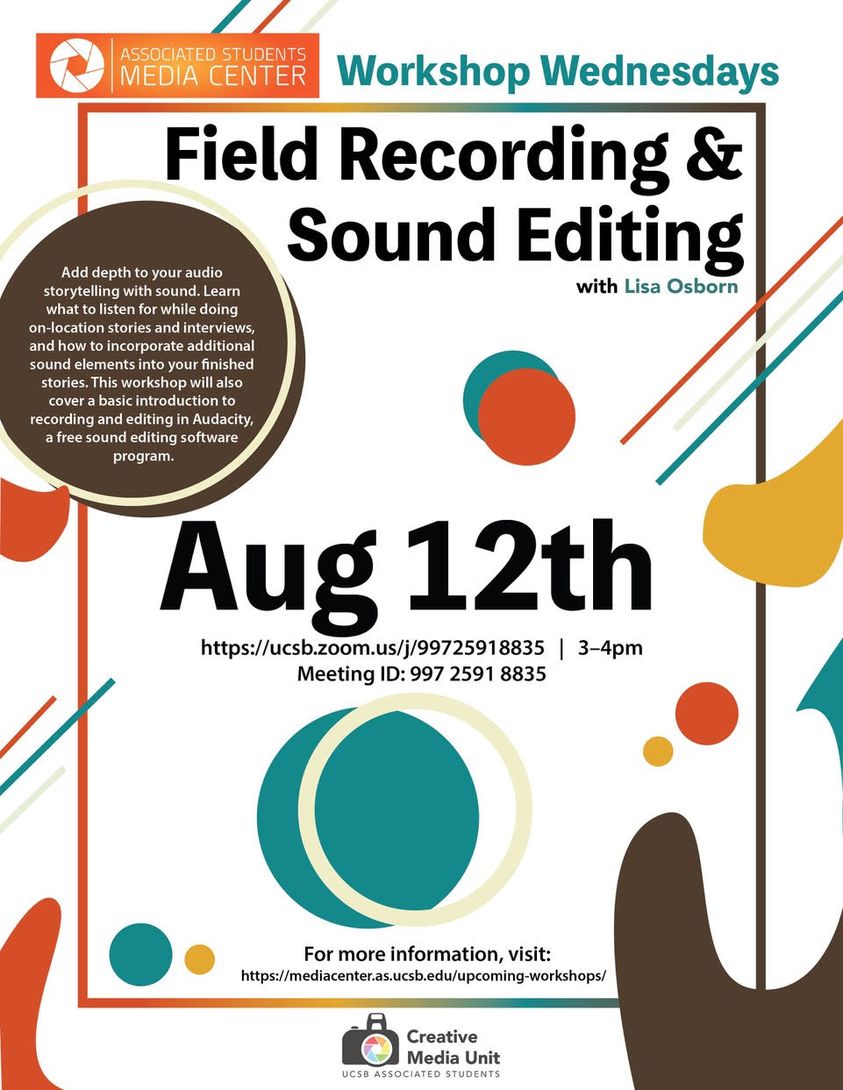 ---
In just a little over a month, Covid-19 cases in Isla Vista have risen by 505.88%. It is imperative that you continue to social distance and limit contact with those outside of your homes. If you have tested positive, make sure to tell everyone you have come in contact with in order to slow the spread.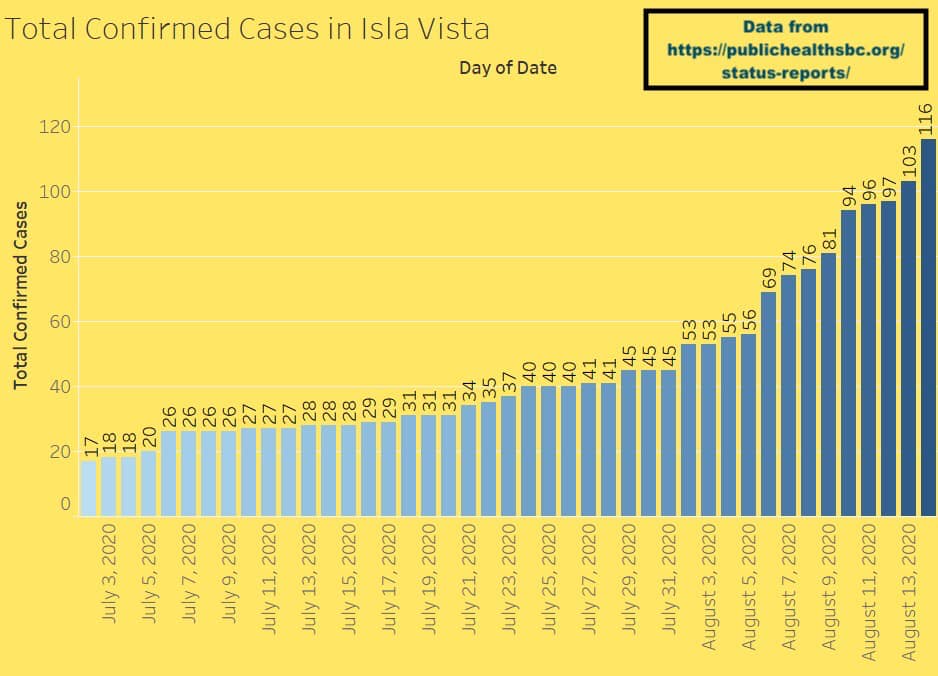 ---
We're closing the summer Workshop Wednesdays series with Photography Fundamentals with Andy Doerr, August 19, 3 to 4 p.m. Zoom link: https://ucsb.zoom.us/j/92353284419. An introduction to how cameras work, the key visual elements of photography, and post-production considerations. Students, staff, and faculty welcome. Spread the word and invite friends! Also, check out the Learning Center tab on the AS Media Center website for more online media skills building resources. Link: https://mediacenter.as.ucsb.edu.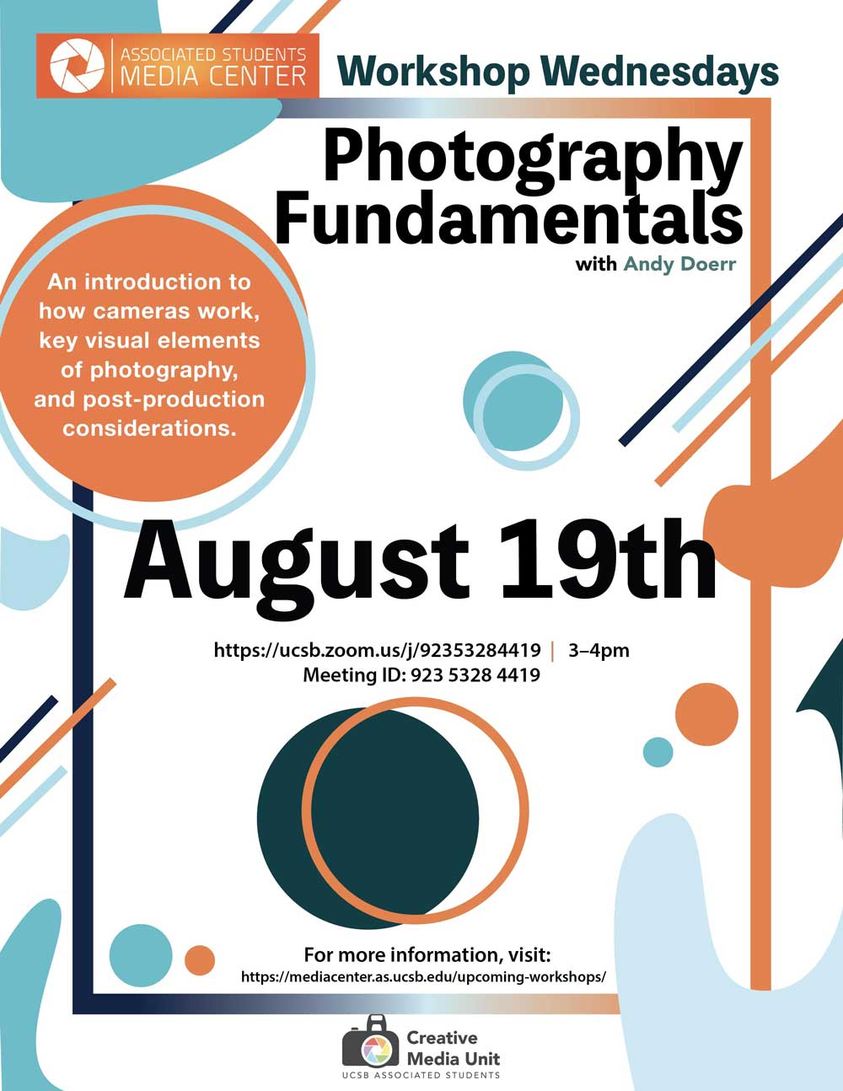 ---
Moving into your place in IV?
Make sure to take a look at our move-in checklist!!
Stay safe as you move-in everyone!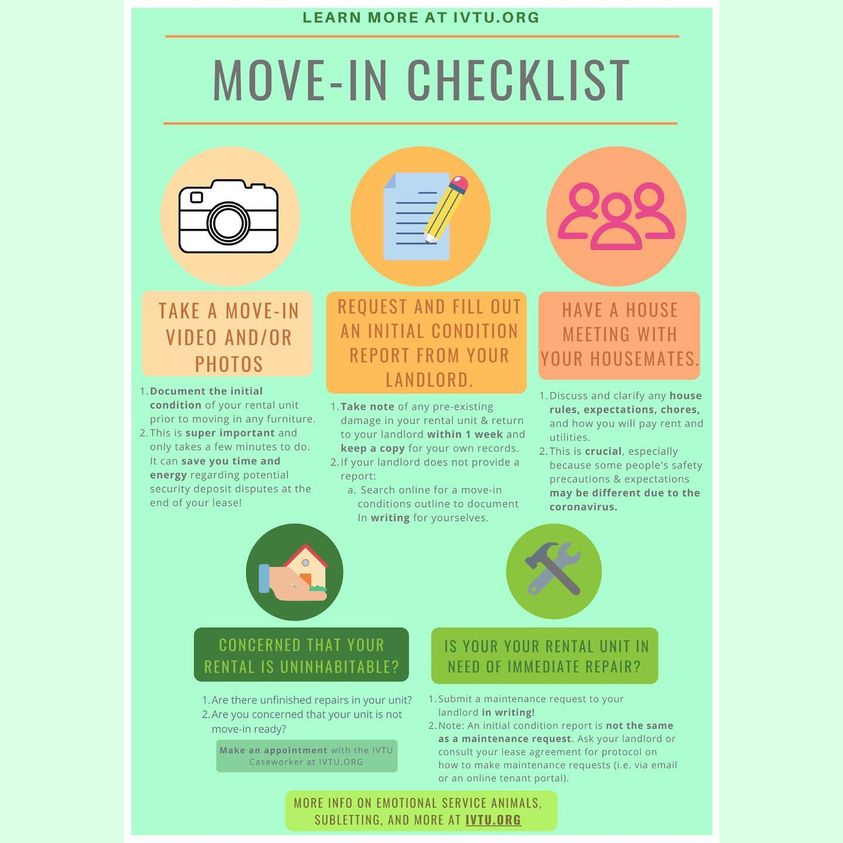 ---
AS Program Board Presents… Cooking with Antoni Porowski on Friday, August 21, 2020, at 7 PM (PST). Join us for a night of cooking and conversation as Antoni answers your burning questions!
_______________________________________________
The event is free and is closed to GAUCHOS ONLY.
Be sure to register using your UCSB email address (ex: antoni@ucsb.edu OR antoni@umail.ucsb.edu, whichever works for you).
______________________________________________
Antoni Porowski is a NYT Bestselling Author and Emmy winning star of Netflix's hit series, "Queer Eye." Born in Canada to Polish emigrants, Antoni discovered from a young age the joy cooking brings through television, and he currently brings that passion to "Queer Eye" as the show's food and wine expert. A self-taught cook, Antoni worked in restaurants from Montreal to New York City, where he honed his craft. While in New York, Antoni found a mentor in the original Fab Five food and wine expert, Ted Allen. His work with Allen, combined with his university degree in psychology, informed his view that food has the power to connect and inspire.
Antoni brings this philosophy wherever he goes, be it on or off-camera. His cookbook, "Antoni in the Kitchen" was released in Fall 2019, landing at #2 on the New York Times' Best Seller List. He can be seen in Netflix's Emmy award-winning series, "Queer Eye", for which it has won "Outstanding Structured Reality Program" and "Outstanding Casting for a Reality Program" two consecutive years running. Aside from "Queer Eye", Antoni is currently developing a feature film for Netflix called "Girls and Boys" with "Black-ish" creator, Kenya Barris. The feature is loosely based on Antoni's real-life dating experiences as a sexually fluid man. Antoni has graced the covers of Gay Times, Out Magazine, Attitude Magazine, and Entertainment Weekly, where he and his fellow Fab Five were listed among 2018's Entertainers of the Year. A finalist for People's Choice Reality TV Star of 2019 and People's 2019 Readers' Choice Sexiest Reality Star, Antoni continues to connect with audiences the world over.
______________________________________________
MORE ANTONI POROWSKI:
INSTAGRAM:
https://bit.ly/AntoniIG
TWITTER:
https://bit.ly/AntoniTW
FACEBOOK:
https://bit.ly/AntoniFBk
WEBSITE:
antoniporowski.com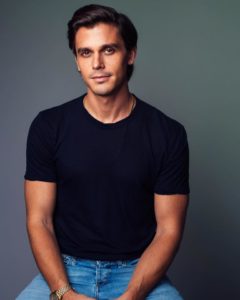 ---
Consider joining the all-student Coastal Fund Board of Directors, in charge of allocating approximately $400,000 in funds each year to projects that preserve, protect, and restore the watershed and shoreline associated with UCSB.
Positions are open to all degree fields, and students should expect to commit at least one academic year to the Board of Directors. This is a rare and unique opportunity to make a lasting impact while at UCSB and to get involved with the Santa Barbara community. Members of the Board of Directors also learn a great deal about local organizations acting to benefit our coastline and receive a quarterly stipend. For more information about the position and how to apply visit our website!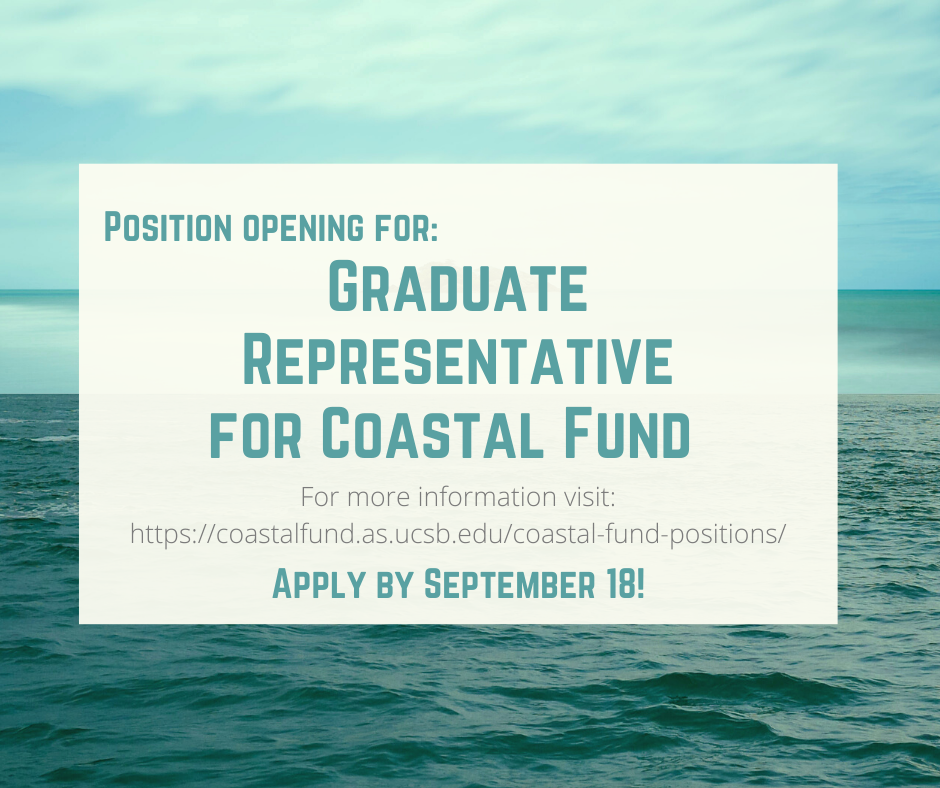 ---
Apply to our Environmental Justice Internship!! This is a paid position for $15/hr. The intern will be working closely with EJA officers to work on the campaign to incorporate environmental justice in the UC wide Sustainable Practices Policy. Please apply on Handshake by September 4th!
---
https://www.facebook.com/watch/?v=727340918106766&extid=758L7BXl6IwlwMfQ
---
A new page for Inside Isla Vista is now live on our website! Visit
kcsb.org/kcsb-news/insi
for the latest episodes of the show by our @KCSBNews team, featuring weekly news and information about what's happening in Isla Vista and the UCSB community.
---
Buzz buzzzz, if you want to see KCSB-FM crowned the queen bee of the SB Independent's Best of 2020 Reader's Poll, you can place your vote here:
independent.com/bestof2020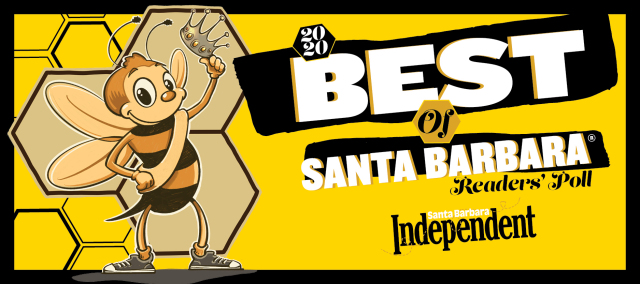 ---
This week's Pacifica Radio Archives schedule, live early every morning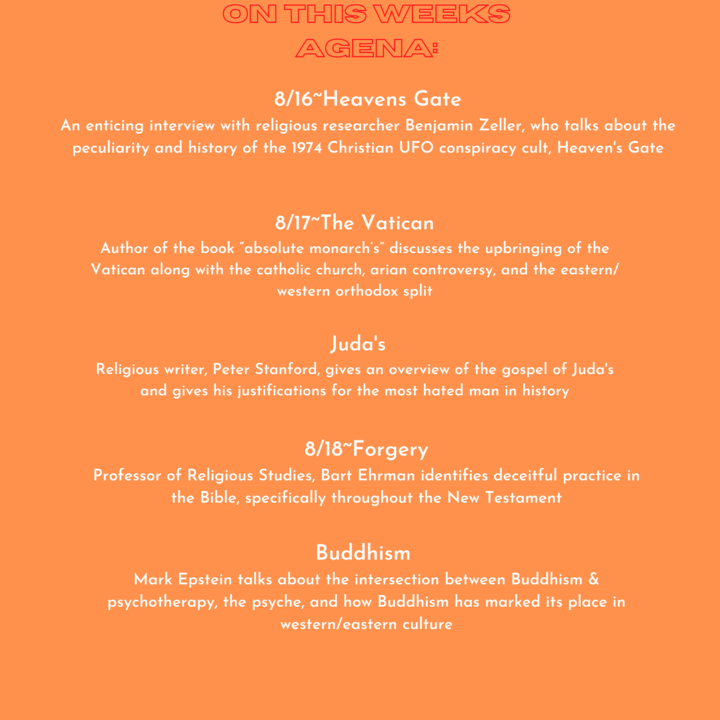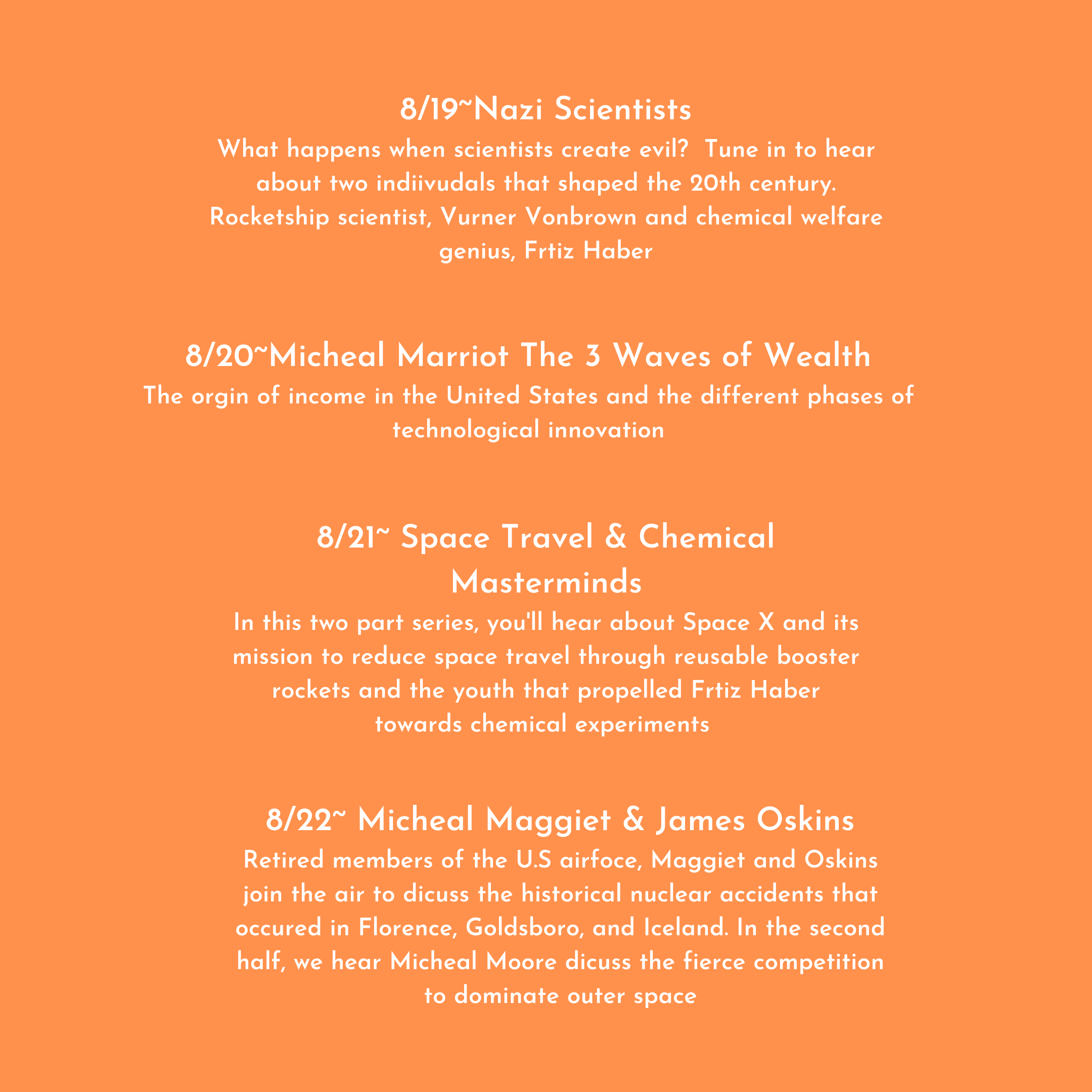 ---
if you know you have contracted the virus, please report your case to the Santa Barbara Public Health Department so that we can ensure that we are relaying Covid-19 cases more accurately and continue to keep our community safe and healthy
(updated # of cases since last week)