Join EJA and the UCSB Social Justice Coalition on Monday as we embark on the Free Them All Activist Tour! All are welcome to join us at SRB at 12pm. We hope to see you there as we talk about the history of student-led activism on campus and the fight for social justice.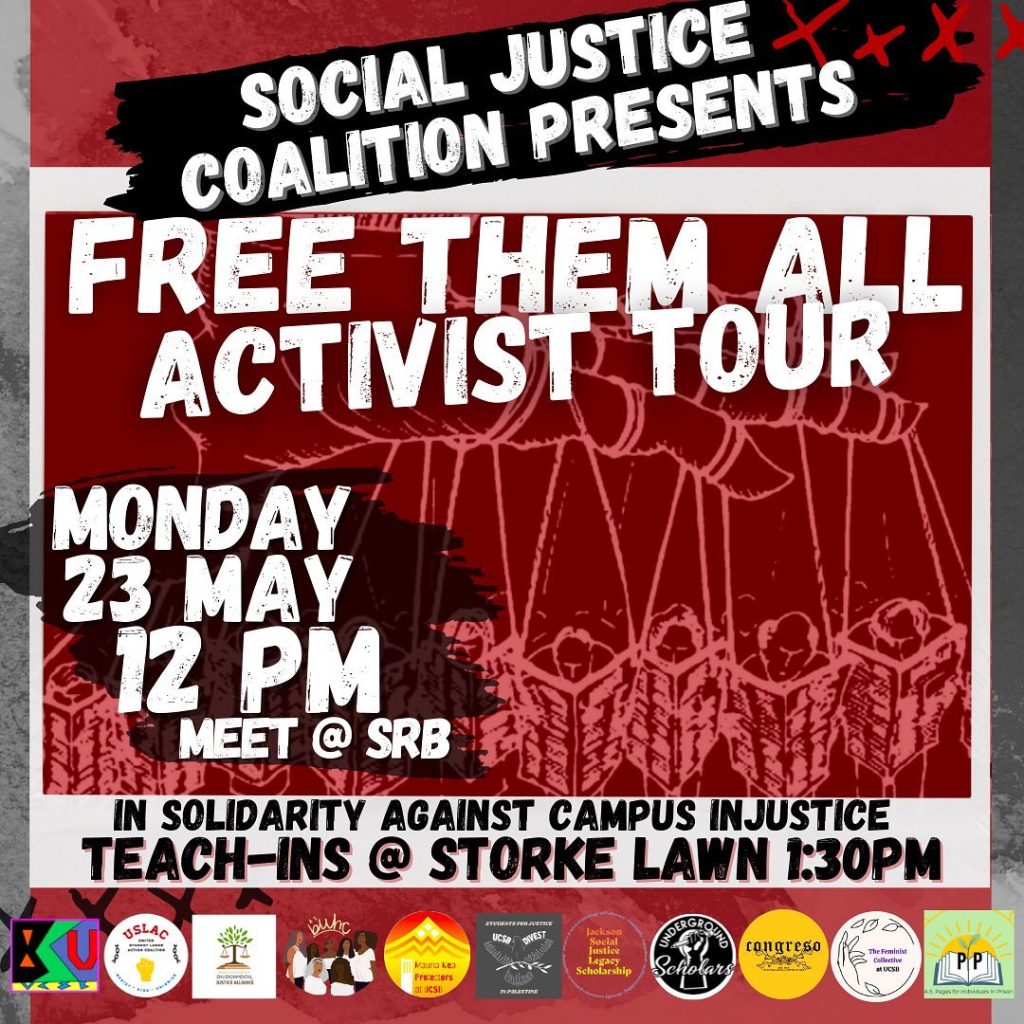 We Remember Them.
Stop by the Love and Remembrance Garden anytime today to reflect and remember. Flowers and tea lights are available to place on the benches built in honor of our students who passed.
Cheng Yuan "James" Hong
Veronika Weiss
Christopher Ross Michaels-Martinez
Weihan "David" Wang
George Chen
Katherine Breann Cooper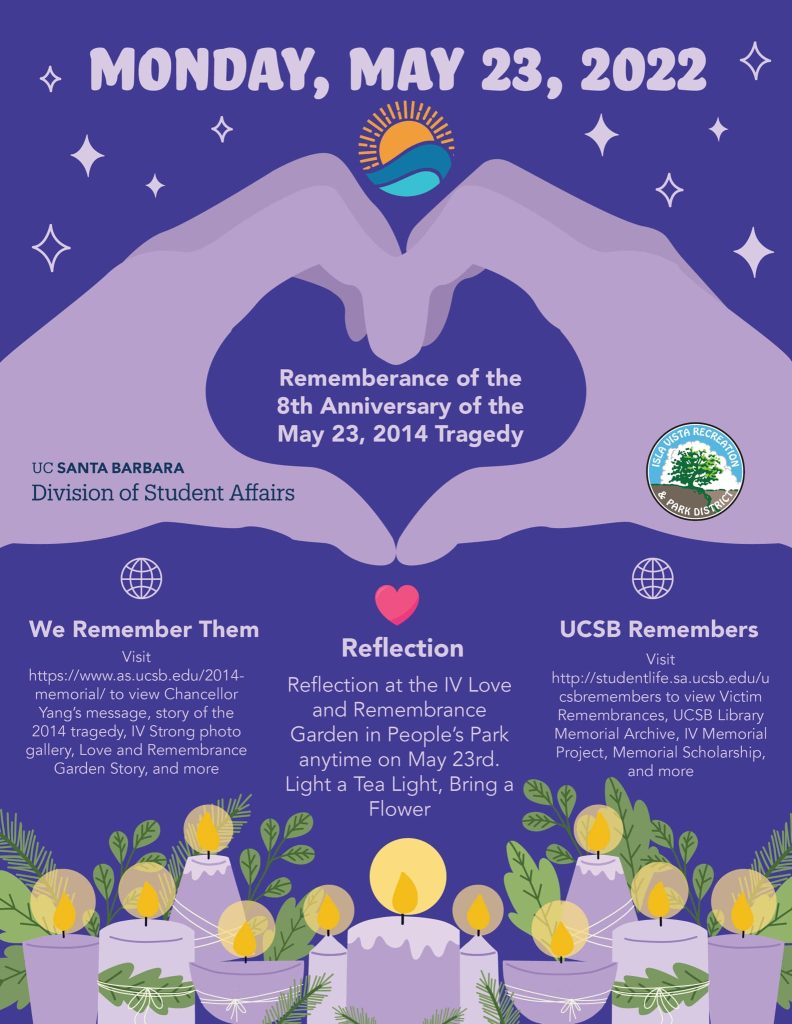 Join the Vice Chancellor of Student Affairs, the Vice Chancellor for Admin Services, and the Dean of Student Wellness on May 25th to share your opinions about the mental health crisis response at UCSB. There will be four (4) thirty (30) minute focus groups from 11:30am-1pm in the Student Resource Building. The focus group will consist of hearing the UC Community Safety Plan presentation, followed by a space to share opinions and ask questions. You can also learn more about the UC Community Safety Plan at ucop.edu/community-safety-plan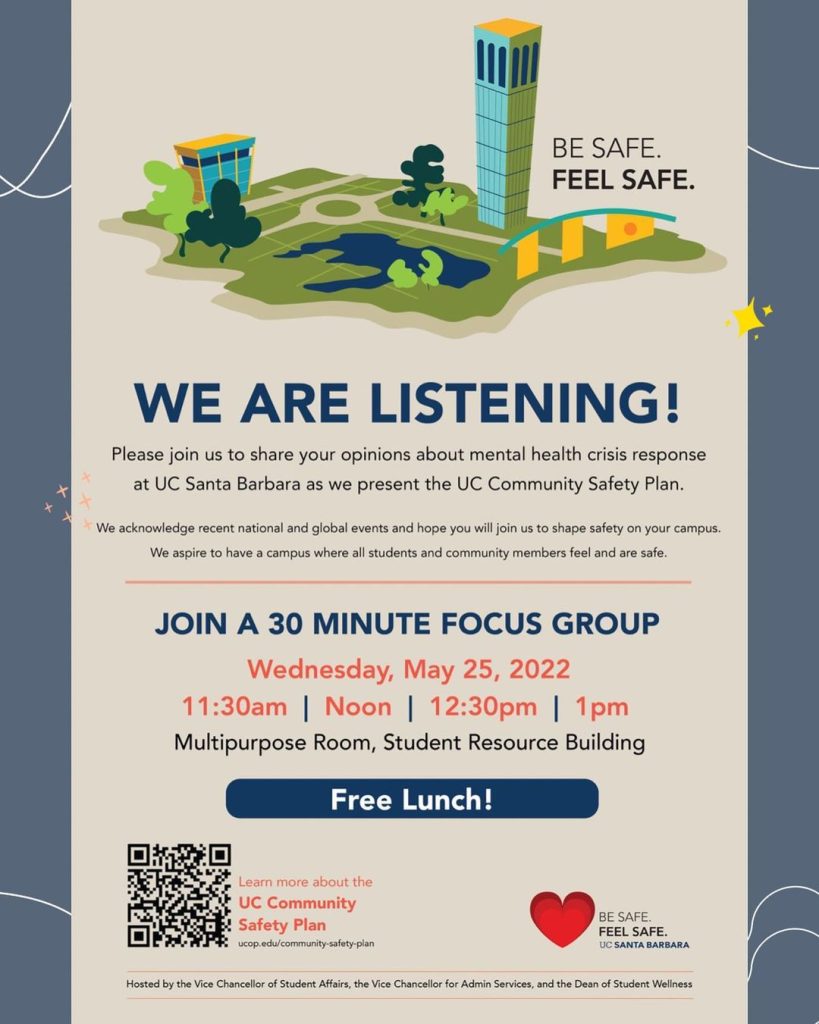 Hey Gauchos,
we have another
FREE Noon Storke Show
for you!! Catch IV band
PING PONG PALACE
as they perform live in Storke Plaza on Tuesday, May 24th. Live music, free ice cream, and limited edition aspb merch galore!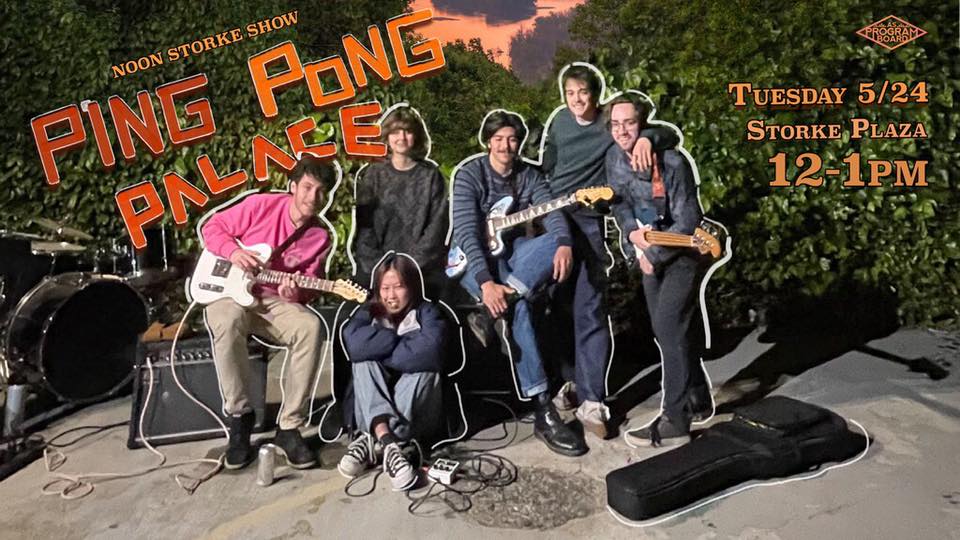 UC Santa Barbara's AS Program Board presents… AUDREY NUNA in The Hub!J
oin us this Wednesday (May 25th) for a Santa Barbara-exclusive performance by R&B singer and rapper, Audrey Nuna!
This event is FREE for UCSB students with valid access cards and is open to the greater Isla Vista, Goleta, and Santa Barbara public. Tickets can be purchased at the link provided. $10 ONLINE and $15 AT THE DOOR, day of show.
LOCATION: The Hub at UC Santa Barbara | 558 UCEN Rd, Santa Barbara, CA 93106
Doors open at 8:30pm.
•••23 year-old singer-songwriter and rapper Audrey Nuna is currently killing it in the music scene with her dynamic sound and unique music style. Her hits "damn Right" and "Comic Sans" (ft. Jack Harlow) have garnered millions of streams and fans worldwide. This New Jersey-born artist combines pop, rap, R&B, and trap in her music, and in effect creates refreshing and exciting music that only leaves listeners wanting more. This young, rising artist is one you don't want to miss as she performs for her Santa Barbara audiences and music-lovers!
AUDREY NUNA'S SPOTIFY: https://spoti.fi/3KZcbYt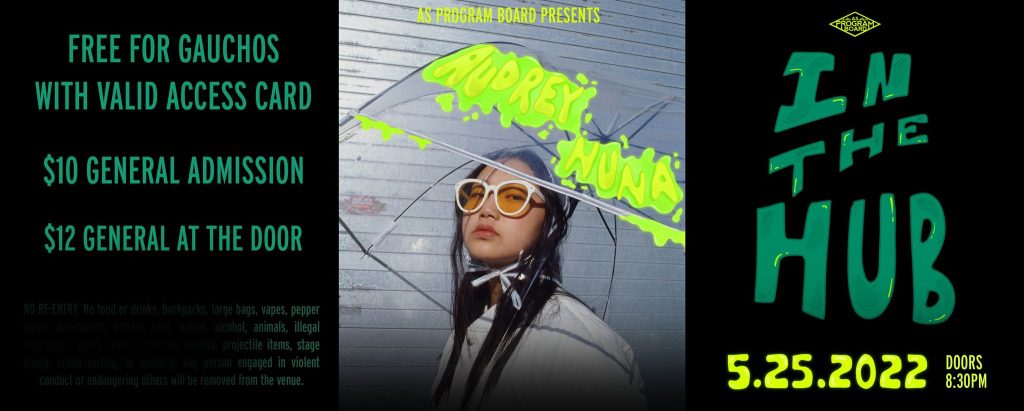 Join us this Wednesday in the SRB Multipurpose Room to celebrate AAPI Month by learning about Asian zero waste practices and making a custom, zero waste tea blend!! First 80 attendees will receive a free mason jar and tea strainer to use with their tea blend, and we'll be raffling off a thermos and mug for tea!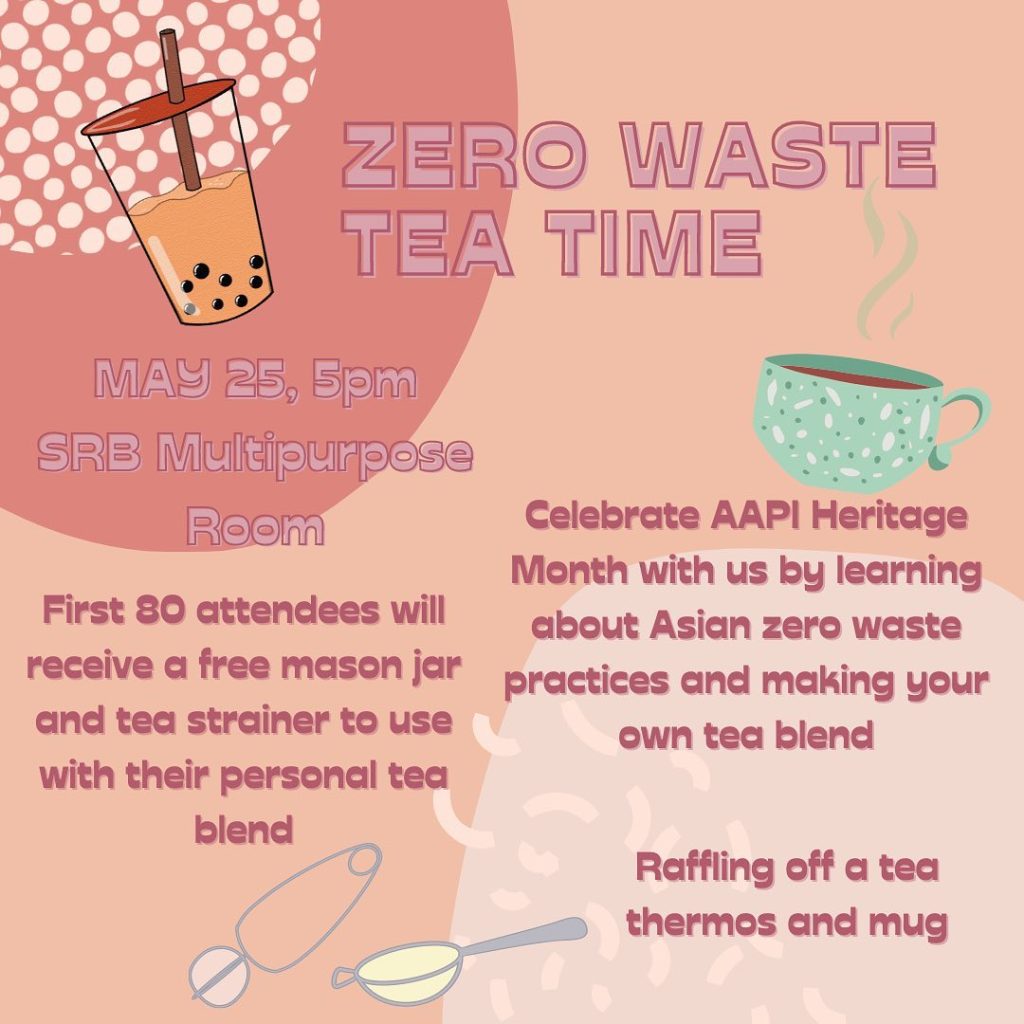 As finals season approaches, why not learn about mindful meditation at the beautiful and relaxing Labyrinth with a professional meditation teacher for FREE? At this COSWB workshop, you'll learn lots of useful meditation techniques to control anxiety and pre-dead week stress
5/27 10am