Second part of "How We Build Community" series! Join the Black Women's Health Collaborative and the Commission on Disability Equity in discussion about advocacy from a Black Disability Justice lens.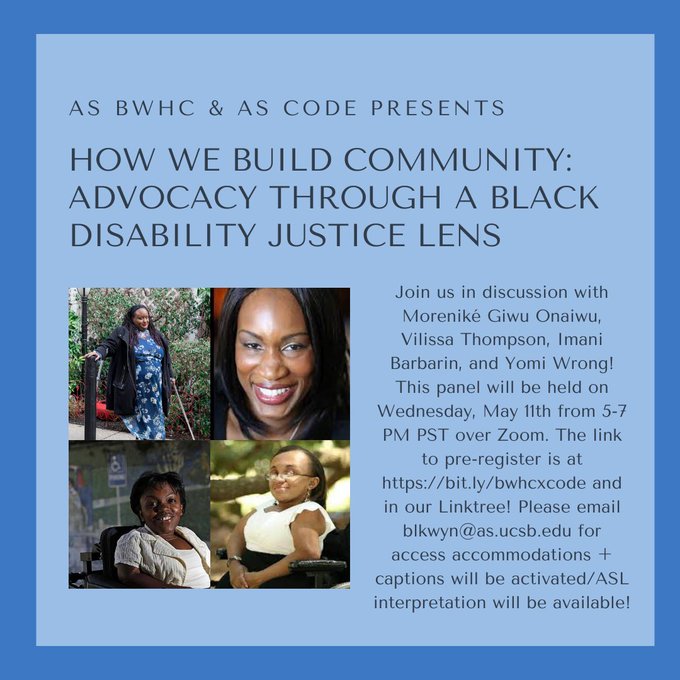 Hey graduation seniors! TSA and the TSC are having a Cap Decorating Event next Wednesday at the TSC at 3. Scan the QR code to register and can not wait to see you all there!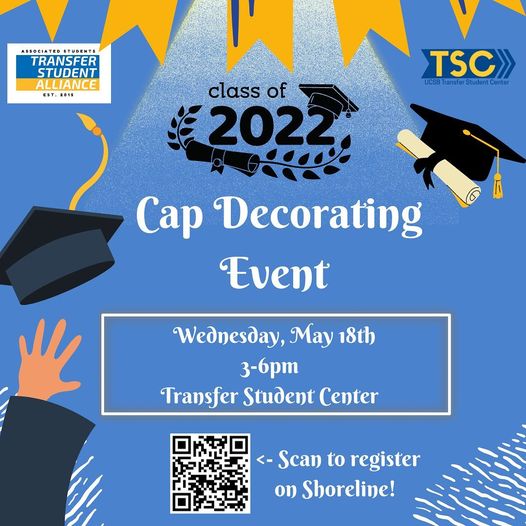 If you're looking for a way to meet other UCSB students, make new friends, or for an excuse to have a relaxing beach day, come to the COSWB community picnic on the 13th for a Friday that'll be fun and beachy!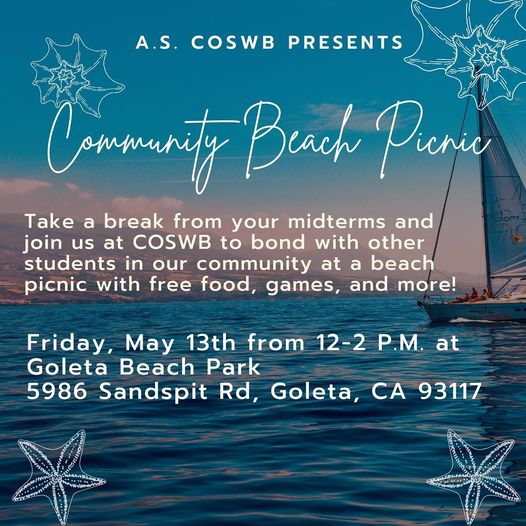 Investing in an Inflationary Environment with Dr. Susan GroverThursday, May 12th, 5:00 PM – 6:00 PMRegistration: tinyurl.com/cff-currenteconomy
Inflation seems to be the financial word of the year. Everything is going up in price, from used cars to gallons of milk. With this being the case, how can you make sure your stock portfolio is headed up as well? There are no sure methods in this volatile economy, but an economist could surely offer some much needed help. Dr. Susan Grover, of our own Economics department, is here with context and advice for college students who are invested or looking to invest within today's current market.
Attendees will be entered in a raffle to win one of several in a $25 DoorDash gift cards! Raffle will take place following the Q&A.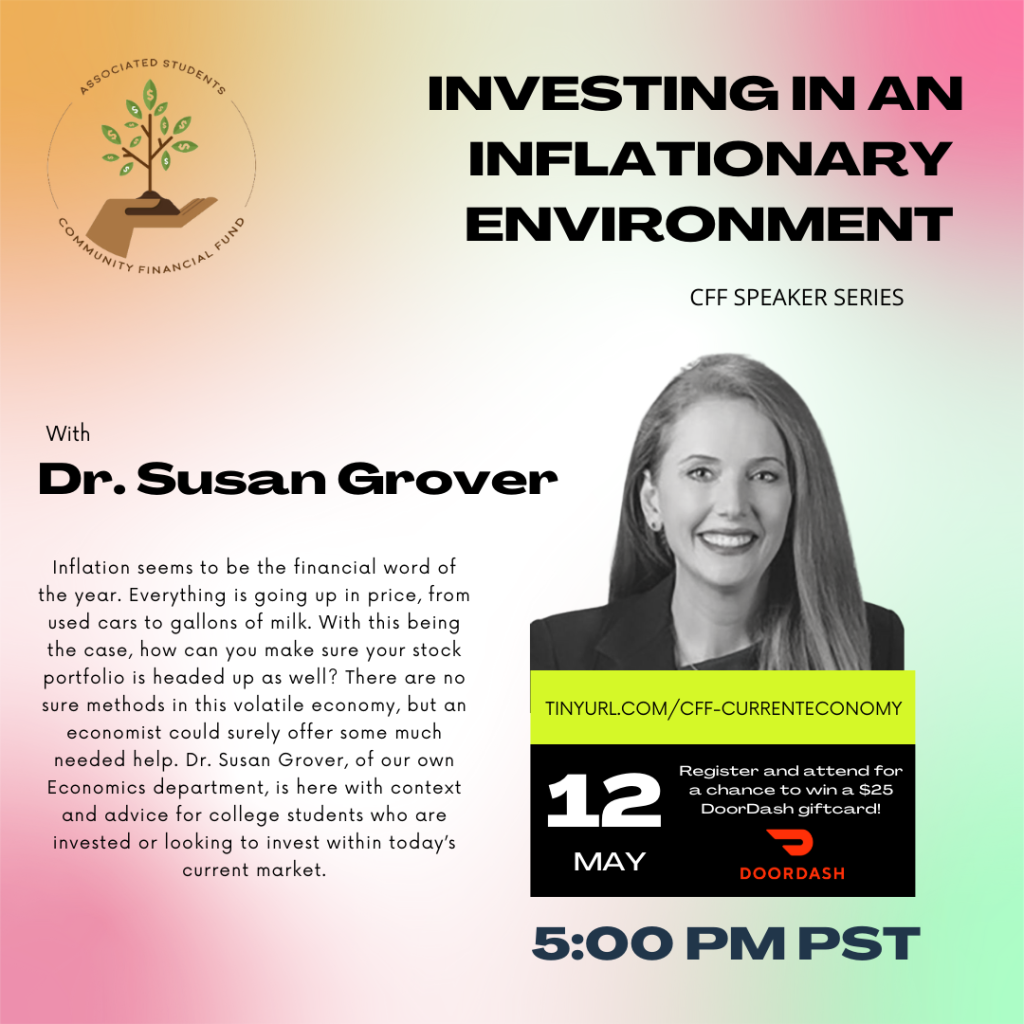 GIVEAWAY!!
Free blankets, tarps, tents, scarfs, and beanies for those in need.
Location: Acorn Park, from 5-7pm. Please share this post tothose who might need these resources!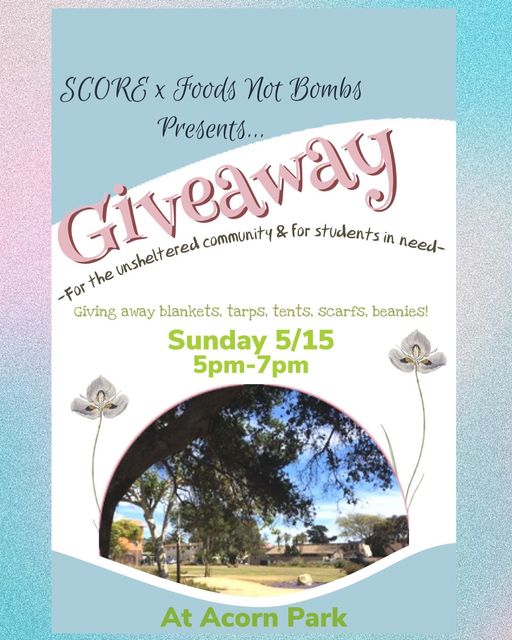 EXTRAVAGANZA 2022
ft. FERG, Dayglow, Valentino Khan, and Audrey Nuna!
Join us for the event of the year on Sunday, May 15, 2022 at Harder Stadium. Gates open at 1:00PM, and ADMISSION IS FREE with a valid access card!
Free live music, art, activities, and more! Experience this decades-old UCSB tradition that's back and better than ever.

FERG, the Harlem-born member of the hip-hop collective A$AP Mob, has released some of the most iconic hits since he launched his solo career with 2013's Traplord, the same year he was named BET Awards' "Rookie of the Year". From his follow-up album Always Strive and Prosper, to his mixtapes Ferg Forever and Still Striving, and his most recent Floor Seats series, he has released some of the most invigorating and bold statements in contemporary rap. His smash hit "Plain Jane" was certified 5x Platinum, while "Shabba," "Work REMIX" and "New Level" have all achieved multi-Platinum status as well. Last year's Floor Seats II release featured "Move Ya Hips," with Nicki Minaj and MadeinTYO, landing Ferg's highest charting single ever, having reached #19 on the Billboard Hot 100. From Harlem to the rest of the world, Ferg has manifested his creative vision across mediums, continuing a legacy that's as deeply personal as it is historical. "I'm not in this game just to make money, he says. "I want to make art." Don't miss out on this opportunity to join Ferg on his journey.FERG'S SPOTIFY: https://spoti.fi/3wfgqKa
Best known as Dayglow, Sloan Struble is the one-man band that has quickly sprung into the music scene with his thoughtful lyrics and timeless melodies. 22 years old, the loveable Texas born-and-raised musician writes, produces, records, and mixes all of his music himself, and out of his own bedroom. While in college, he created his debut album Fuzzybrain which featured the widely loved indie pop classics "Can I Call You Tonight?" and "Hot Rod". He continuously releases fresh, contemporary hits with nostalgic sounds. His recent, sophomore album Harmony House, inspired by piano-driven soft rock from the late '70s and early '80s, is filled with endearing melodies and danceable tracks like "Close to You" and "Medicine". With hundreds of millions of streams and just under 7 million monthly Spotify listeners, Dayglow has captured the attention and hearts of millions worldwide. He continues to charm and inspire his listeners with his music, and we are incredibly proud to have him at this year's Extravaganza! DAYGLOW'S SPOTIFY: https://spoti.fi/3KYPKTc
Valentino Khan makes everything. The Los Angeles-based DJ and producer is an artist whose music truly knows no bounds. From producing hip-hop tracks for Grammy-winning artists to pumping out electronic club anthems at top venues all over the world, he is continuously evolving his unique personal sound. Incorporating elements of house, trap, bass, hardstyle and more. Khan's original track "Deep Down Low" became an international sensation, earning the title of "Most Played Track Of The Year" and topping Sirius XM's #1 Song of 2015 on Electric Area. Valentino most recently released his House Party EP on Mad Decent. It debuted at #1 on the Apple Music Dance charts and has received critical praise across the board. Khan has continued his success in the dance world with huge tracks like "Pump," "Lick it," "Gold" with Sean Paul, "Novocaine" with Kayzo and "Pony." His electrifying stage presence and high-energy sets have earned him a loyal international fanbase that follows him from EDC Las Vegas to the Lollapalooza festivals in South America and to his upcoming performance at Southern California's HARD Summer. VALENTINO KHAN'S SPOTIFY: https://spoti.fi/3whRAJn
23 year-old singer-songwriter and rapper Audrey Nuna is currently killing it in the music scene with her dynamic sound and unique music style. Her hits "damn Right" and "Comic Sans" (ft. Jack Harlow) have garnered millions of streams and fans worldwide. This New Jersey-born artist combines pop, rap, R&B, and trap in her music, and in effect creates refreshing and exciting music that only leaves listeners wanting more. This young, rising artist is one you don't want to miss as she performs for our UCSB exclusive event!AUDREY NUNA'S SPOTIFY: https://spoti.fi/3KZcbYt