Facebook
Wasted! The Story of Food Waste Free Screening
Monday, April 8, 2019 at 7:45 PM – 10 PM
SRB
Happy first week of spring quarter gauchos!
Come out to ZWC's first event of the quarter—a screening of Wasted! The Story of Food Waste. Produced by Anthony Bourdain, this film highlights how detrimental the global food waste problem is, while following various chefs around the world that transform food scraps into delicious meals.
We will be providing vegan wraps from the IV Co-Op and some yummy snacks! Make sure ZWC doesn't produce any food waste from this event by coming out to enjoy dinner and a documentary!
Trailer:
https://www.youtube.com/watch?time_continue=3&v=KUQGVSyXDWA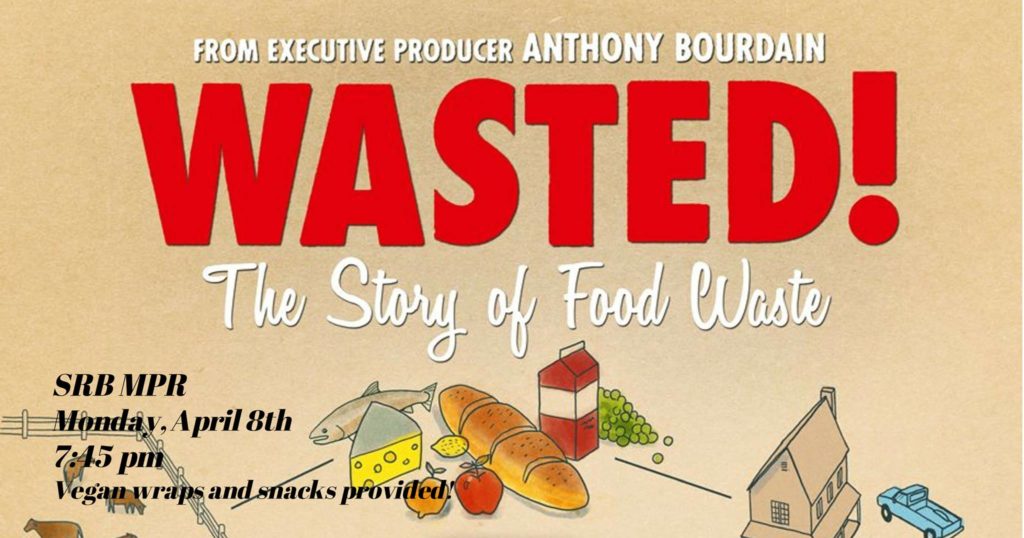 ---
kicking off DAY 1 of volunteer week is MEAL SERVING!! 😊 we have 2 events today.
first one is at st michaels church in isla vista and the second one is at PATH located downtown!! want a ride to downtown? please meet at the MCC!🍽
happy monday cabbies💛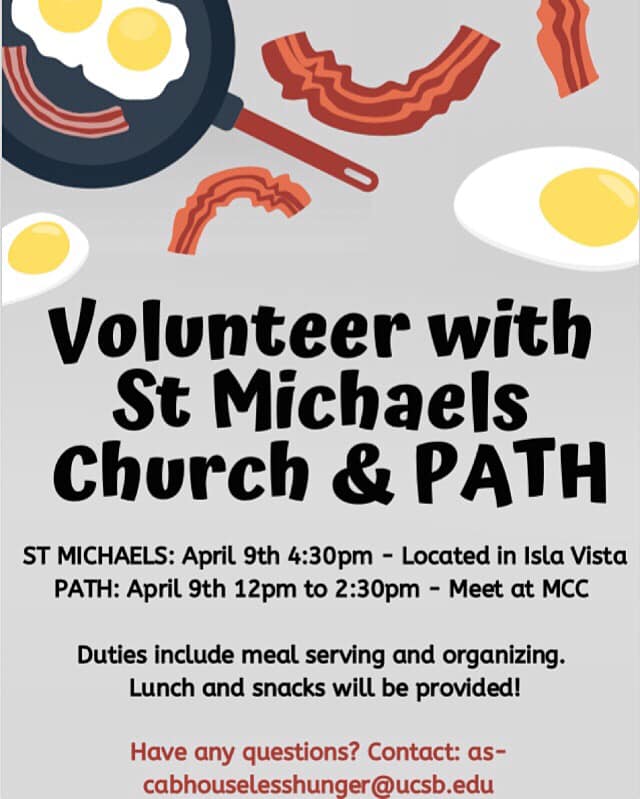 ---
Apply to be a Pride Volunteer!
Every Tuesday, Feb 5 – Apr 9
UCSB Pride is looking for volunteers to join our team in order to make UCSB's 2019 Pride a week of power moves and slays!
This Pride is going to be cute and fun af! You don't want to miss out QTs ♥
Fill out the form below to join the club sksksk
https://docs.google.com/forms/d/e/1FAIpQLSddIekvWYe3dS1rvJH1ifRosjS_ZAC43lESpGuA4MH-gRhPwQ/viewform

---
who loves bunnies? cab loves bunnies! 🐰
BUNS (Buns Urgently Needing Shelter) comes to campus today!
Volunteer shifts: 11-1pm
The event itself: 11:30-12:30pm
Back up location: Chem lawn
Did we mention we will have albino ones?🐰
Soo who's down to cuddle with some cuties?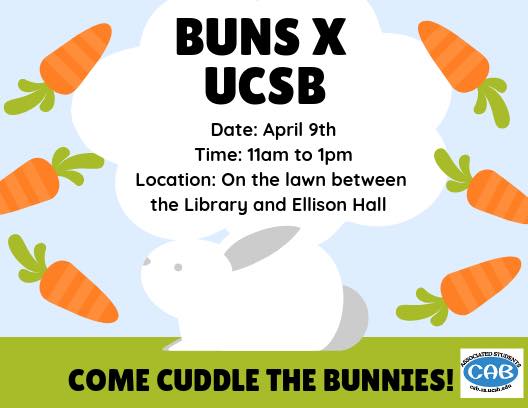 ---
The Bottom Line Spring 2019 Orientation
2 Dates · Apr 10 – Apr 11
The Annex
Interested in writing, photography, video, or journalism? Get paid to do what you love and to have a voice on campus. We are a student-run newspaper looking for new writers, photographers, filmers, and illustrators! Come out to TBL's spring orientation at the Annex (Building 434) to learn more.
As the final chance to join a team dedicated to reporting on news for the school year, we are offering two orientations this week – don't let your busy schedule get in the way! If you can't come out to either orientations, weekly staff meetings are every Tuesday at 7pm – or email marketing@bottomlineucsb.com for more information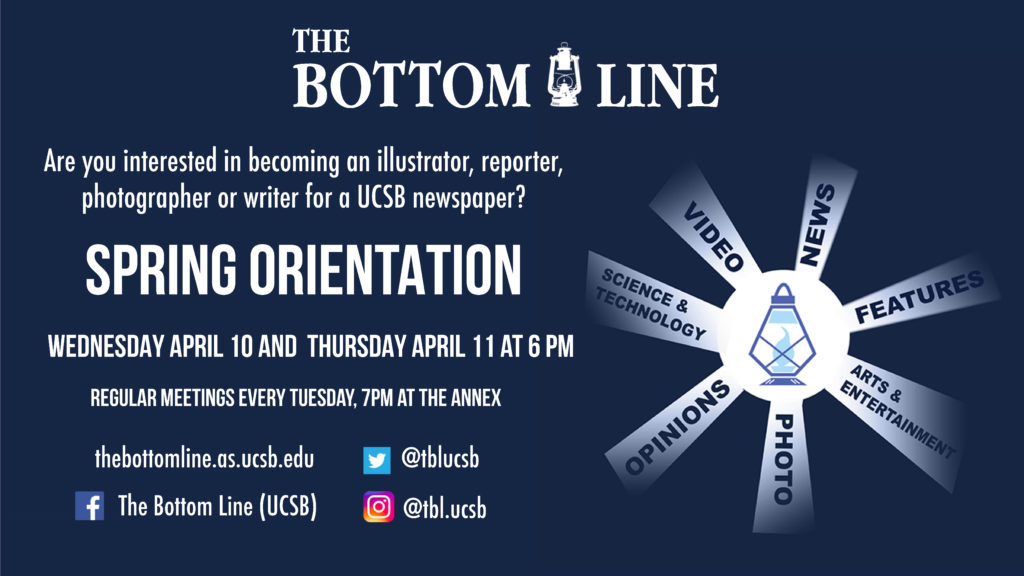 ---
County Composting Workshop
co-Hosted by DWP
Saturday April 13
12-1pm IV Food Co-op
Join Associated Students Dept. of Public Worms and the Santa Barbara County Resource Recovery and Waste Management Division for a fun, free workshop at our Co-op by the sea ~to learn all about how to successfully manage your own backyard compost!
We'll be exploring what foods can be composted, how to keep food scraps balanced with yard waste, how to use worms to help your process of composting, and how to properly uses your compost.We will have demos of Earth Machines, Vermicompost Bins, and finished compost.
We only host this workshop once a year, so be sure to get it on your calendar and tell your friends! Stay for the whole workshop for a chance to win a worm-composting bin!
Snacks will be provided by the Co-op!
COME AND JOIN US! 🙂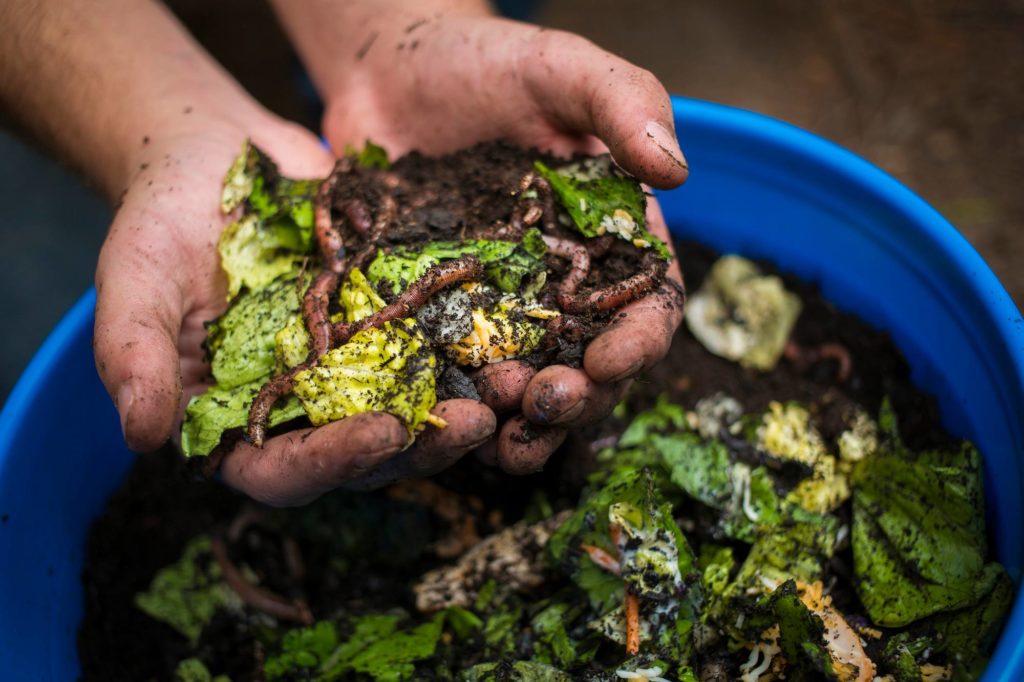 ---
AS Recycling is hiring a Routes Coordinator for the upcoming summer and 2019-2020 school year. We are looking for a highly motivated individual who is dedicated to helping make UCSB a more environmentally friendly campus. As a Coordinator you will lead a team of students and gain managerial experience while working in a fun environment. Visit https://ucsb.joinhandshake.com/jobs for more information and to apply! Applications are due by April 24th!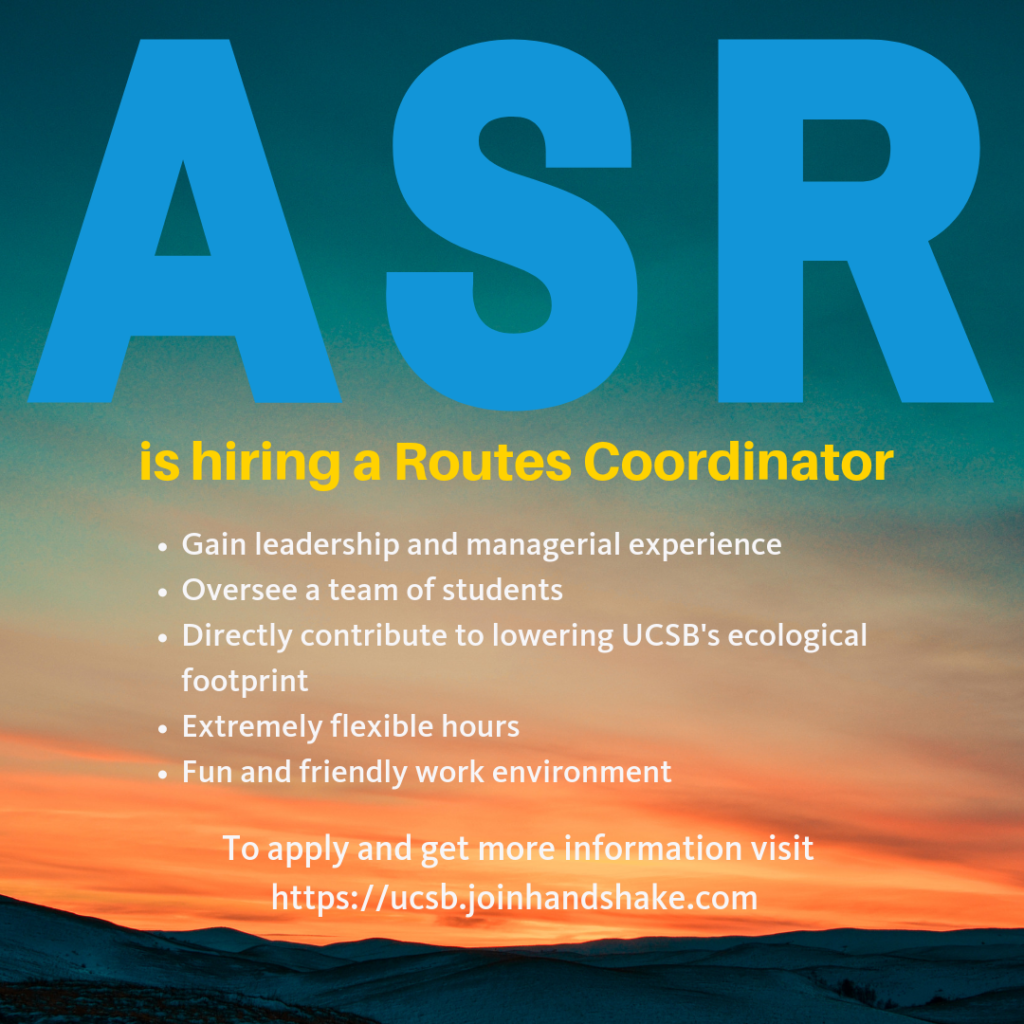 ---
Twitter
None of the work Coastal Fund supports each quarter would be possible without the help of UCSB student fees! Through our annual lock-in fee, student contributions allocate around $350,000 in funding to make projects and campaigns that uphold the Coastal Fund mission possible!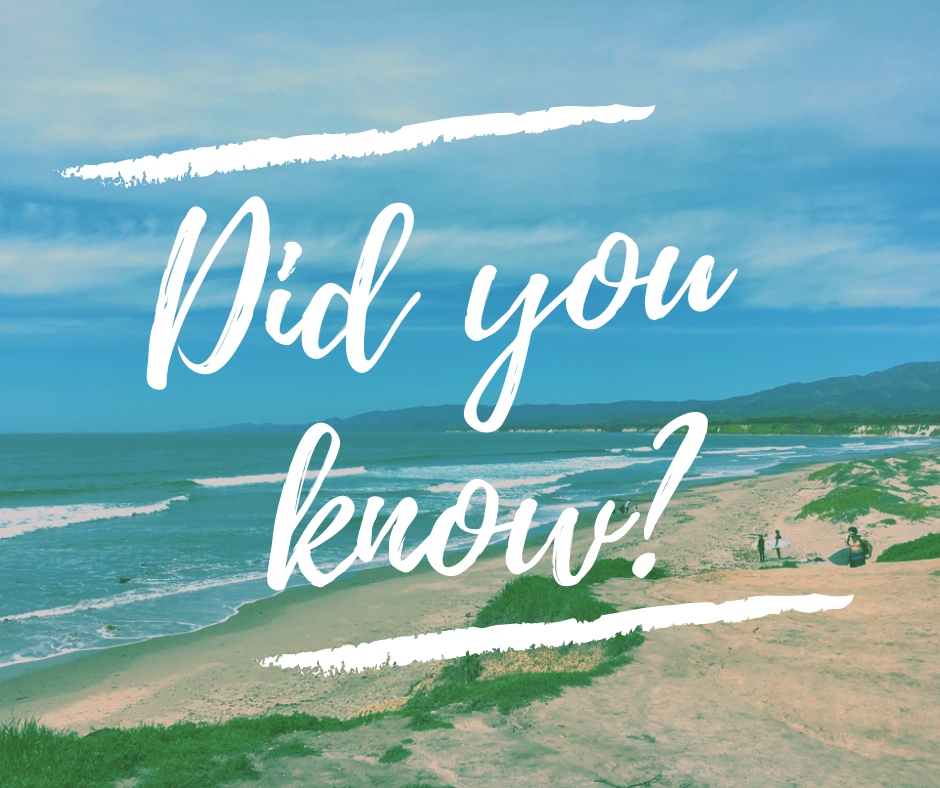 ---
Submissions for Womxn's Commission annual Herstory Magazine are now open through April 20th. This is a judgment free zone & all lever of expertise are welcomed. (Anonymous submissions are also welcomed) email all submissions to npatricio@as.ucsb.edu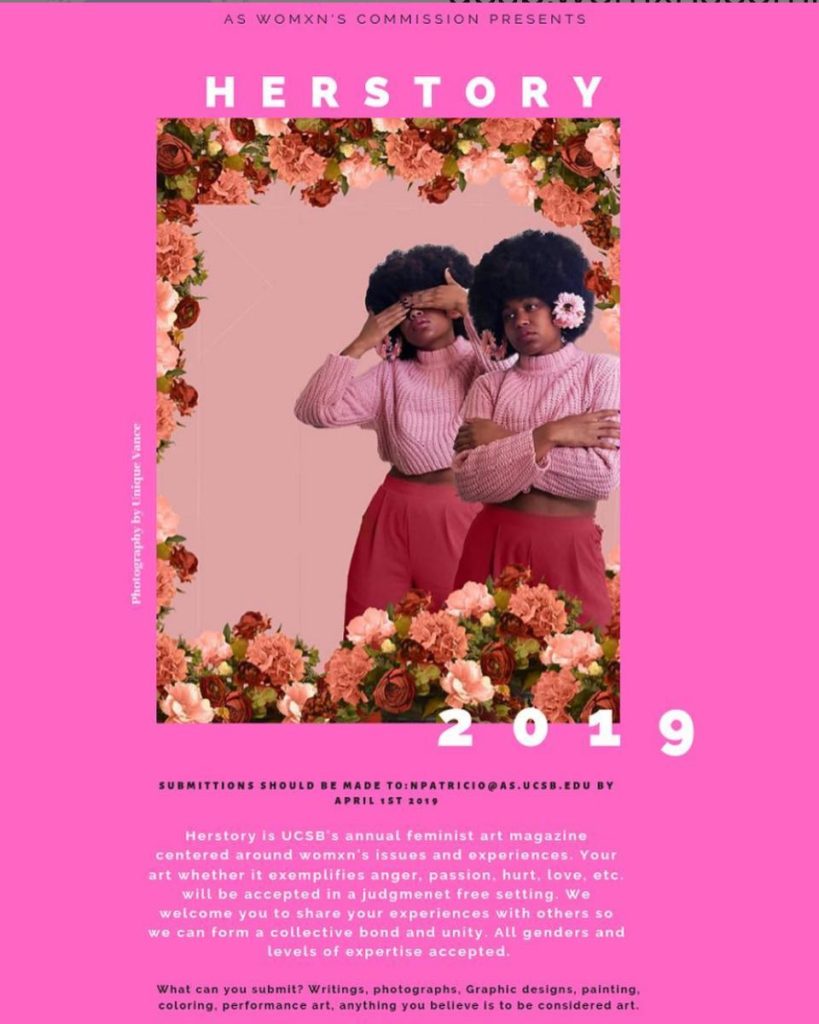 ---
Interested in a non-profit fair to meet local nonprofits about career or volunteer opportunities? Then you're in luck because the CAB CARE EXPO is TODAY 4/10 Corwin Pavillion, 11am-2pm. Light snacks & refreshments will be provided. as-cabcommunityoutreach@ucsb.edu.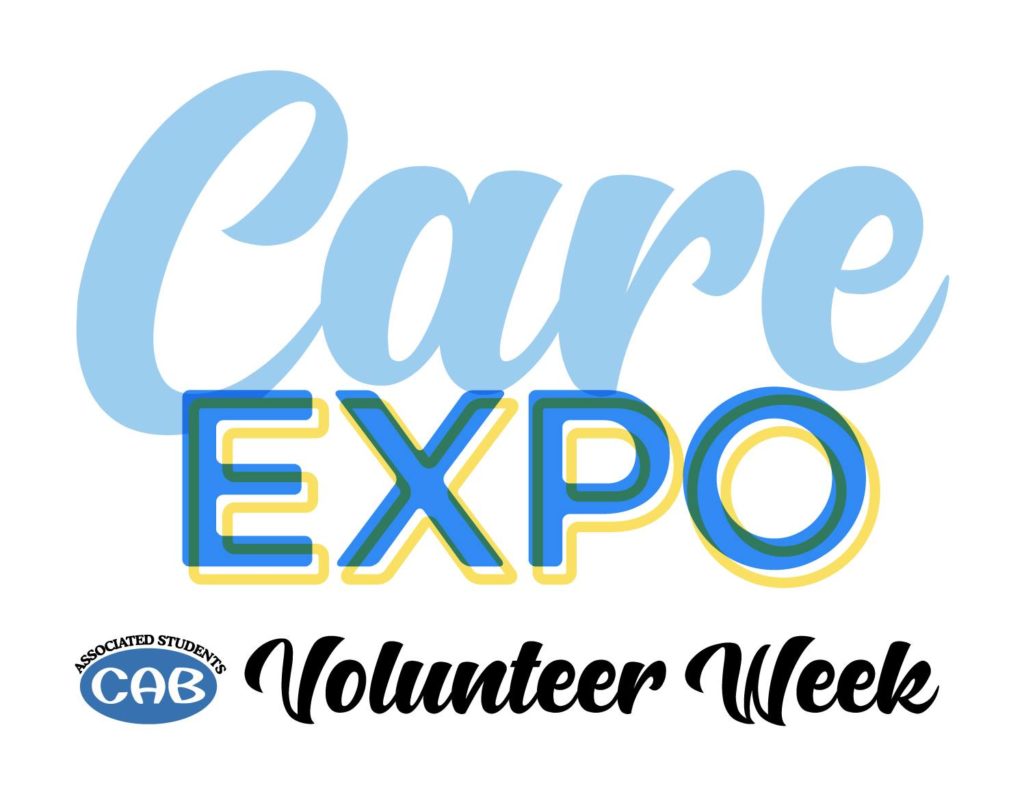 ---
CAB's annual Volunteer Week with volunteer opportunities EVERY. SINGLE. DAY. TODAY: THURSDAY (4/11) Scholastic Book Fair Corwin Pavilion 2-6pm contact: as-cabflp@ucsb.edu link: https://forms.gle/VND4DVUgmNseNM6aA …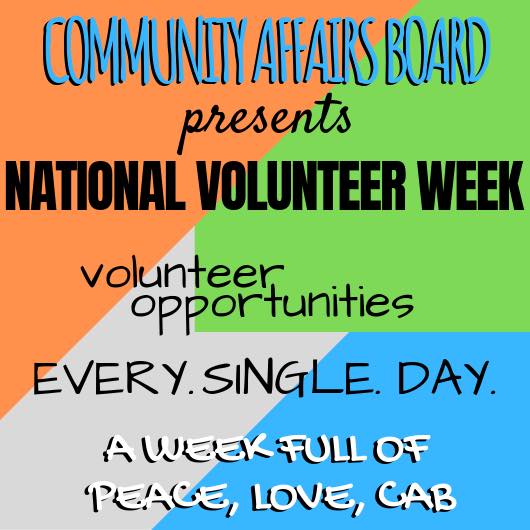 ---
YouTube