Facebook
Drug and Alcohol Safety Week!
Apr 2 at 11 AM – Apr 8 at 7 PM
In honor of Deltopia, join the EVPLA and various resources on campus for Drug and Alcohol Safety Week! Come out to any of the events for information on how to stay safe and healthy this Deltopia weekend. Together we can take care of each other and our IV!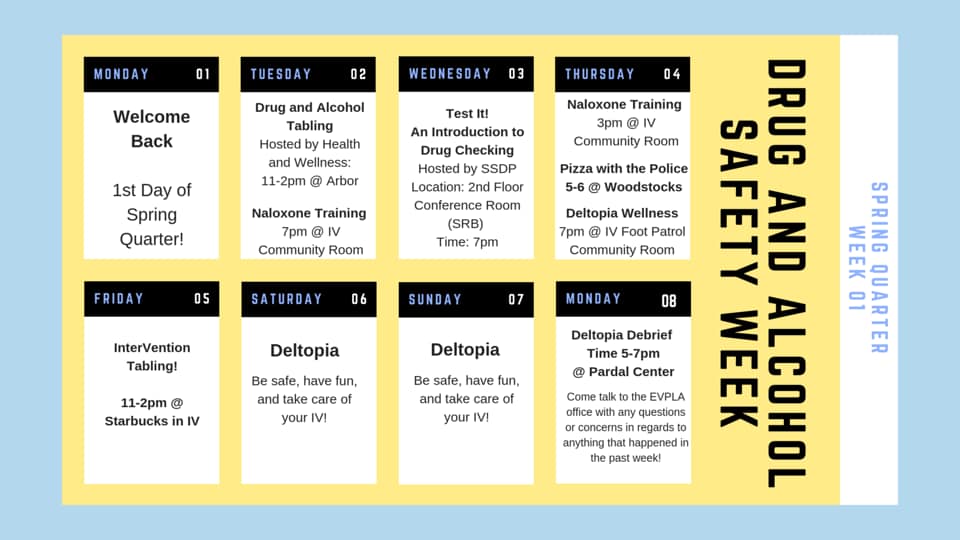 ---
Community Overdose Response Training
2 Dates · Apr 2 – Apr 4
950 Embarcadero del Norte, IV Community Room
Learn to prevent and respond to an Opioid overdose! FREE naloxone (overdose reversal drug) will be available!
There will be two dates! Take a look at which one is best for you and we hope to see you there!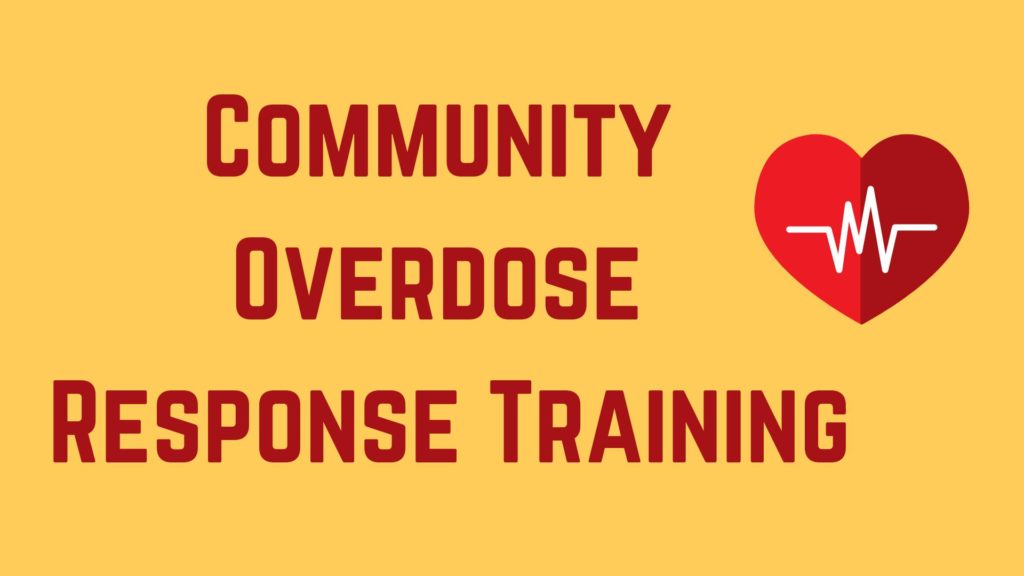 ---
General Meeting
Monday 4/8 at 5 PM – 6 PM
AS Annex
Come rewrite history with the Living History Project!
The Living History Project was started by Mahader Tesfai in 2012 and serves as an online archive of student activism at UCSB. From the Isla Vista Bank Burning to the North Hall Takeover, this project aims to pull from primary documents, oral interviews, and first-hand accounts to revitalize our school's rich history of fighting for change on and off campus.
And we want you to join!
Gain journalistic experience through workshops, research, and collaborative content creation while learning about the history of student activism at UCSB.
The Living History Project's first general meeting will be on April 8th at 5pm in the AS Annex (bldg. 434 across from Storke Tower) so come out, eat some pizza, and learn more about how YOU can get involved!
IG/Twitter/FB: @ucsblhp
Website: https://livinghistory.as.ucsb.edu/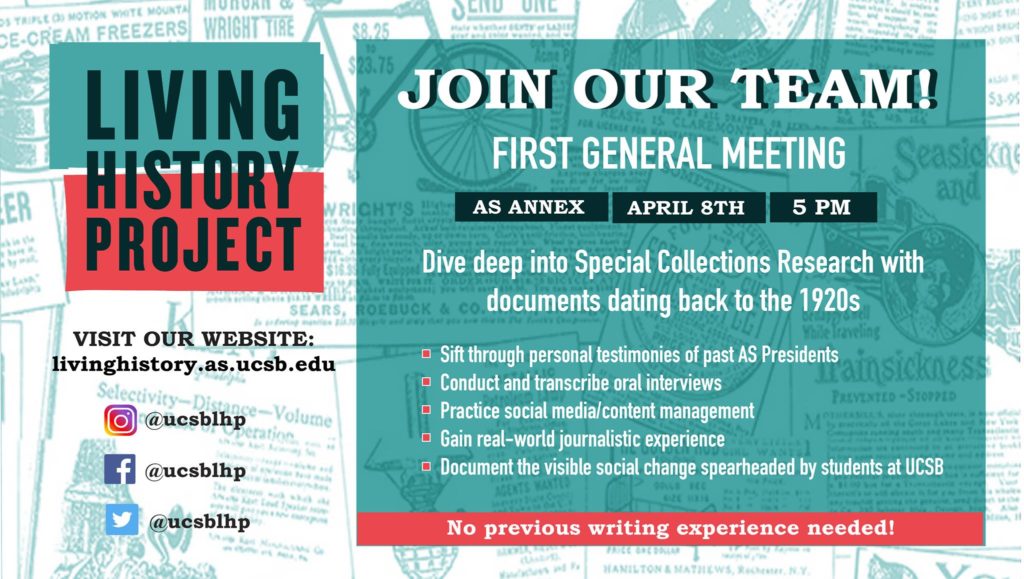 ---
UCIV Deltopia Volunteer Deployment
4/6 at 11 AM – 4:15 PM
Pardall Center
Get down with IV this Deltopia!!
Join us for the 2019 UCIV Deltopia Volunteer DeploymentWhat: A.S. UCIV Deltopia Volunteer Deployment
During Deltopia, UCIV will have teams of staff and volunteers deployed in Isla Vista at hydration stations and in mobile teams, primarily along Del Playa, to help take care of our community. Teams will staff hydration stations and walk through IV providing water, safety information and resources to the public.
When: Saturday, April 6th. Deployments from 11am-4pm. Teams will be deployed in two hour shifts, including volunteer training. We also need volunteers to help with set up at 9:30am and breakdown at 4pm.
Where: Isla Vista – Meet at the Pardall Center.
How: Sign up to volunteer online: https://docs.google.com/forms/d/e/1FAIpQLScDZHYtJ-NA4klSQTz4As-LXFIwftOHmQkXuRKGDKbofuEadg/viewform.
Why: Because our community matters. UCIV is a student-initiated, volunteer program operated by the A.S. Public Safety Commission that was established to facilitate public safety and well-being in Isla Vista. UCIV student leaders and volunteers interact with Isla Vista residents and visitors to provide them with knowledge and resources to make informed decisions about their own and the community's well-being. They act as mediators to prevent conflict and promote peaceful interactions between public safety officers and Isla Vista residents and visitors to the community. When needed, the volunteers connect people with medical services or other public safety officials.
Who: A.S. Public Safety Commission's UCIV Volunteer Program in partnership with the Office of the External Vice President for Local Affairs and in collaboration with many other campus and community entities.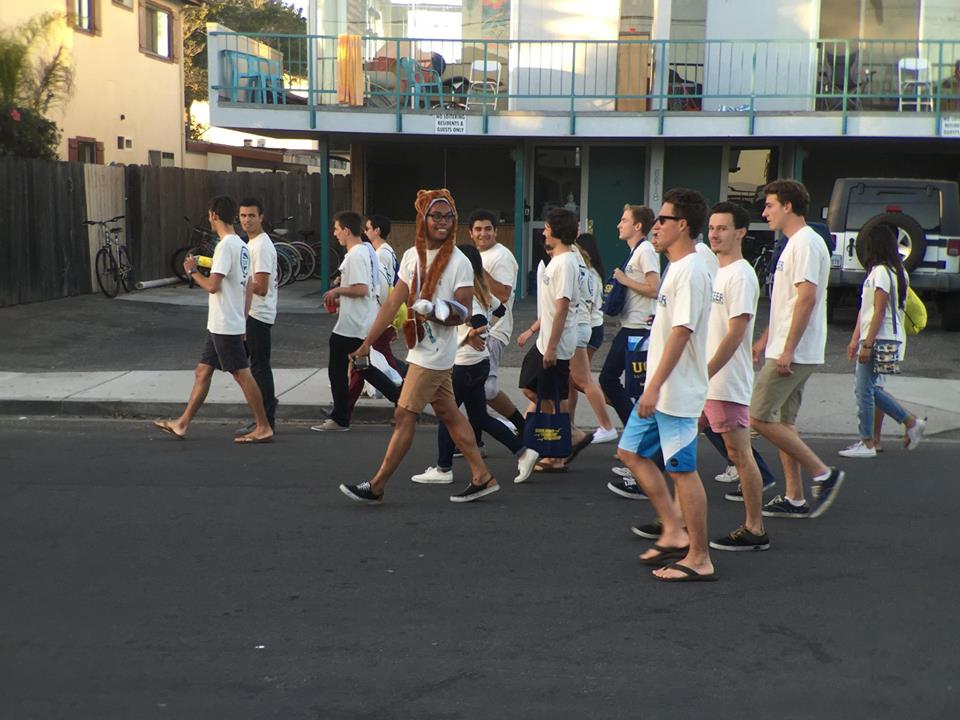 ---
DIY Aromatherapy Night
Thursday, April 4, 2019 at 6 PM – 7 PM
Santa Cruz Hall
Join us tomorrow, Thursday, April 4th at 6pm in the Santa Cruz Main Lounge for a night of DIY Aromatherapy! Get the quarter started with a fun a relaxing night of creating your own personalized aromatherapy spray. Everyone is welcome. Bring a friend!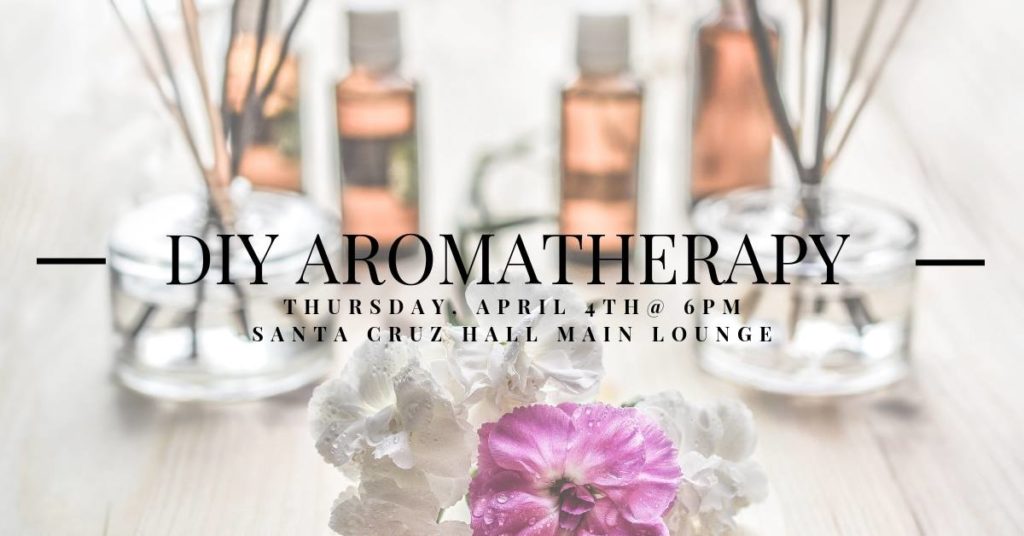 ---
Know Your Rights: Legal Strategy for Student Activists
Thursday, April 4, 2019 at 6 PM – 9 PM
MCC
Come out this Thursday to learn your rights as a Student Activist!
Do you ever wonder what are your rights when engaging in activism on campus? Is your school allowed to charge you extra security fees because the speaker you've invited is "controversial"? Can you get in trouble for staging a "walk-out" at a problematic event? Can your school force you to "dialogue" with student organizations that do not share your principles of equality for all people? How has this all played out for when students advocate for Palestinian human rights?
We welcome Palestine Legal as they help answer these questions amongst other topics!
Dinner from SANTORINI'S begins at 6:00 pm, with the lectures and Q & A following after from 7:00-9:00.

---
There will be road closures 🚫 along Trigo Road on
Pescadero
Embarcadero
Embarcadero Del Norte and
Camino Del Sur there will also be a roadblock halfway through the 68 Block Trico Rd.
The last roadblock 🚫 will be on the intersection of Camino Corto and Del Playa.
The festival noise 🔊 ordinance will be in effect on Friday 4/5 through Monday 4/8 from 6 PM to 7 AM. The only music allowed will be from 7 AM to 6 PM as long as it is not loud enough to create a crowd outside of your residence.
The sheriffs office has also implemented security cameras 📷 on DP in the event that there is a major incident, if you have any concerns please contact the Isla Vista Foot Patrol at (805)-681-4179.
Water stations will be set up in various places in Isla Vista. Be sure to stay hydrated! Watch out for your friends and your community! Let's keep IV safe and fun! 🤩🥳😤❤️
Remember to call 911 in the case of an emergency and remember that the Good Samaritan law protects you from getting a misdemeanor for the safety of the people you are calling for. (Does not protect against Felony charges).
IMPORTANT NUMBERS:
UCSB Campus Police 🚔(805) 893 3446
CSO Escorts (805) 893 2000
Campus Advocacy Resources and Education or CARE ❤️ (805) 893 4613
Standing Together to End Sexual Assault (805) 564 3696
Santa Barbara County Jail (805) 681 4260
---
Twitter
The AS Book Bank may have the book you need.
A quick memes break to let y'all know that there are over 2,000 textbooks FREE to rent throughout the quarter with nothing but the promise of return! Check it out and save some $$$ on yourself this quarter.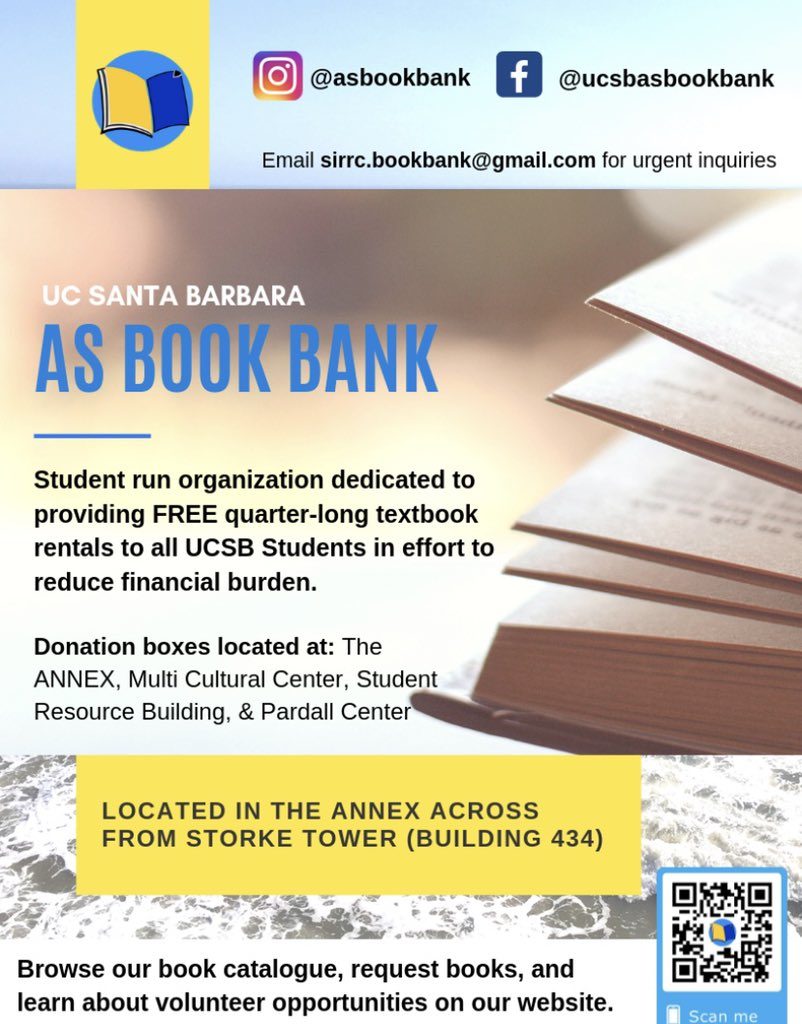 ---
From mentoring, to networking, to providing different resources, catering towards underrepresented college and high school students; A.S. SIRRC aims to provide a safe space for all students on campus.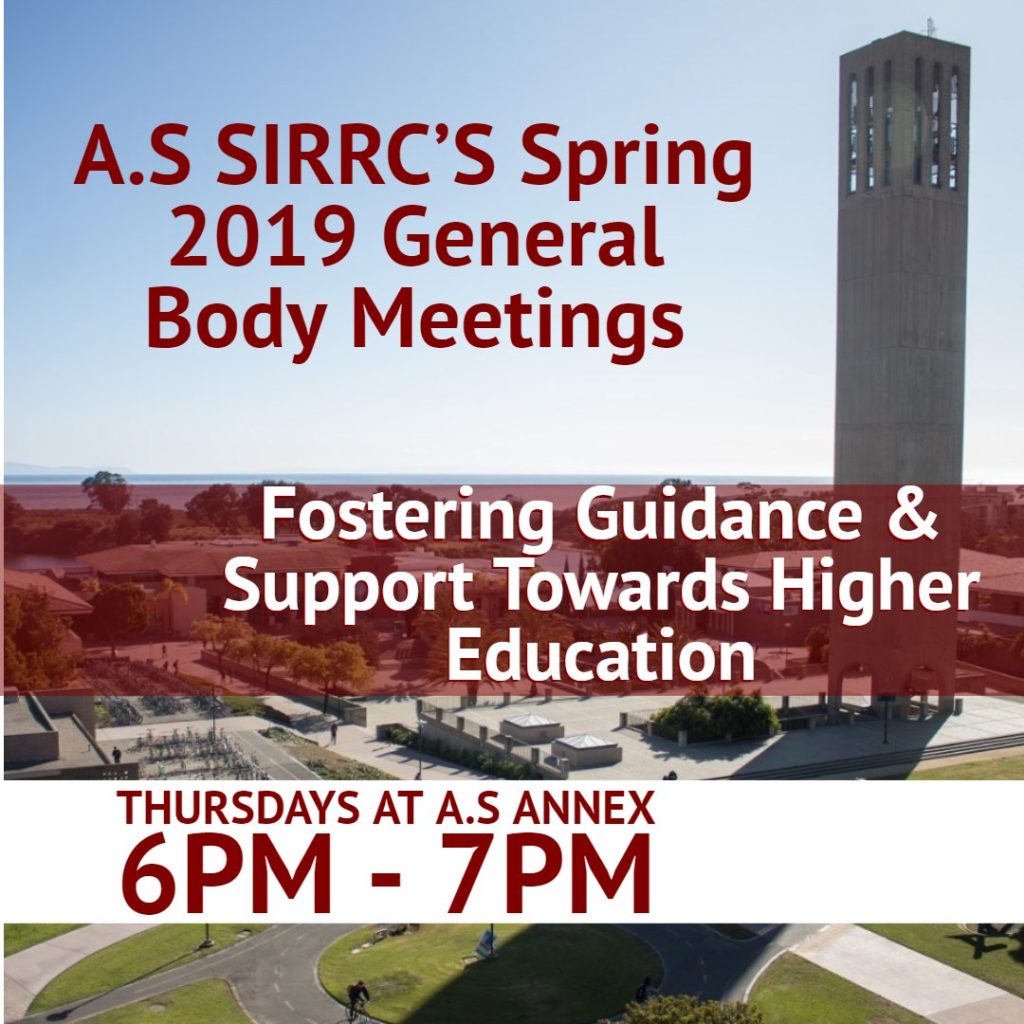 ---
Come talk to Santa Barbara County Sheriff's and UCPD, grab a slice of pizza on us!! The EVPLA office hopes to see you there! Today 4/4 5–6PM Woodstock's Pizza IV.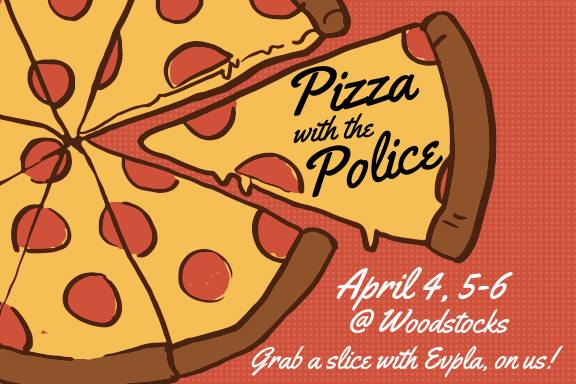 ---
For answers to all of your FAQs as well as more info, check out our website!
(link: https://aspb.as.ucsb.edu/twu19/) aspb.as.ucsb.edu/twu19/
Instagram
Linked In
Madison Richards begins working full time as the Bike Shop Lead Mechanic today Monday, April 1st. Madi is passionate about community engagement and sustainability. She has been working as a Bicycle Mechanic then Student Coordinator at the Bike Shop for the past 3 years. Her experience and skills will be a welcomed addition to the Bike Shop and our team!