Facebook
Extravaganza stickers are available in the updated AS sticker pack https://itunes.apple.com/…/a…/ucsb-as-stickers/id1443674037…
---
Today's We Remember event: 5 years later: Reflecting on the Causes and Impact of May 23, 2014. 5/20 5-6:30pm, Community Room 970 Embarcadero. Join us for a round table discussion about the causes of the May 23rd 2014 IV Tragedy and the resulting impact in both the community and beyond. We will explore the issues of gun violence, hate, IV culture/governance, and more with invited guests doing academic research on these topics.
---
David Hogg: Engage in Change
Tuesday, May 21, 2019 at 7 PM – 8:30 PM Campbell Hall
AS Program Board presents… David Hogg: Engage in Change on May 21st at 7 p.m in Campbell Hall. Doors open at 6:30pm.
RSVP FOR FREE TICKET
Student Tickets Available Monday, May 6th
General Tickets Available Monday, May 8th
Tickets Available at AS Ticket Office or https://events.ucsb.edu/event/david-hogg-engage-in-change/
David Miles Hogg is an American author and student who survived the Marjory Stoneman Douglas High School shooting in Parkland, Florida on February 14, 2018 which was described by several media outlets as a possible tipping point for gun control legislation. Hogg also co-founded the March For Our Lives Movement in support of stronger gun violence prevention measures with over 880 sibling events throughout the United States and around the world.
Hogg is known nationally as a gun control advocate and an activist against gun violence in the United States. He is one of 20 founding members of Never Again MSD, a gun control advocacy group led by Marjory Stoneman Douglas High School students. In conjunction with his gun control advocacy, Hogg has helped lead several high-profile protests, marches, and boycotts. He has also been a target and scapegoat of several conspiracy theories and right-wing accusations. With his sister, he wrote a book titled #NeverAgain: A New Generation Draws the Line that made the New York Times bestseller list. They have pledged to donate all income from the book to charity. Hogg plans to attend Harvard University in fall 2019.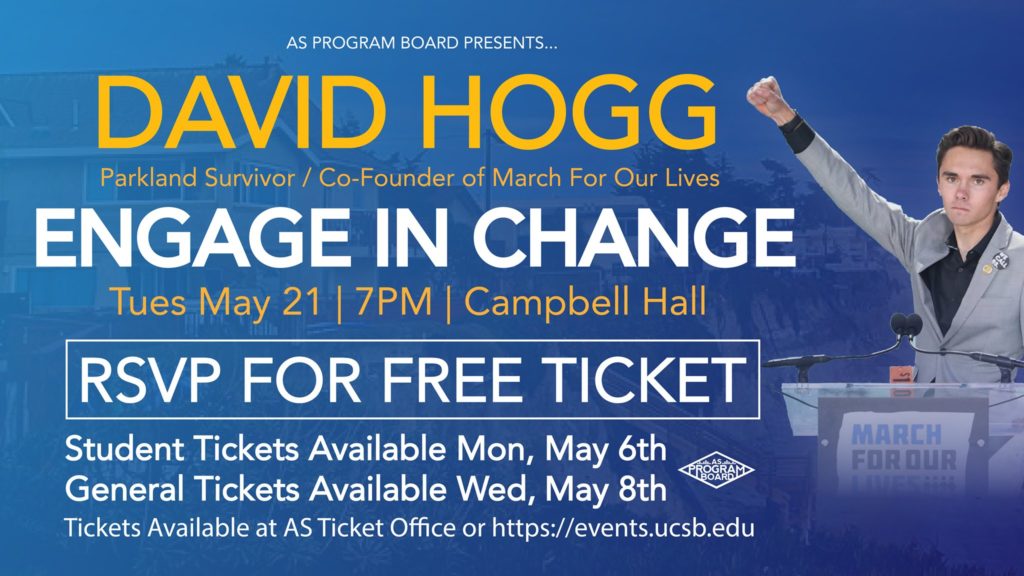 ---
The AS Flacks Intern application is now open.
The Flacks intern serves as a concrete bridge between the students, the administration, and the university community. Find out more at
https://www.as.ucsb.edu/get-involved/flacks-intern/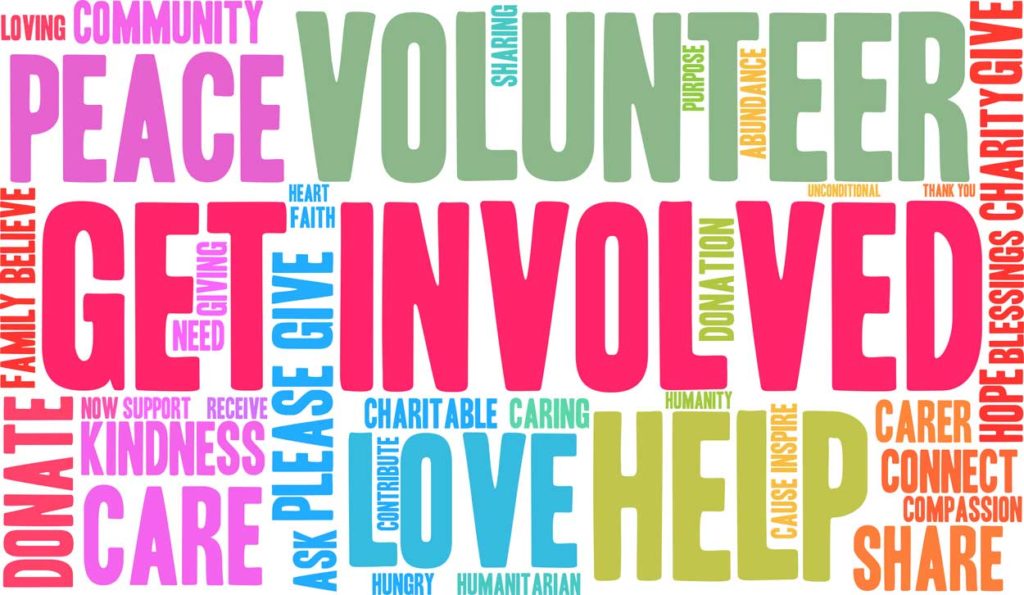 ---
We Remember Them – Acts of Love and Compassion
Wednesday, May 22nd 4:00pm-6:00pm – Instruction & Training Room 1312, UCSB Library
Join us for the opening of We Remember Them: Acts of Love & Compassion in Isla Vista, an online exhibition honoring the acts of love & compassion that emerged in Isla Vista & on the UCSB campus. Lauren Trujillo, a UCSB alumna &current UCLA MLIS graduate
student, will speak about the Isla Vista Memorial Project & her work curating the online exhibition. The online exhibition will recreate the large-scale We Remember Them exhibition that opened in May 2015 for the one year remembrance. Community members new &
old will have a chance to navigate through this digital space for healing & reflection. This exhibition was made possible through Lauren's "UCLA/Community Archives Internship Project," funded by the Andrew Mellon Foundation.
---
Congratulations to the 69th Associated Students Senate on ending their terms this evening! Also thanks to Sydney Karmes-Wainer: UCSB Off Campus Senator for providing us with a cake to commemorate the past year of hard work!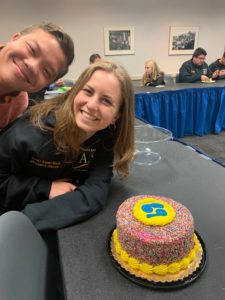 ---
Memorial Walk and Vigil: We Remember
Thursday, May 23, 2019 at 6:30 PM – 8:30 PM
Storke Plaza
Memorial Walk and Vigil
6:30-8:30pm – Storke Plaza to Anisq'Oyo' Park
(Gather at 6:15 to commence walking at 6:30)
In commemoration of the five year anniversary of the May 23, 2014 tragedy in Isla Vista, Associated Students invites all community members to join us for a Memorial Walk and Vigil on Thursday, May 23, 2019.
We will gather at Storke Plaza at 6:15, at 6:30pm we will walk together into Isla Vista, pausing at the Love & Remembrance Garden and continuing on to Anisq'Oyo' Park, where we gathered for the first anniversary vigil. The vigil to commemorate the lives lost will begin at 7:30pm and include remarks, music, and opportunities for reflection. Candles will be provided, but everyone is encouraged to bring their own. After the vigil, refreshments will be provided in the Community Room.
We recognize that there have been many other traumas that our community has experienced since 2014 and we hope that these events will be spaces where everyone can be in community. Everyone works through tragedy in different ways and we want to acknowledge and honor the importance of caring for ourselves and encourage all of us to avail ourselves of the many resources in our community.
For more information, please contact Jeike Meijer at evpla@as.ucsb.edu or Diana Collins Puente at dianap@as.ucsb.edu
photo credits: Lorenzo Basilio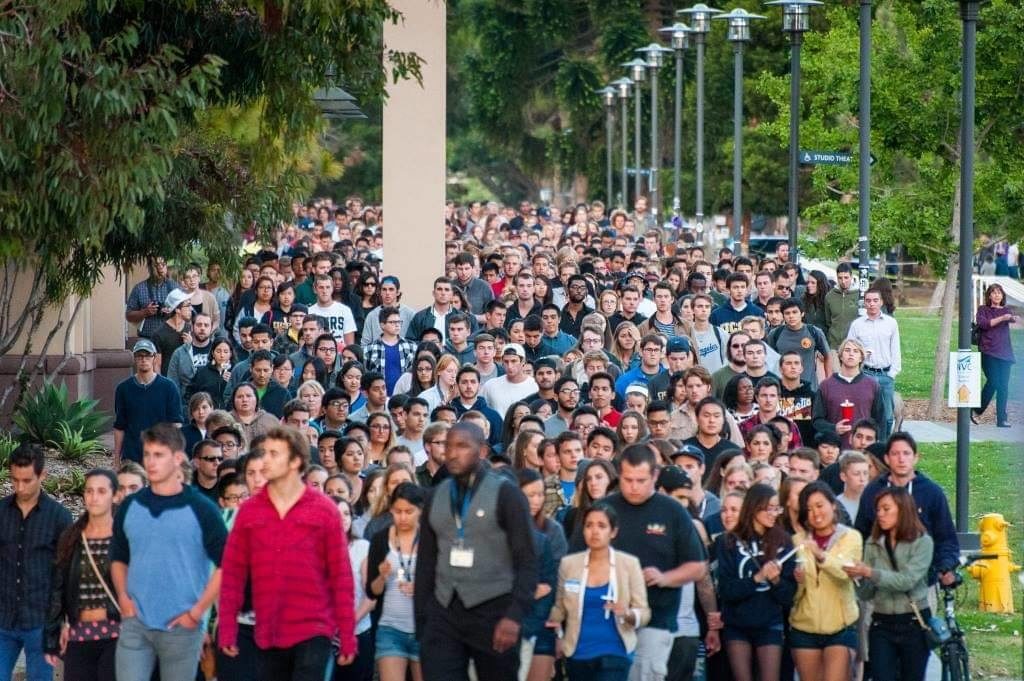 ---
May 23, 2014 Tragedy Memorial Boards
Photographic/Banner
Public Display and Installation
Associated Students, UCSB
read about it here https://www.as.ucsb.edu/…/may-23-2014-tragedy-memorial-boa…/

---
Twitter
Associated Students posts the department budget every year. You can view the 2019-20 budget (and everything back to 2005) at
budget.as.ucsb.edu/budgets/
---
Learn about UCSB's history of student activism to recognize the power of student voices and connect our past to our ongoing fight for change. Come eat pizza, listen to student presentations, and read through student accounts for a special prize! [Co-sponsored by UCSB Library]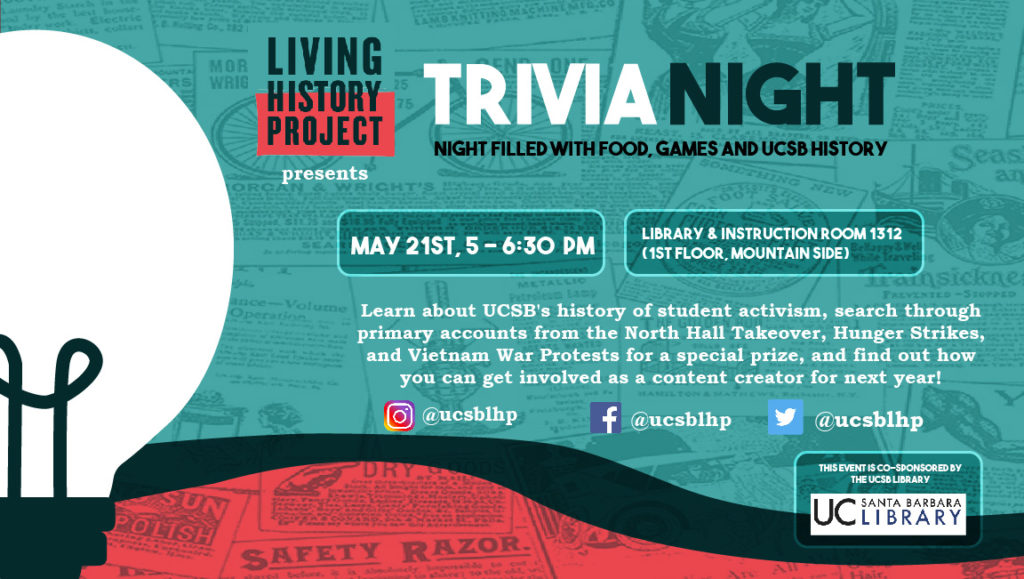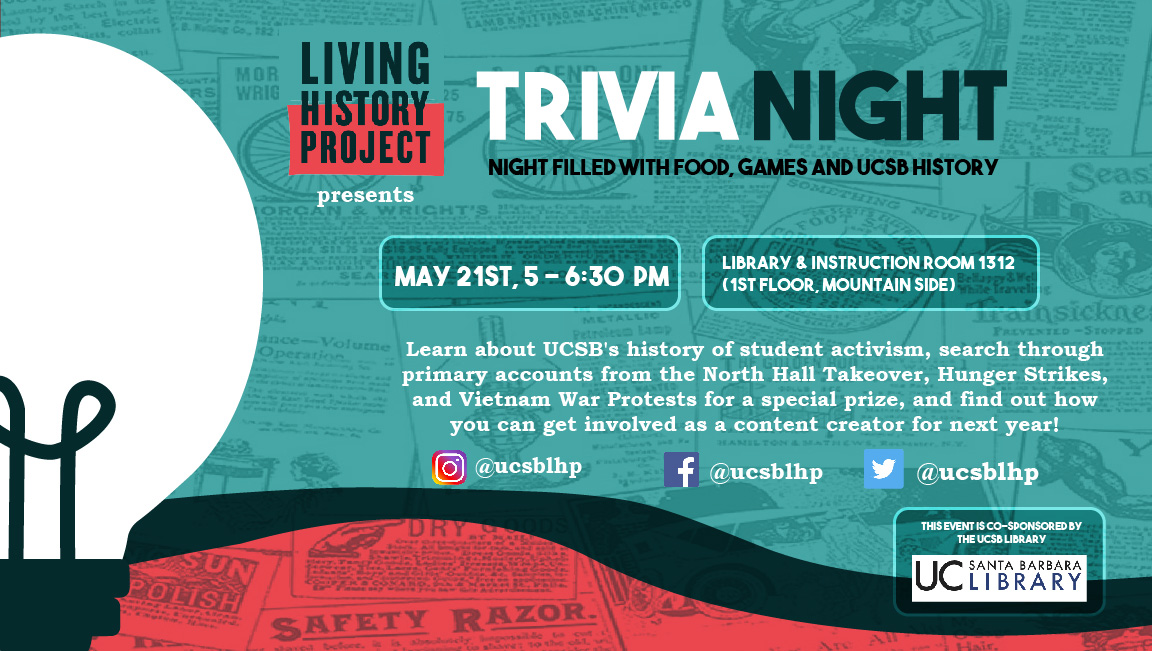 Instagram
You Tube