Since this was elections week, most posts were the same on all social media platforms.
Facebook
JOB ALERT: A.S. Videographer
Work with a variety of Associated Students boards, commissions, committees, and units to create promotional videos, event recaps, trainings, and more. This job begins in Fall. Apply by May 4 at: https://ucsb.joinhandshake.com/jobs/1503709/share_preview
---
Spring Into Associated Students!
Hosted by A.S. Committee on Committees – CoC
Monday, April 23 at 1 PM – 4 PM
Storke Tower Lawn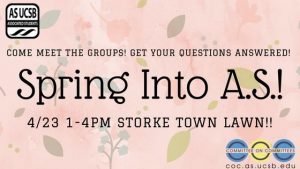 ---
Your vote matters! The ballot is open at 8am on Monday, April 23rd and closes at 4pm on Thursday, April 26th. A valid UCSB NetID and password are required to vote in Spring General Elections. You will be taken directly to your unique ballot.
---
Community Financial Fund's Special Topics Course is happening tonight at 7 p.m. in North Hall 1006. RSVP for a spot: bit.ly/CFFSpecialTopics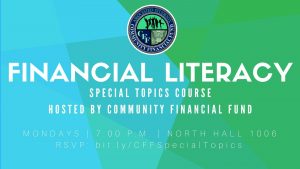 ---
GOT MARKETING SKILLS? Apply for an A.S. Creative Media Unit officer position for 2018-2019 at https://coc.as.ucsb.edu/as-positions/ today!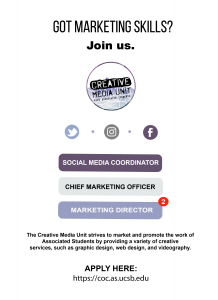 ---
Have you voted in the A.S. elections yet?
Voter Turnout (as of 4pm Monday)
Undergrad – 2449
Grad – 125
(20% voter turnout required for a valid election)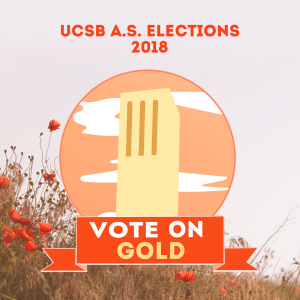 ---
As of 4pm yesterday, we now have a valid election – over 20% of undergraduates have voted. Vote your choice – it's your voice. https://vote.as.ucsb.edu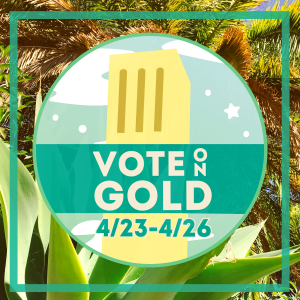 ---
Last day to vote in A.S. Elections. Ballot closes at 4pm
Voter Turnout (as of 4pm Wednesday)
Undergrad – 5760 (27.77%)
Grad – 392 (14.46%)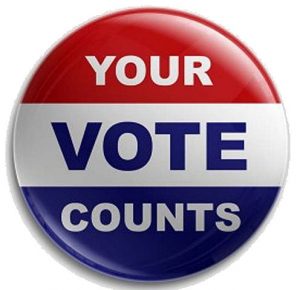 ---
A.S. Olympics 2018
Hosted by A.S. Committee on Committees – CoC
Saturday April 28 12-3pm
San Nicolas Lawn

---
Final Voter Turnout
Undergrads – 8233 (39.70%)
Grads – 597 (22.02%)
View final results here https://elections.as.ucsb.edu/…/04/Results-Easy-Sheet-2018.…
---
Twitter
everything that was posted on Facebook, plus:
You Retweeted
Leah Bartos‏ @leahsbartos Apr 24
Leah Bartos Retweeted Society of Professional Journalists
JOURNOS @ucsantabarbara : We're hosting this at the @AS_UCSB's Media Center tomorrow at 9:00 am. Join us bright and early #PressForEthics cc: @tblucsb @dailynexus @KCSBNews
---
Instagram
Spring into AS event
LinkedIn and Google+
Final Voter Turnout
Undergrads – 8233 (39.70%)
Grads – 597 (22.02%)
View final results here https://elections.as.ucsb.edu/…/04/Results-Easy-Sheet-2018.…