Facebook
The Warm Up: ft. Vince Staples + Baauer
Saturday at 8:30 PM – 12 AM pin
The Thunderdome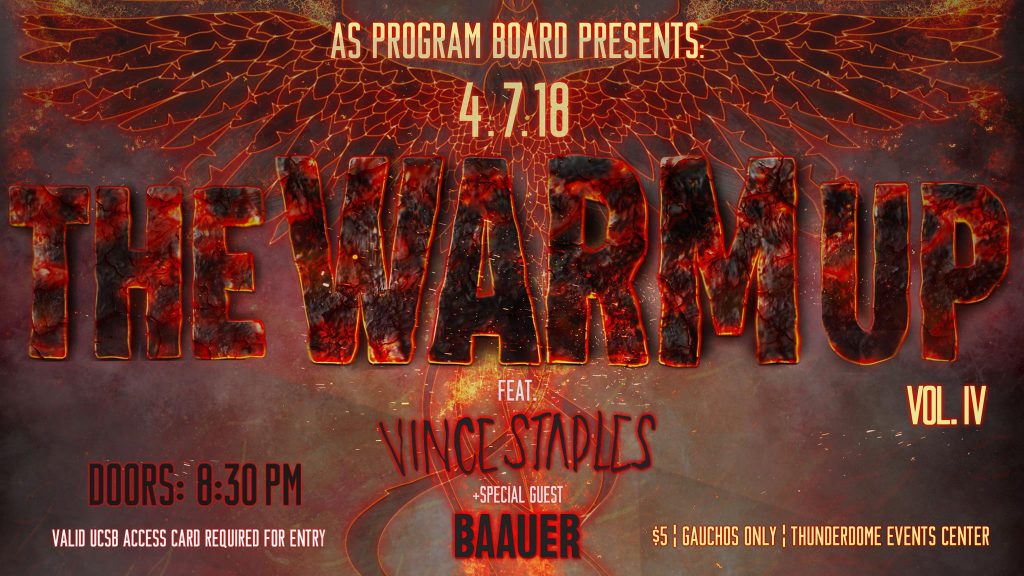 ---
Associated Students CFF provides UCSB students grants and financial literacy learning opportunities. Become savvy and empowered about your finances!
---
shared Office of the External Vice President for Local Affairs (EVPLA)'s event.
Pause. Town HallTuesday, April 3 at 6:30
PM – 7:30 PM MDT
Community Room – 970 El Embacadero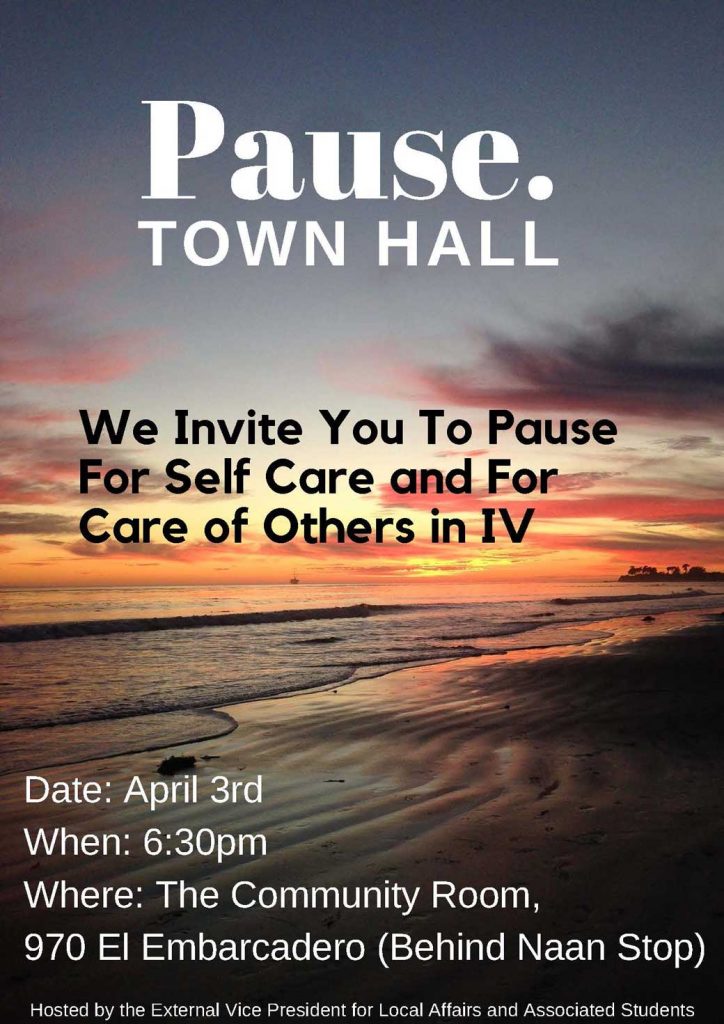 ---
shared UCSB Associated Students Bike Committee's event.
Join Bike Comm: Open Positions for 2018 – 2019 School Year
Sunday, April 22 at 4 PM
UCSB Associated Students Bike Committee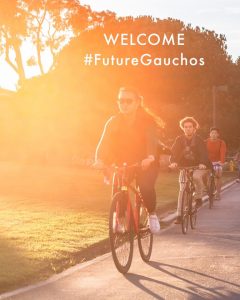 ---
It is that time of year to begin to think about students who deserve an award! Located on the A.S. website at www.as.ucsb.edu/resources/awards you will find information about all the various awards and the criteria, how to nominate, and sample nominations. These nominations are dependent on your submittals so please participate!
Associated Students Award nominations are due at 5pm on Monday, April 30.
Awards given include:
Robert L. Lorden Award for Outstanding Leadership in Service to Associated Students (separate application attached)
Jeremy Johanson Award
Board/Committee/Commission of the Year
Staff Member of the Year
Student Staff Member of the Year
Project of the Year
Senate Member of the Year
Member of the Year for individual boards, committees, and commissions
The awards recipients will be honored at the annual year-end Associated Students Awards Banquet on Thursday, May 31. So please be sure to attend as this is a celebration of both the awards recipients and all of you who put so much time and effort into your roles within A.S. And to ensure this is the great event it deserves to be, please take a few moments to submit your nominations as soon as possible!

---
In 2015, Princeton Review rated UCSB as the greenest public university in the country. The League of American Bicyclists recognized UCSB as a Gold Level Bicycle Friendly University. The campus has held this designation since 2011 when the award program was first launched. Associated Students has many groups and resources that champion the environment.
Coastal Fund
The Coastal Fund is a student initiative dedicated to the conservation of the UCSB coastline. Since Fall of 1999, the Fund has allocated over $3 million to countless local projects or programs.
https://coastalfund.as.ucsb.edu
Environmental Affairs Board
The charge of the Environmental Affairs Board is to promote environmental, social, political, and economic sustainability. The Board serves UC Santa Barbara and the surrounding communities by coordinating with decision makers, local organizations, and student groups to advocate for improvements to environmental standards at the local, national and global level. Additionally, the Board provides students with environmental education and encourages a culture of eco-friendly habits in order to shape their lives at UCSB and beyond.
Recycling
Our mission is to reduce waste at UCSB both through direct collection and through education and information sharing. We are deeply committed to the day-to-day recycling, compost, and electronic waste collection services that have helped make UCSB a state and national leader in waste reduction for nearly 20 years.
https://recycling.as.ucsb.edu/
Department of Public Worms
Dept. of Public Worms is dedicated to promoting environmentally sustainable practices and educating fellow students about hot composting, vermicomposting, and closed-loop food systems.
Zero Waste
The UCSB Zero Waste Committee is a student group dedicated to reaching the UC system-wide goal of Zero Waste by the year 2020. We design and implement a variety of projects and sustainable practices that help our campus to be as zero waste as possible.
https://zerowaste.as.ucsb.edu/
Bike Committee
Bike Committee is a place for passionate advocacy of bicycle safety and voice for bicycles in campus planning. We are active bicycle advocates working to increase student, staff, and faculty awareness by funding bike improvements on- and organize social outreach events.
Upcoming Events:
IV Earth Day April 22 at Anisquoyo
Zero Waste Festival (by ZWC) April 25 at Storke Plaza
Associated Students is comprised of student government, entities, groups, commissions, and services. Our mission is to help students uphold the high academic standards and give them leadership, employment, cultural and growth opportunities to serve the campus community.
Twitter
@asprogramboard Vince Staples. Baauer. Gauchos Only. Tickets on sale Monday (4/2) @ 9 AM online only.
Have you or someone who you know been affected in any way by events and issues that occurred in Winter Quarter? Pause. Town Hall. Today 4/3, 6:30pm, 970 Embarcadero-Community Room (behind Naan Stop)
UCSB Lobby Corps Retweeted Jay Genna
@AsmKevinMcCarty @PhilTing @JerryBrownGov @SenToniAtkins @Rendon63rd this is the new normal on our campus. Please support our asks for a budget increase to accommodate the growth that you have mandated.
@KeepIVSafe It's a community effort. Look out for the safety of your friends and neighbors this weekend.
LinkedIn
Director of Community Affairs, Student Development, and Leadership Oversees and builds teams to advance community affairs, guides student co-developed curricula and experiential learning, provides mentoring and resources that advance student initiated projects. Sets ethical standards for a community with a public university ethos, values of transparency, accountability and integrity. Supervises the Assistant Director for Student Leadership and Government Affairs and the Assistant Director for Student Development, and Civic Engagement. Ensures excellent stewardship of departmental resources. Manages a budget of approximately 1.7 million dollars. Reqs: Must have expert knowledge of student development theories and practice along with considerable political acumen to handle sensitive and contentious issues relevant to both the university and community affairs. Advanced knowledge of advising. Skill with assessment and measurement of programs of an intangible nature. Skill in building consensus and conflict resolution. Knowledge and experience in strategic planning for a multi-faceted organization. Budgetary Experience required. Supervisory experience needed. Advanced degree in a related field is preferred. https://jobs.ucsb.edu Job #20180146
Google+
Deltopia 2018: Keeping It Local
UCSB students take the lead to curb enthusiasm for Deltopia; an array of zero-tolerance restrictions is set for the weekend of April 7
http://www.news.ucsb.edu/2018/018874/deltopia-2018-keeping-it-local