COSWB (Commission on Student Well-Being) invites you to a free showing of Inside Out. Snacks provided. Tonight 11/15 at 8pm. Phelps Hall 1160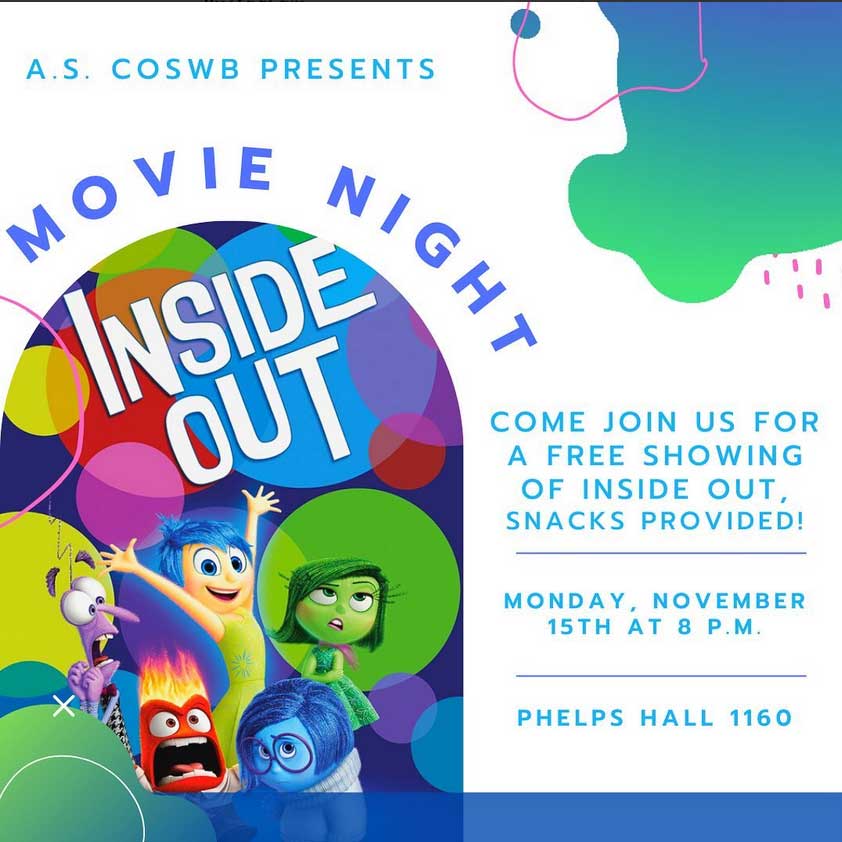 ---
Hey Bikers! There will be work done to the bridge over the bike path on Ocean Road and as a result, that path will be closed between November 19 and January 19th. Make sure to look for signs that mark the detours shown in the second image. Thank you and stay safe!
---
CFF (Community Financial Fund) offers one-on-one Peer Advising. Make an appointment with one of the financial advisors at tinyurl.com/cff-advising
---
AS Program Board Presents…
Missing movies? No problem! Join us Tuesday (11/16) for two FREE screenings of Jungle Cruise at 7PM & 10PM in IV Theater!
Access cards required for entry.
____________________
Join Dwayne Johnson and Emily Blunt for the adventure of a lifetime on Disney's Jungle Cruise, a rollicking thrill-ride down the Amazon. Thrust on this epic quest together, the unlikely duo encounters innumerable dangers and supernatural forces, all lurking in the deceptive beauty of the lush rainforest. But as the secrets of the lost tree unfold, the stakes reach even higher for Lily and Frank and their fate—and mankind's—hangs in the balance.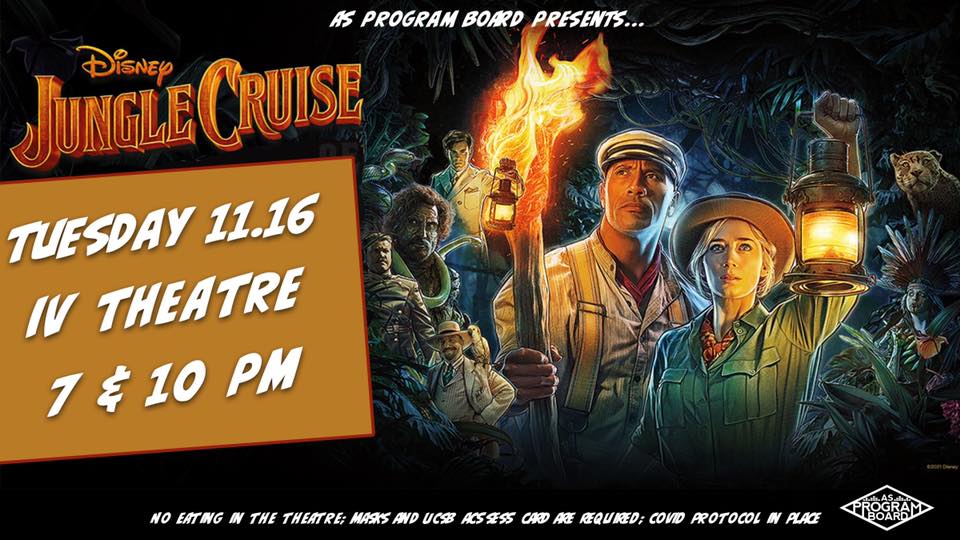 ---
The information regarding hotel housing posted is from the Office of the Student Advocate's communication with the Associate Vice Chancellor of Housing, Dining & Auxiliary Enterprises (HDAE) and the Associate Director of University & Community Housing Services. The information shared is subject to change as the University continues to address ongoing changes with UCSB's housing crisis.
Please contact advocate@as.ucsb.edu for any questions or concerns.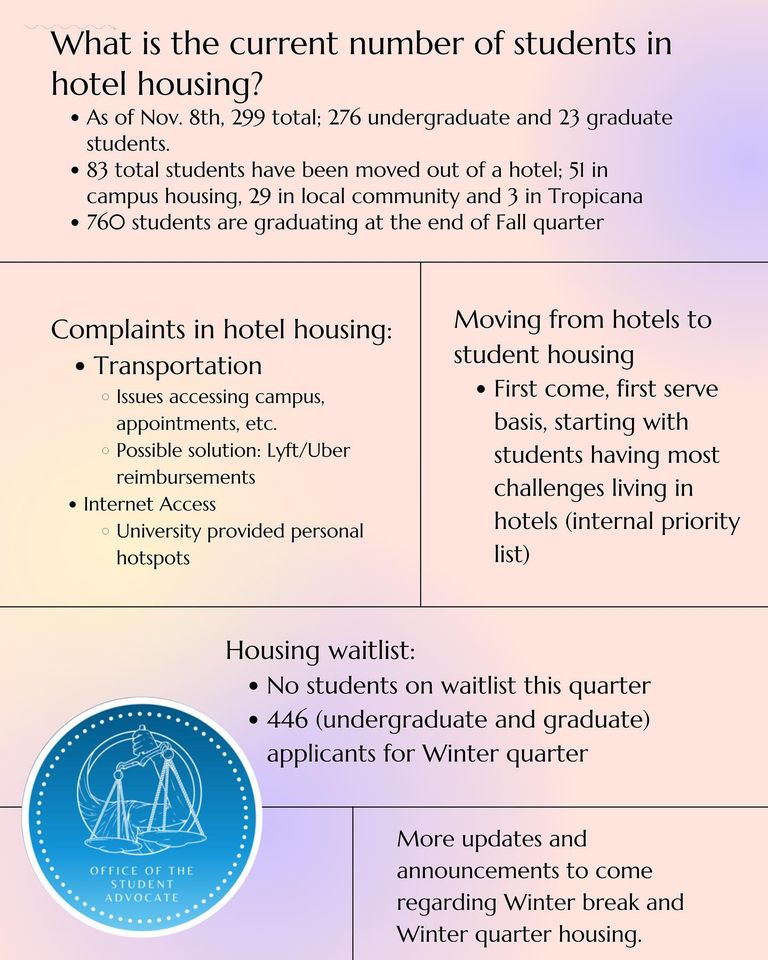 ---
Are you passionate about volunteering and making a difference in our community? Apply to be one of our leaderboard members! AS CAB is the largest student-run volunteer organization on campus dedicated to volunteering and making a difference in our community. We are currently looking for a Historian and a Community Outreach Coordinator!
Application Deadline: Wednesday, November 24th at 11:59 PM. Virtual interviews will take place during Week 10(Nov.29 – Dec.1) and we will notify decisions by the end of Week 10.
For more info on these positions, visit our website:
https://cab.as.ucsb.edu/
or reach out to: as-cabcochair@ucsb.edu or just simply send us a message here!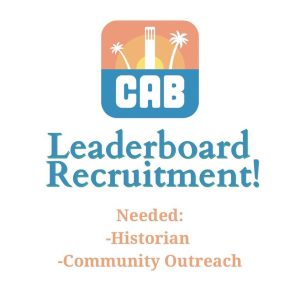 ---
We apologize for the wait!
Pass 2 begins in a few hours but if you are still deciding on what courses to take for winter quarter and are interested in environmental justice, EJA is happy to help!
We present a curated list of courses that relate to environmental justice and climate activism. We recognize that this is not an all encompassing list of relevant courses thus we welcome any and all feedback!
More info on courses in link below:
---
The Office of the Student Advocate would like to share the results of our Munger Hall Project student survey. We asked for student feedback on the design project and the results were recently shared with UCSB Administration. Thank you everyone for participating and sharing your input with us!
Contact the office for any questions.
---
Dive into the history of Munger Hall with our infographic timeline! We'll be continuing to write on all things housing and Munger Hall.
---
AS Program Board Presents…
Noon Storke Show ft. Task Force Freedom
❤️‍🔥
Join us in Storke Plaza this Thursday 12-1pm for another free, live performance! Tell your friends and we'll see you there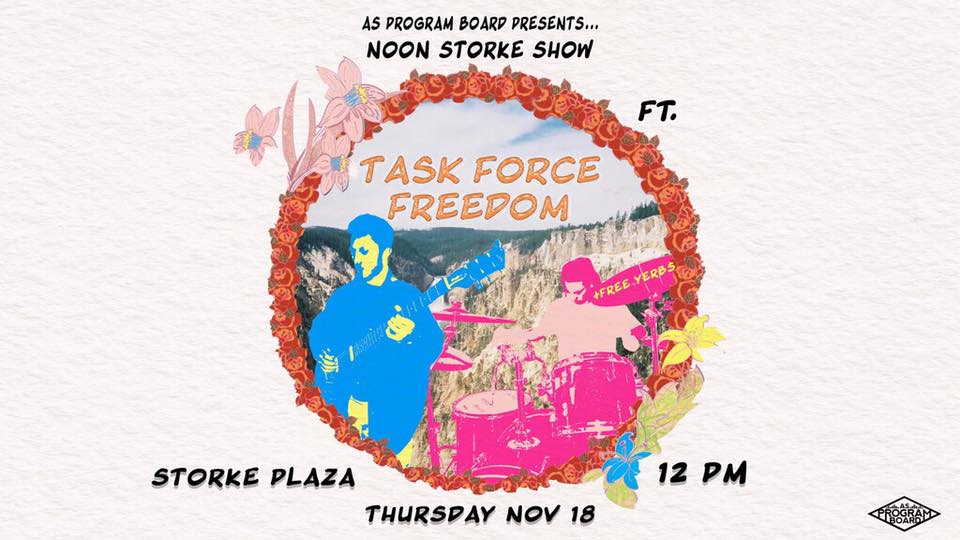 ---
Come join us this Friday at 6:30pm to talk about the real story about thanksgiving. As always there will be food
Can't wait to see you there!!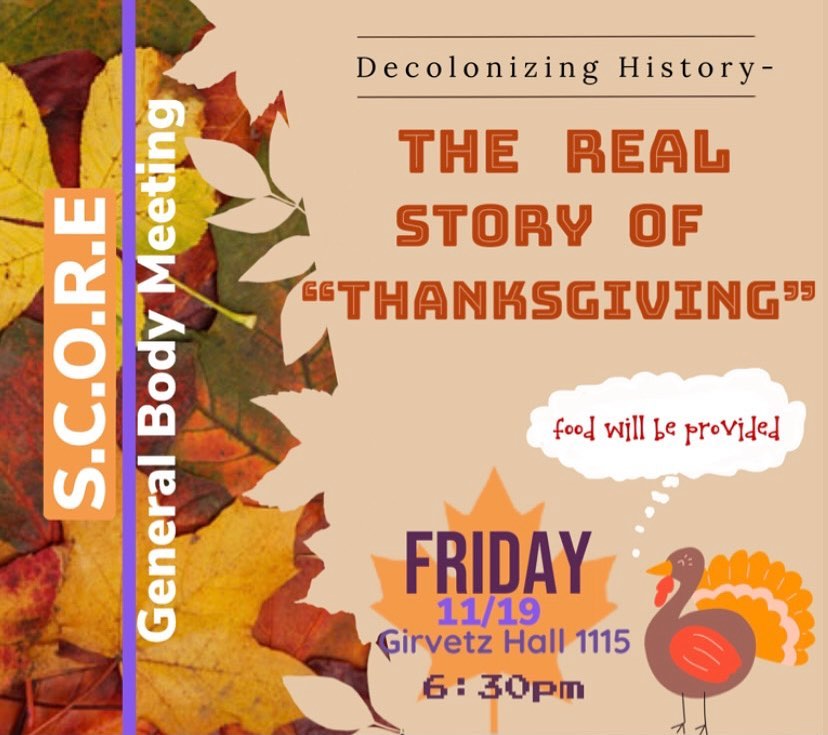 ---
AS Program Board Presents… Kyle Dion in the Hub this Friday, Nov. 19 at 8:30PM!
Green badges and access cards will be required for entry. COVID protocols will be in place.
______________________________
With a falsetto that's undeniably recognizable, Florida-raised R&B crooner Kyle Dion has been carving out a lane for himself over the last few years, harnessing a sound that is equal parts retro and modern, all leading up to the release of his debut, full-length album 'SUGA,' released March 8, 2019. In Summer / Fall 2019, Kyle Dion built on the momentum of the great success of his debut album embarking on his sold-out, first- ever headlining tours across the US and Europe. Since his move over to the West Coast, Dion has collaborated with artists like Kehlani, Kali Uchis, Duckwrth, Ella Mai, Xavier Omar, Khalid, and BJ The Chicago Kid. Bound by no genre, Dion brings his bold, bright, yet soulful sound to share with us at UCSB.