Facebook
A.S. Pardall Center Fall Quarter Study Jam!
Dec 3 at 10 AM – Dec 14 at 2 PM
Need a place to study for finals in IV? Join us at the A.S. Pardall Center for our Fall Quarter Study Jam!
Not only do we have delicious and healthy FREE SNACKS AND COFFEE to keep you going, we also have chill vibes, plenty of outlets, great lighting, FREE WIFI and PRINTING, comfy seating, and helpful staff. We're also conveniently located in the heart of Isla Vista, surrounded by yummy food and beautiful parks when you need to take a break from all that studying!

---
Womyn in Senate: Public Forum
Monday, December 3, 2018 at 6:30 PM – 8:30 PM
Rockfire Grill
WHO: Some of the lovely ladies of UCSB's 69th Senate
Lea Toubian
Alexis Bettencourt
Yasamin Salari
Sydney Karmes-Wainer (represented by the incredible Rose Ettleson)
Alli Adam
Melissa Perez
Xochitl Briseno
Jasmine Palmerin
WHAT: Enjoy some free food and ask us any questions you have about Senate, Associated Students, our current projects, or anything else.
WHEN: Monday December 3rd
WHERE: Rockfire Grill Isla Vista
Oh yeah, did we mention FREE FOOD?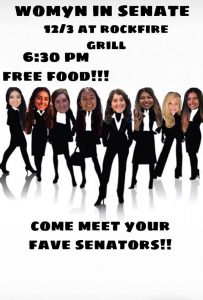 ---
Happy dead week & good luck on studying for finals Gauchos!
Don't forget to take care of yourself & be kind to yourself during this hectic season. If you or someone you know is feeling too stressed out this finals season, CAPS is available 24-7 @ 805-893-4411! In addition, egg chairs are open for use in Building 434🐣
Wishing you the best,
ASOP family 💛
Brooke Kopel Luis Soriano Olivia Hornstein Noah Fleishman Quinn Lyon Juan Ornelas Maithilee Kanthi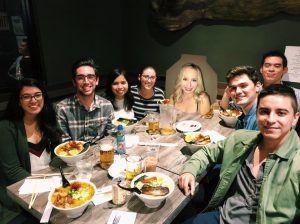 ---
IVCSD Interpersonal Violence Investigator Meet-and-Greet
Tuesday, December 4, 2018 at 6:15 PM – 7 PM
*Tacos will be provided, and a study jam will take place after the event with coffee and snacks!*
Join the IVCSD, UCPD, and UCSB in welcoming Isla Vista's new Interpersonal Violence Coordinator, Kovena Avila! The IVI is a resource for Isla Vista residents, and a liaison between law enforcement and other groups in cases of interpersonal violence. The IVI will also provide educational services to the community on interpersonal violence prevention. Come ask questions and learn about this helpful new resource!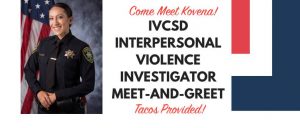 ---
Melt With Community Affairs Board
Wednesday, December 5, 2018 at 6 PM – 7 PM
GSA Lounge
FREE ice cream!
FREE toppings!
FREE brainfreezes!
FREE fun!
stop the stress and have a scoop of vanilla!
stop the world and melt with CAB!
before you head on to finals, come get brainfreezes with your favorite student org.
it's BYOB, bring your own blanket, because after our chocolate-y brainfreezes, it's about to get real warm, cozy, and sentimental in that room!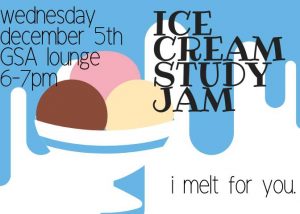 ---
Where are your student fees going?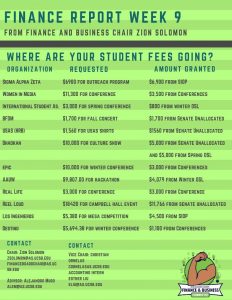 ---
As you study for finals and pack up for winter break & can't find a home for your used textbooks?! SIRRC's Book Bank will gladly take them ! 🙂
Help build a resource for other students who cannot afford to buy/rent their text books for the course !
If you cannot drop them off at any of these locations please DM me & I'll happily come by to pick them up !
thank you & good luck with finals !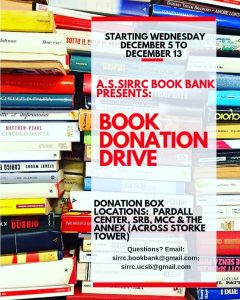 ---
Twitter
if different from Facebook
Have you heard 'KCSB's emergency checklist for disaster weather' by KCSB News and Sports on #SoundCloud? #np
---
Plan for next quarter…
JUST ANNOUNCED: @JIDsv "Catch Me If You Can Tour" in the Hub! Tickets are $20 for students and $22 for general, they can be purchased at: https://www.facebook.com/events/1470389846427534/permalink/1471982382934947/ … Get your tickets now!

---
Linked In
Wesley Lu is the new AS IT Student Assistant. He is a Computer Science student and will be collaborating with the AS tech team in the Desktop Support area. If you wish to send him a welcome hello he is available via the AS Slack and you can also reach him at
wlu@as.ucsb.edu
. However, for any technical assistance please submit your requests as usual via the help ticketing system:
help.as.ucsb.edu
.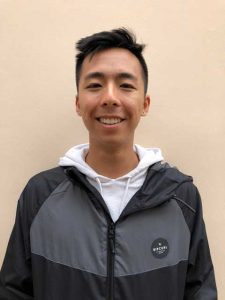 ---
Instagram
if different from other outlets

Google+