Facebook
1st year students and transfer students, consider applying for the
Pearman Fellowship Program.
The Pearman Fellowship teaches students about the many different roles and functions of AS. At the end of the quarter-long fellowship, students can apply to the Executive office where they can create their own projects, or work on projects with staff. tinyurl.com/asfellowship2018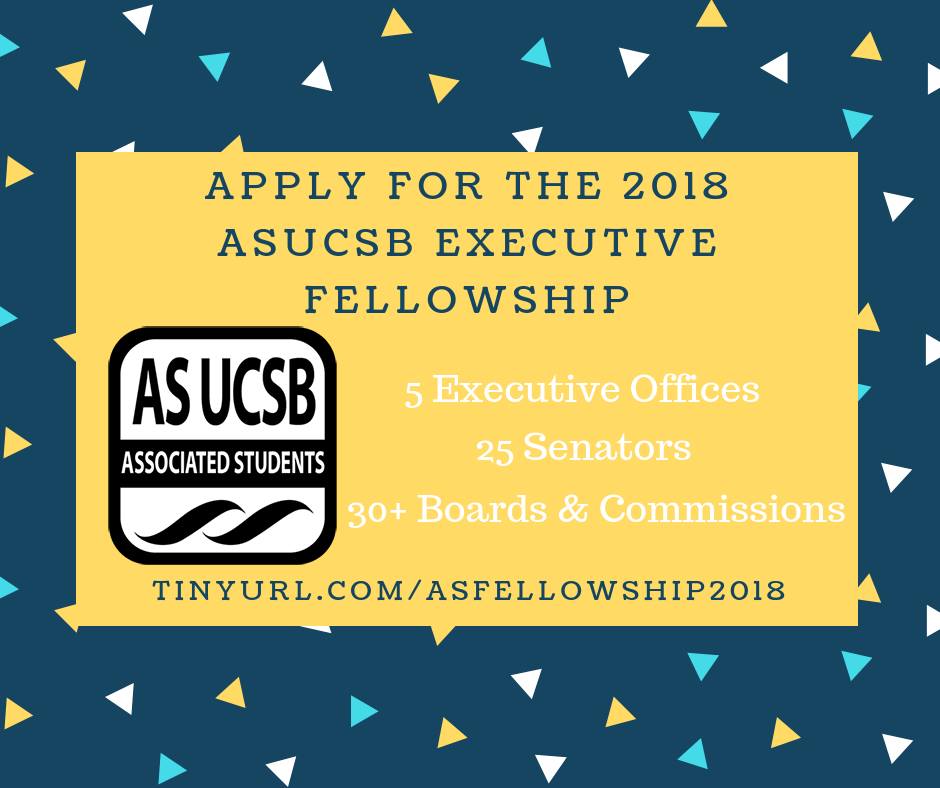 ---
TSA will be meeting Tuesdays from 8-9pm in the Transfer Student Center Conference Room 1582A. See you tomorrow night!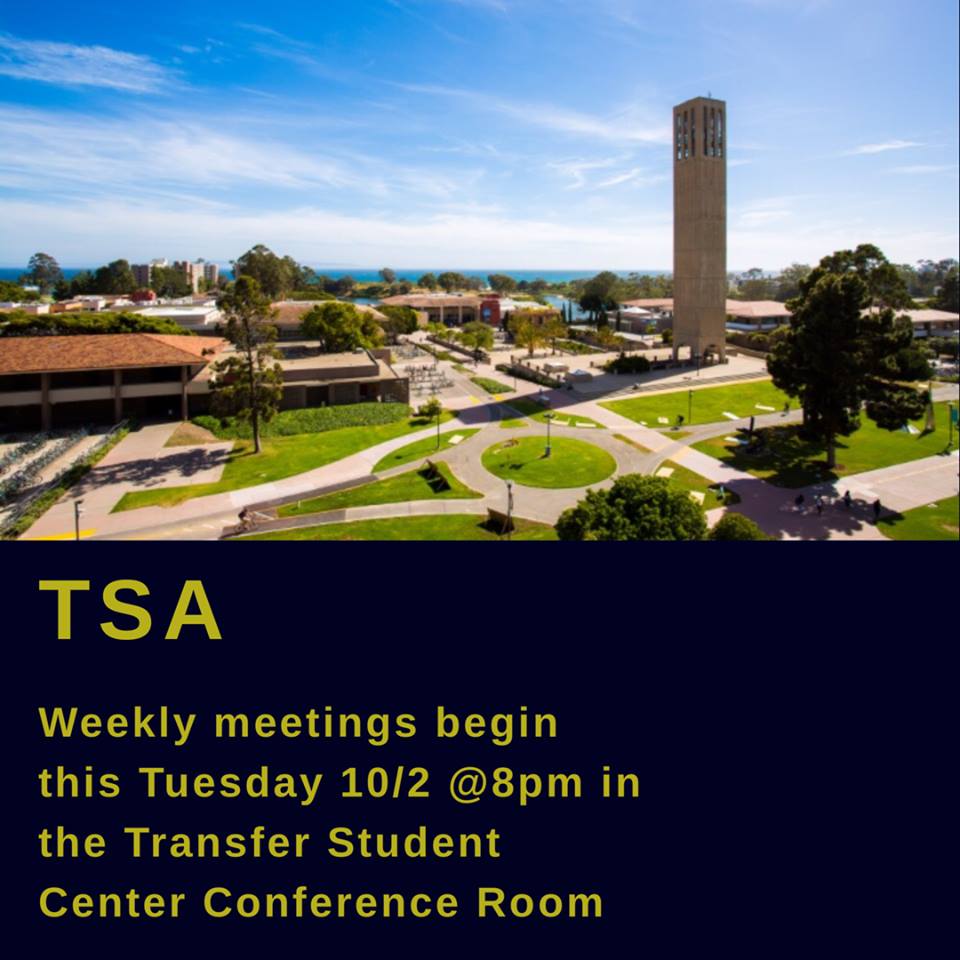 ---
A.S. President, Brooke Kopel presents a speech at the 2018 convocation at UCSB
---
Need a book for Fall quarter? Stop by or email the A.S Book Bank and borrow it FOR FREE !!!
Catalog of what we have on the link below !
https://sites.google.com/view/sirrcbookbank/home
Not there?
come to the Book Bank office located in the Annex across Storke tower and request it, We will get the book for you!
Questions email: sirrc.bookbank@gmail.com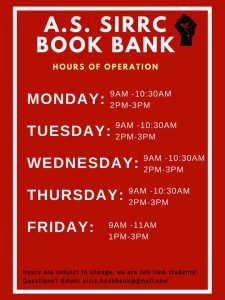 ---
Community Affairs Board First Meeting.
Wednesday, October 3, 2018 at 6 PM – 7 PM GSA Lounge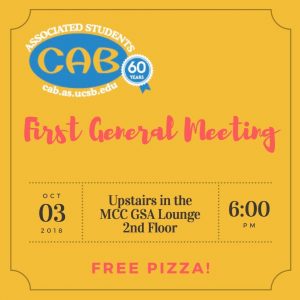 ---
Welcome To Isla Vista: The History and Activism of Our Community
Thursday, October 4, 2018 at 5:30 PM – 7 PM
Santa Rosa Formal Lounge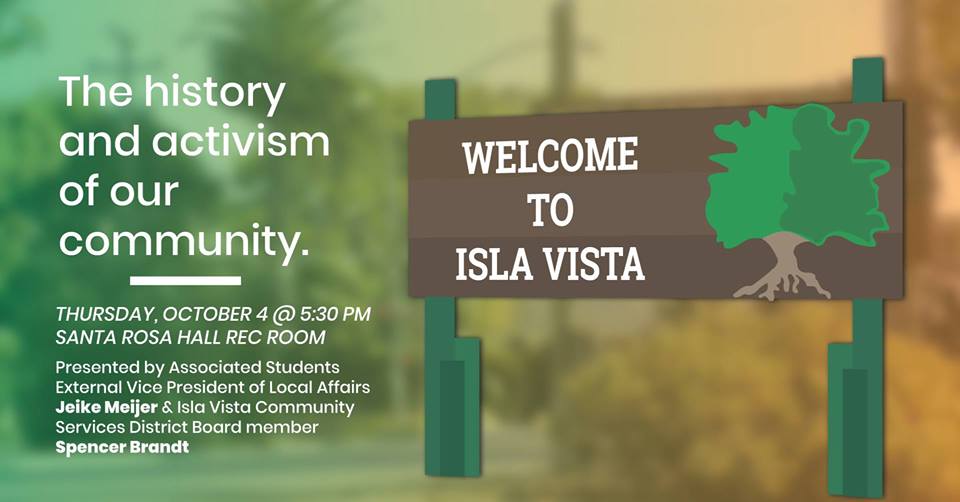 ---
UCSB Students:
The office of the External Vice President of Statewide Affairs is still vacant. Declaration of candidacy is now closed but you can still run as a write-in candidate in the Fall Special Election. Submit your intent to run as a write-in candidate by emailing the Elections Board Chair at elections@as.ucsb.edu by October 7th at 8pm.
Requirements:
– Must have been a registered candidate for Spring Quarter and Fall Quarter
– Enrolled in 6 units during Spring Quarter 2018 and Fall Quarter 2018
– 2.0 cumulative grade point average by the end of Spring Quarter 2018
– At least one quarter residency at UCSB
– Must have been enrolled in at least 2 quarters before the Fall Special Election, and must have completed 24 academic units at UCSB
Go to elections.as.ucsb.edu for more information.
---
Learn S'more About Associated Students!
October 5, 2018 1-2:30pm The Arbor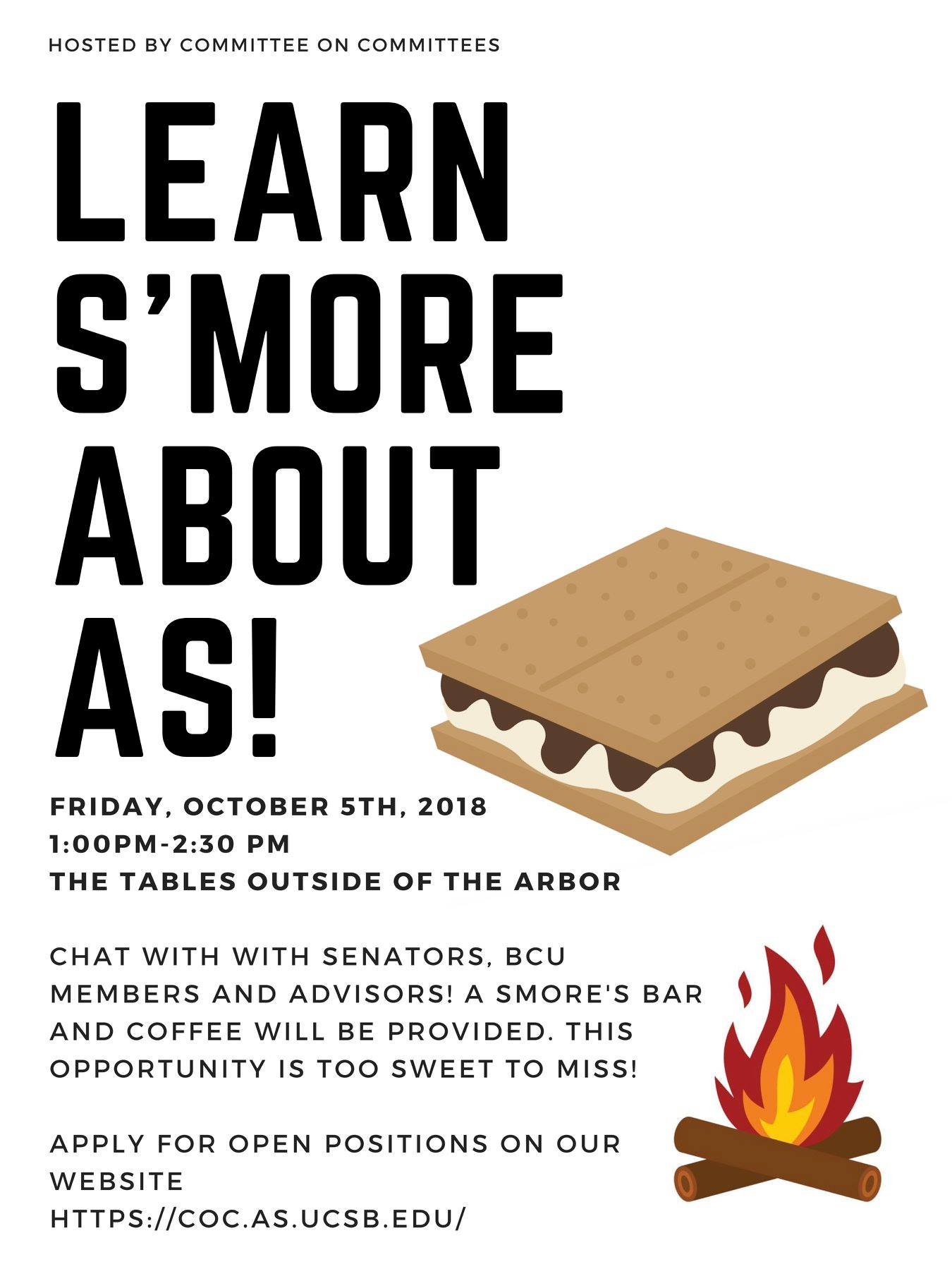 Twitter
Brooke Kopel, AS President will be holding office hours this quarter on Tuesdays from 10am to 6pm in AS Main. Swing by to talk about anything and everything AS! If you're unable to make this time, email as-president@ucsb.edu and an alternative time will be scheduled.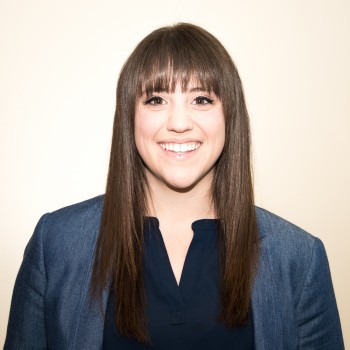 ---
AS Program Board Presents… IV First Friday feat. Buddy!!!! Come out to People's Park in the heart of IV for a fun, FREE, and fantastic night out! With FREE KIND Bars, FREE Yerba Mate, and more. IVFF will sure be a blast!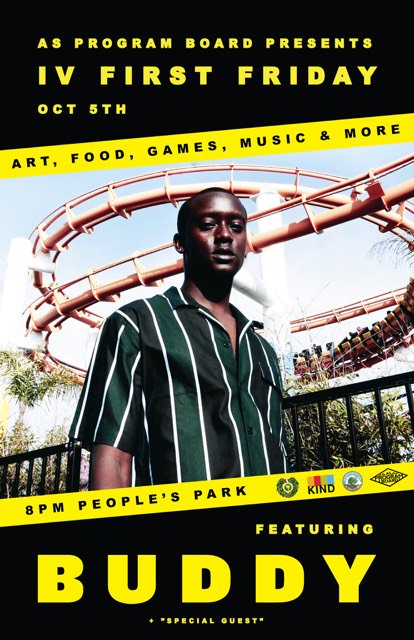 ---
Every quarter, @KCSB hosts a meeting to recruit new programmers, news and sports staff, and behind the scenes volunteers. Today's orientation (10/3) is at 6 PM – 7:30 PM Corwin Pavilion. Open to anybody.
---
We will be holding our weekly board meetings every Tuesday from 6:30-7:30 in the EOP Conference Room 2228!
---
The Coastal Fund provides the opportunity for you to receive funding to protect our beloved coastline. If your project aligns with our mission, please consider applying. Major Grant Deadline: Fri. 10/12 Minor Grant Deadline: Fri. 11/16 applications: https://coastalfund.org