Facebook
The annual "UCSB Reads" program is underway, and KCSB-FM once again will be presenting noontime weekday readings, live on the air, of this year's book selection, Lab Girl, by prize-winning paleobiologist Hope Jahren.
You can participate as a reader in KCSB's "UCSB Reads" noontime readings (from 12noon-12:15pm M-F). If you are interested, please e-mail Ted Coe at advisor@kcsb.org with your preferred days and/or dates
The live readings will be taking place Monday to Friday, 12 Noon – 12:15pm, starting on Thursday, February 1st, until the book has been completed. They will culminate in a free lecture and book-signing with the author Hope Jahren on Tuesday, April 3rd, at UCSB Campbell Hall.
Join us weekdays at noon beginning Thursday, February 1st, for KCSB's daily readings of Lab Girl. And to volunteer, please email advisor@kcsb.org.
---
Come find us in the arbor at 3:30 for free shirts and stickers!
?
---
Thursday, February 22 at 8 PM – 10 PM
UCSB Hub
The Creative Media Unit is holding the first ever A.S. One Talent Show and YOU are competing. On February 22nd from 8-10pm in the HUB different A.S. entities will compete against one another for a special prize!
To be apart of this exciting event email cmuofficer@as.ucsb.edu by February 1st with (1) the name of the competitor, (2) the talent you will be showcasing, (3) the entity you are apart of, (4) your position in the entity, and (5) a brief description of what your entity does.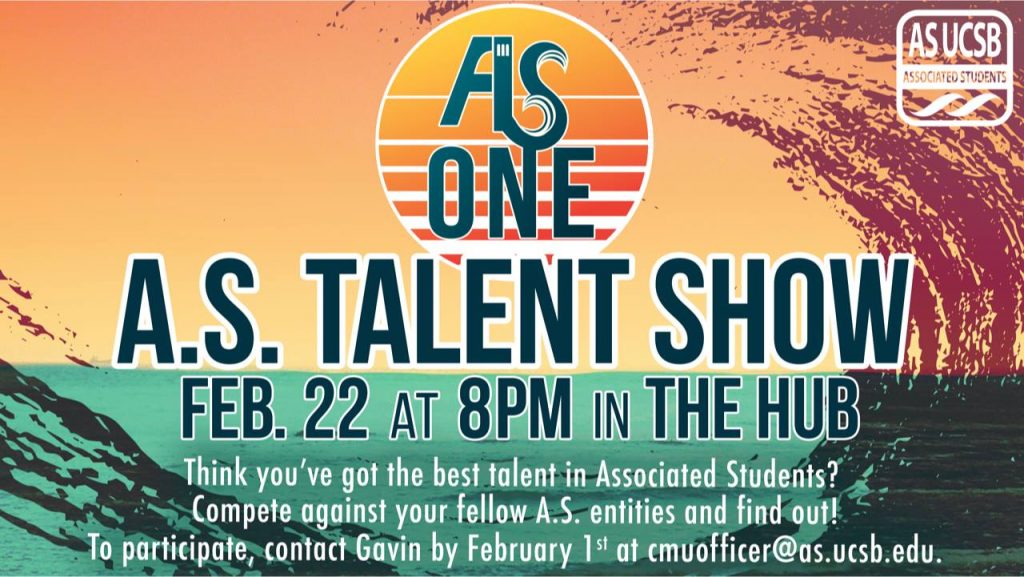 ---
Twitter
Retweeted
AS PROGRAM BOARD‏ @asprogramboard Jan 18
Tickets for Smino are now on sale at: https://events.ucsb.edu/event/as-program-board-presents-smino/
---
Instagram
Linked In:

Welcome Alejandro (Ale) Muro as our Interim Community Financial Fund Coordinator. What can he do for students? Provide information and resources on financial literacy and CFF grants. Provide support and mentorship for students. Where is his desk? University Center 2537C. When is a good time to drop in? Monday-Friday 8am-3pm or make an appointment by sending an email. alejandrom@as.ucsb.edu
---
Google+