Facebook
Extravaganza lineup will be revealed today at 12pm in the Arbor Courtyard.
---
Tuesday, May 14, 2019 at 7 PM – 8 PM SRB MPR
Come join Zero Waste Committee to discuss Recycling! The event will start with a pre-talk given by our Compost Coordinator Nathan Kruse about the shortcomings of recycling infrastructure, design, implementation, and more!
Vegan wraps from the IV Food Co-op will be provided (please bring reusable dishes)!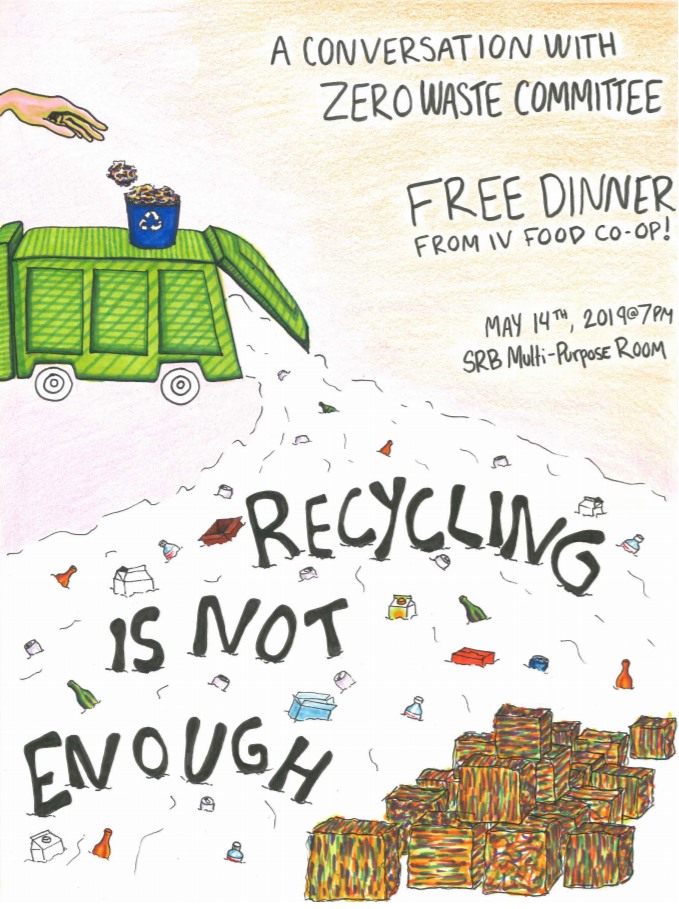 ---
RSVP: https://forms.gle/shgRGTKirJoEVDC66
Celebrate the end of the year and all you've accomplished at the Associated Students Awards Banquet! Wear your best awards outfit (semi-formal encouraged), take red carpet photos, and enjoy a free catered dinner, special AS swag, and the exciting awards program.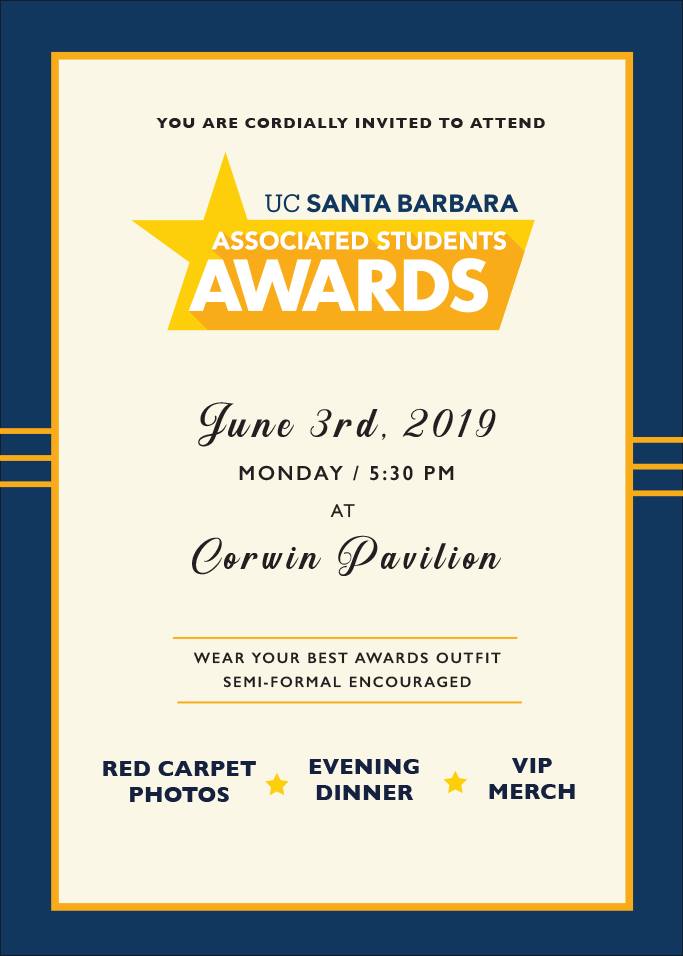 ---
Free Noon Storke Show: Remi Wolf
Wednesday, May 15, 2019 at 12 PM – 1 PM Storke Plaza
AS Program Board Presents… A Free Noon Storke Show ft. Remi Wolf!
Fresh off her tour with Still Woozy, Remi will be making a stop at UCSB on Wednesday 5/15 @ 12PM! Free yerba mate and KIND bars as always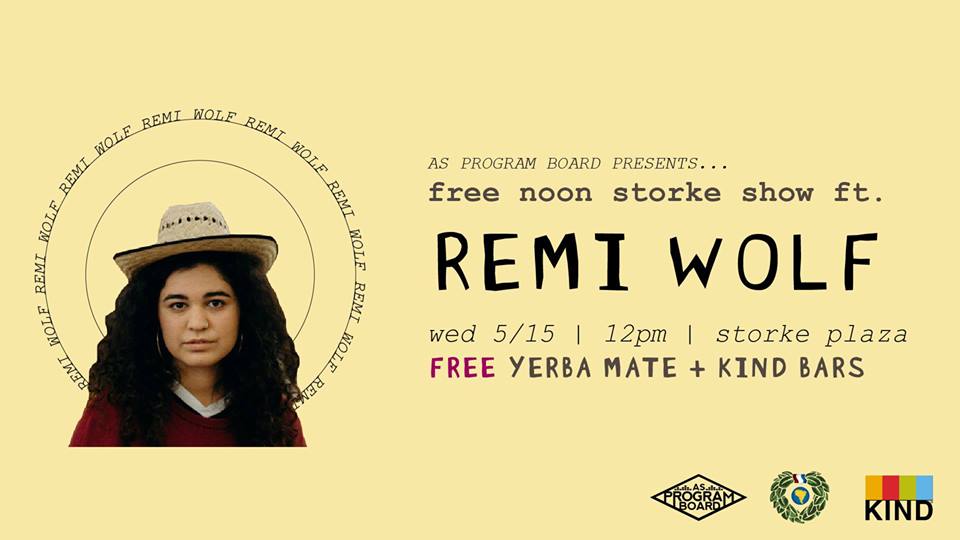 ---
We Remember: 5 Year Anniversary Community Events
May 18 at 12 PM – May 24 at 9 PM
In recognition of the 5th Anniversary of the tragic events that took place in Isla Vista on May 23, 2014, a number of events are planned. It is our hope that these events allow opportunities for remembrance, reflection, and healing.
All community events are listed below. Full event descriptions are located on the event image, which you can click on to expand.
Links to other events:
5/18 Isla Vista Common Table: The Beloved Community
5/23 Memorial Walk and Vigil: We Remember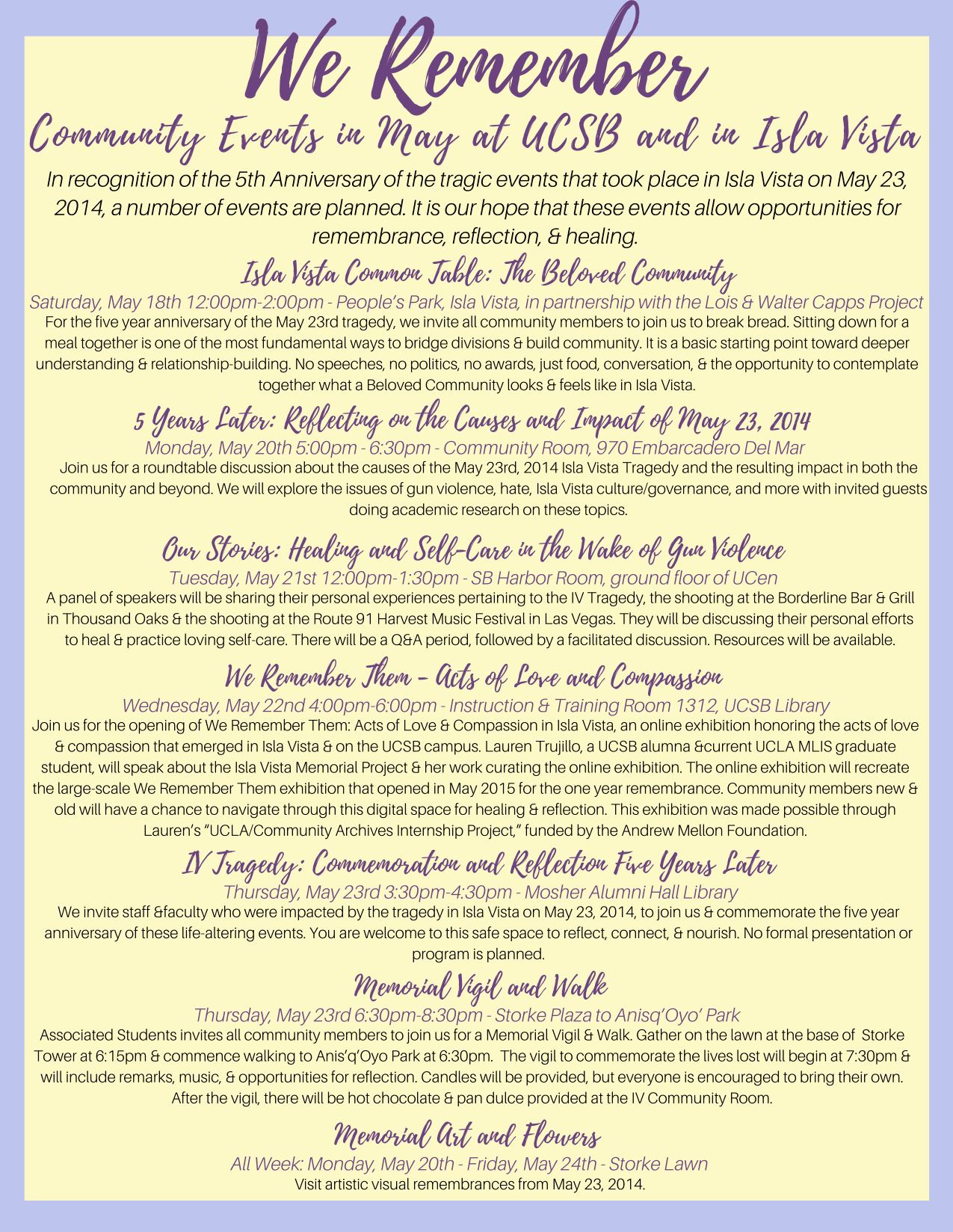 ---
Come out to the Living History Project Trivia Night! This event is co-sponsored by the UCSB Library and will be held in the Library & Instruction Room 1312 (1st Floor, Mountain Side).
https://www.facebook.com/events/662026574220609/
The Living History Project is a student organization researching the history of student activism at UCSB. We aim to recover primary accounts of protests, strikes, and organizations to recognize the power of student voices and connect our past to our ongoing fight for change.
Learn about the North Hall Takeover, Hunger Strikes, and Vietnam War Protests from student researchers and search through Special Collections documents for a special prize!
So stop by, grab some pizza, and experience the Living History of student activism at UCSB!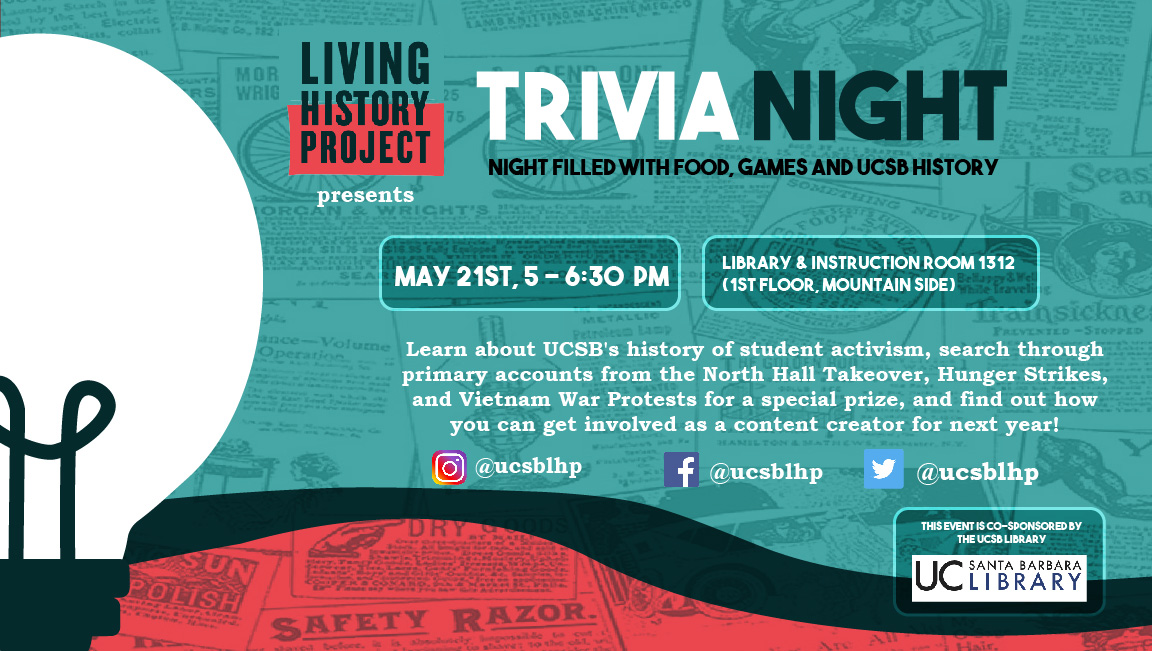 ---
Extravaganza stickers are available in the updated AS sticker pack https://itunes.apple.com/…/a…/ucsb-as-stickers/id1443674037…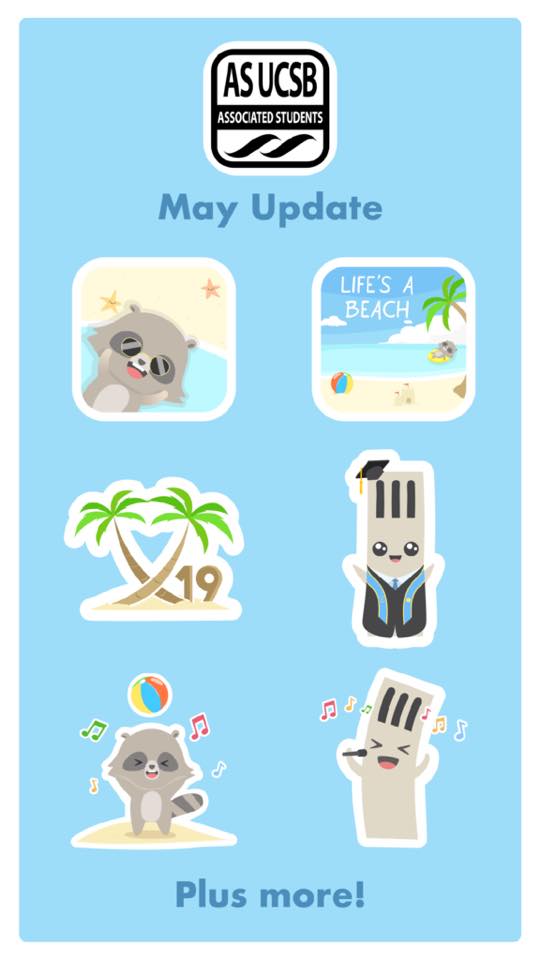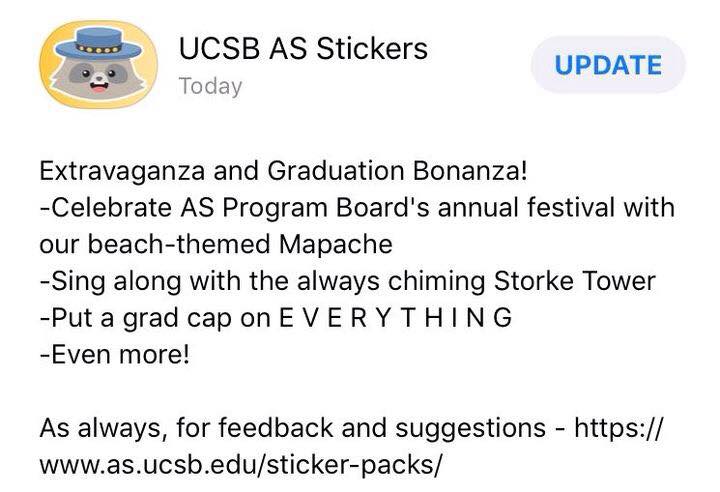 ---
Twitter
The AS Flacks Intern application is now open. The Flacks intern serves as a concrete bridge between the students, the administration, and the university community. Find out more at
as.ucsb.edu/get-involved/f…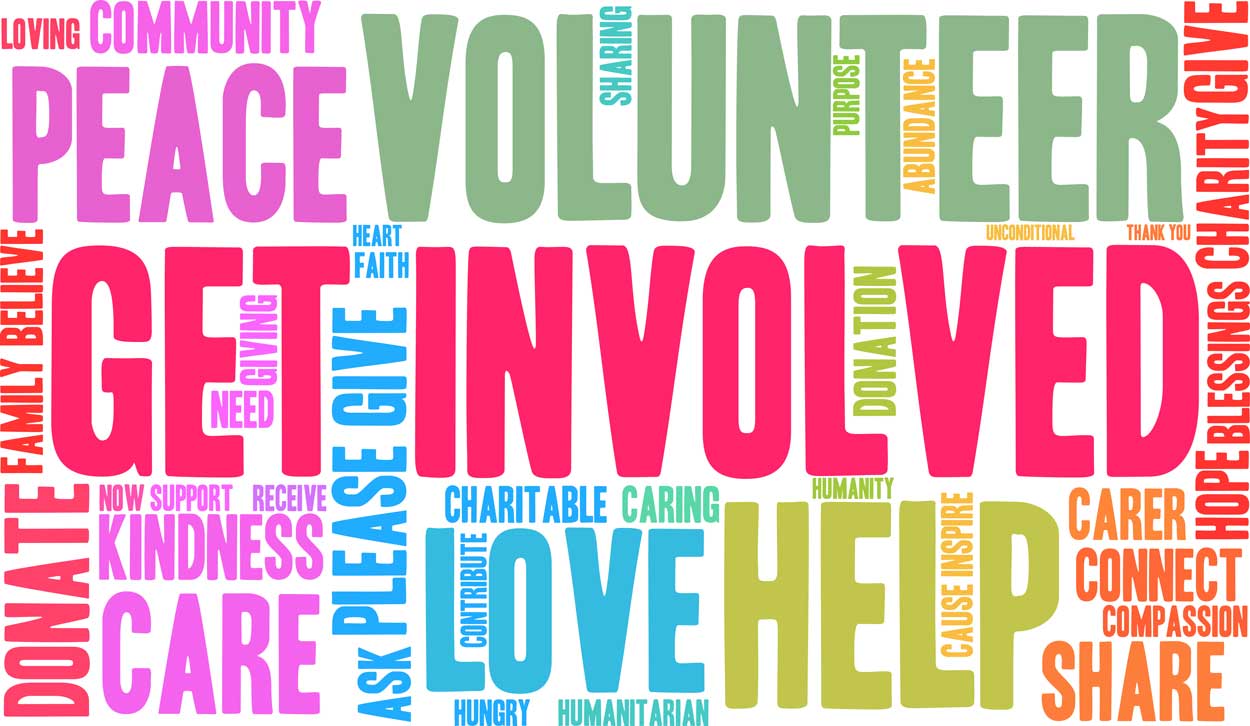 ---
"WordPress Fundamentals" with JudyAnn Dutcher, today 5/15, 3-4pm in AS Annex. Topics: text wrangling, image and pdf management, and university standards. Workshop will include discussion of digital image sources and copyright considerations. Open to students, staff, and faculty.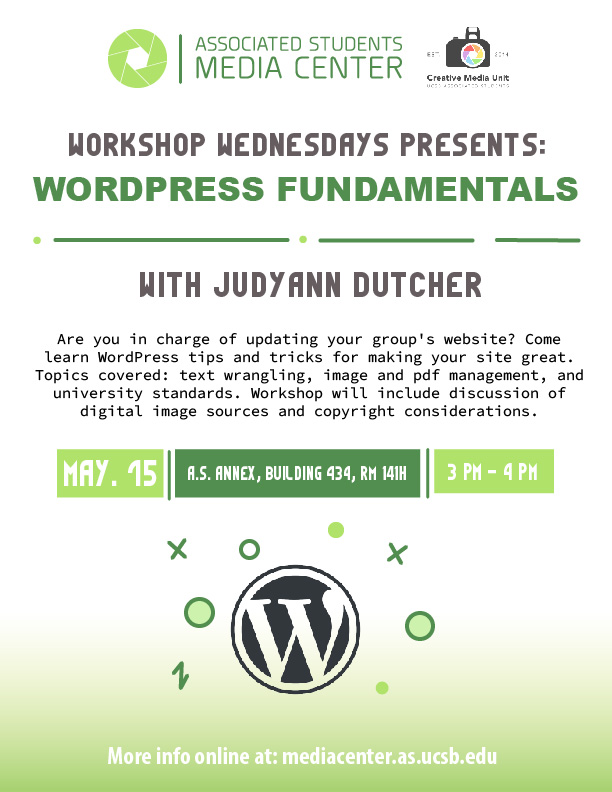 ---
You Tube
Linked In
Oscar Aquino will be joining Associated Students as the Helpdesk Technician today Monday, May 13. Oscar has more than 5 years of experience in IT support and is a welcome addition to our team!
Instagram