On June 3, 2019 in Corwin Pavillion, these groups and individuals were honored for their contribution to Associated Students. Congratulations to all.
MANY photos at the bottom of the page!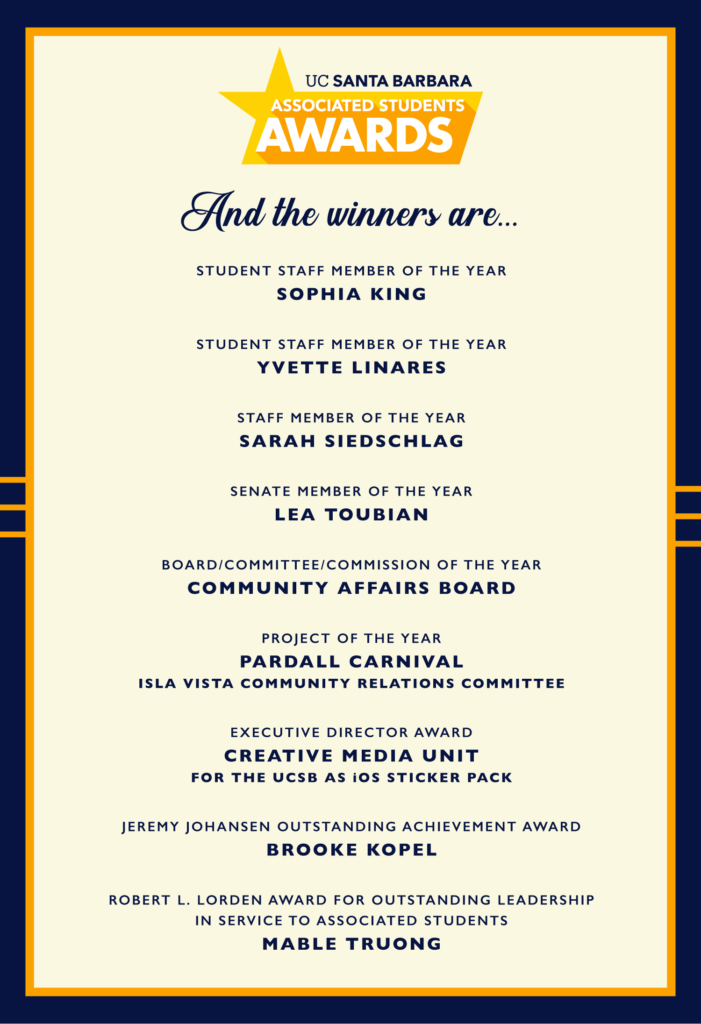 Student Staff Member Of The Year:
Sophia King
Student Staff Member Of The Year:
Yvette Linares
Staff Member Of The Year:
Sarah Siedschlag
Senate Member Of The Year:
Lea Toubian
Board/Committee/Commission Of The Year:
Community Affairs Board
Project Of The Year:
Pardall Carnival (Isla Vista Community Relations Committee)
Executive Director Award:
Creative Media Unit for the UCSB AS iOS Sticker Pack
Jeremy Johansen Outstanding Achievement Award:
Brooke Kopel
Robert L. Lorden Award for Outstanding Leadership in Service to Associated Students:
Mable Truong
Individual Board Member Awards
The Bottom Line: Juan Gonzalez
COSWB: Natasha Auer
Coastal Fund: Alana Ayasse
Committee On Committees: Christy Wong AND Kevin Zheng
Community Affairs Board: Ricky Nguyen
Creative Media Unit: Trisha Micarsos
David B. Miller A.S. Publications: Yvette Linares
Environmental Affairs Board: Cynthia Torres
Finance & Business Committee: Esther Liu
Isla Vista Arts: Nerwel Zhao
Judicial Council: Kimi Nasiri
KCSB: Arthur Wilkie
Program Board: Jasmine Smith-Torres
Zero Waste Committee: Monica Hernandez
---
Looking Good!!
---