Take Back the Night
The Take Back the Night (TBTN) Committee is part of an international movement that works to raise awareness about issues surrounding sexual assault, while also protesting the climate of fear and violence that women must confront in today's society. Here at UCSB the TBTN committee worked year round to aid women in finding and demonstrating their empowerment. It provided a forum for women to make their voices heard, and created a safe environment in which survivors of sexual assault can tell their stories and begin to heal.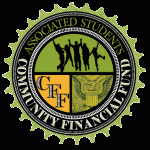 Community Financial Fund
The Community Financial Fund was founded in the 2010-2011 school year. The fund ultimately created a $2.10 lock-in student fee which was charged with assisting students through providing more access to grants and helping supplement the current Associated Students emergency loans. In addition to creating more opportunity for student the fund also established a credit builder program, regular financial literacy workshops, and offers transparent support to students which guides them towards financial resources and services available on the UCSB campus and within Santa Barbara County.