Facebook
AS Program Board Presents… A chance to join our team! Applications available now thru May 1st at 5pm.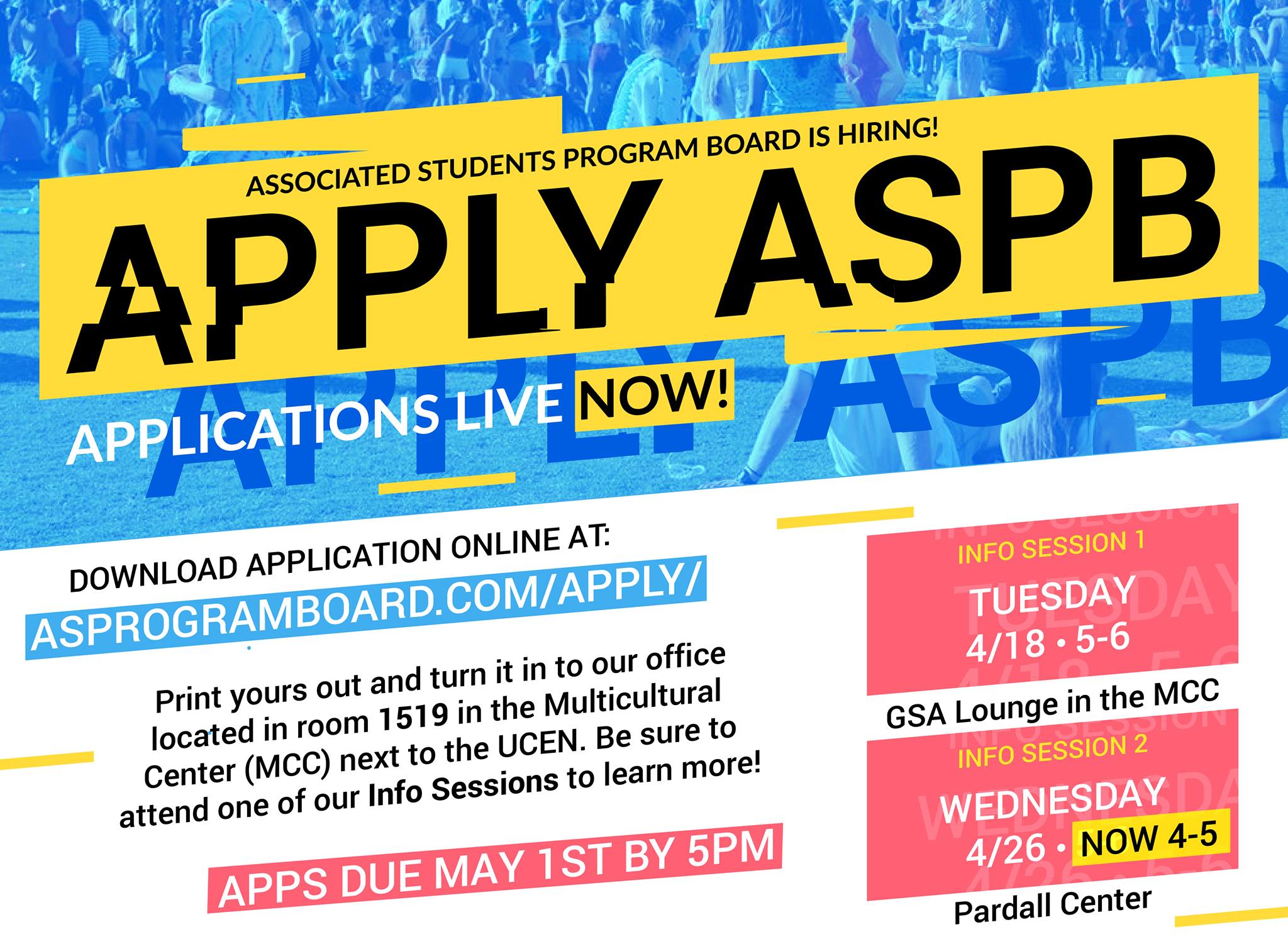 Hey Gauchos, Our special topics course covering a wide-range of financial literacy topics is now open to the public! We meet Wednesday's at 6:30pm in Chem 1179! The remaining topics include:
5/3/17 Negotiations
5/10/17 Individual Taxes
5/17/17 Mortgages
5/24/17 Credit Scores and Car Loans
5/31/17 Insurance
If you have any questions or want to check for updates please visit our website! cff.as.ucsb.edu/
---
AS Dept. of Public Worms is hiring for ALL positions! We have a large number of our team graduating and going abroad, so we have many exciting opportunities to those who love working outside starting as early as this summer.
Operations Coordinator: run our compost and schedule our staff – this person will be in charge of maintaining our worms, hot compost piles, and monitoring the progress of compost at Family Student Housing. In this position, you're in charge of a great team and get to be the lead for UCSB's very own on-site composting program! $13/hr, 12-15 hours/week
Outreach Coordinator: in charge of all tabling, events, social media, advertising, marketing, and brand development. If you're more of an office person, you might make a great outreach coordinator, planning events and telling campus all about what worm wranglers do. This job is very independent, project oriented, and requires creatively thinking outside the box. $12/hr, 12-15 hours/week
Worm Wrangler: Our general team members. These folks feed our worms, collect food scraps, and get dirty with our compost. Perfect for those who love working outdoors! This next year we will also be largely expanding our agricultural operations as part of the Edible Campus Program – We'll be working with the soil to grow food from UCSB food scraps, all given back to campus at no cost through the AS Food Bank! $10.75/hr, 8-10 hours/week
(All positions will receive a $0.50 raise over the summer.)
COORDINATORS: APPLY BY MAY 7
WORM WRANGLERS: APPLY BY MAY 15
Application may be submitted online through gaucholink, or email your cover letter & resume directly to jessicas@as.ucsb.edu
---
Facing Race 2017: Thriving Through Adversity
Sunday 5/7 at 8 AM – 6 PM
Hosted by A.S. Student Commission on Racial Equality (SCORE)
---
Bike n' Blenders
UCSB MultiCultural Center UCen Room 1504
---
Chilla Vista x Lite the Nite 2017
Hosted by Blunite and Isla Vista Community Relations Committee – IVCRC
5/6 12 PM – 11 PM
Peoples and Perfect Park
---
Twitter
Isla Vista Conference: The Beloved Community (Second Annual) 5/19 4PM-5/20 6 PM. https://ourislavista.as.ucsb.edu
The Campus Food Security Committee will be hosting a food workshop today 5/2. 6–7:00 pm Westgate Apartments How to Make Healthy Hummus
"Photoshop Fundamentals" w Neulyn Moss 3-4pm AS Annex, by the Storke Tower bike circle. Students and staff welcome! http://mediacenter.as.ucsb.edu .
Ira Flatow tonight 5/40Campbell Hall 7:30–9pm Free! http://tidy.ws/2sh4HI
AS is holding a memorial reception to honor and celebrate Dave Miller's life. Today 5/5 4-6pm Corwin Pavilion Courtyard. All friends welcome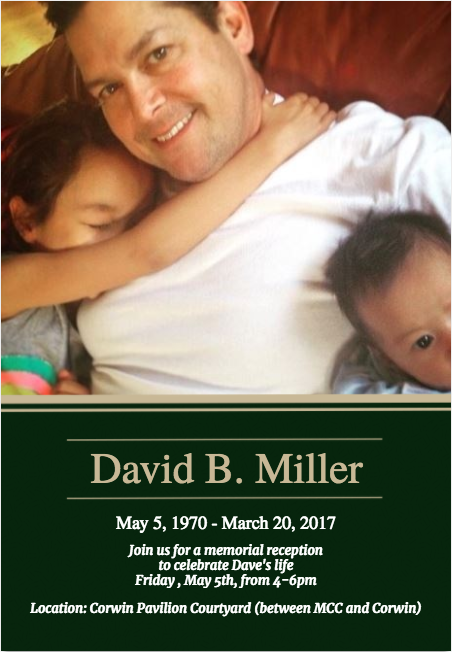 Other
Linked In: Rudolfo Herrera Ortiz has accepted the position of Food Bank Coordinator and Engagement Advisor. Rudolfo has a strong background working with both issues of social justice and with issues around nutrition and food security. He has ties with the Santa Barbara Food Bank and other community organizations that will be valuable in this position. Rudolf begins work with AS on May 23 and will be located at the Food Bank in the UCen and will be reached at x2276
Google+: The Bottom Line is now producing bi-weekly Broadcast episodes and segments for the alt-weekly newspaper at the University of California, Santa Barbara.
Instagram