Summer Status
Click on an area to have it expand.
At the bottom of the page, there is a form for you to add information or submit edits to posted information
Associated Students is in the process of transitioning as much of our work that we can do to remote work in order to be compliant with the campus, system-wide, State of California and Federal directives. Below is a list of what is open or modified for summer.
Elections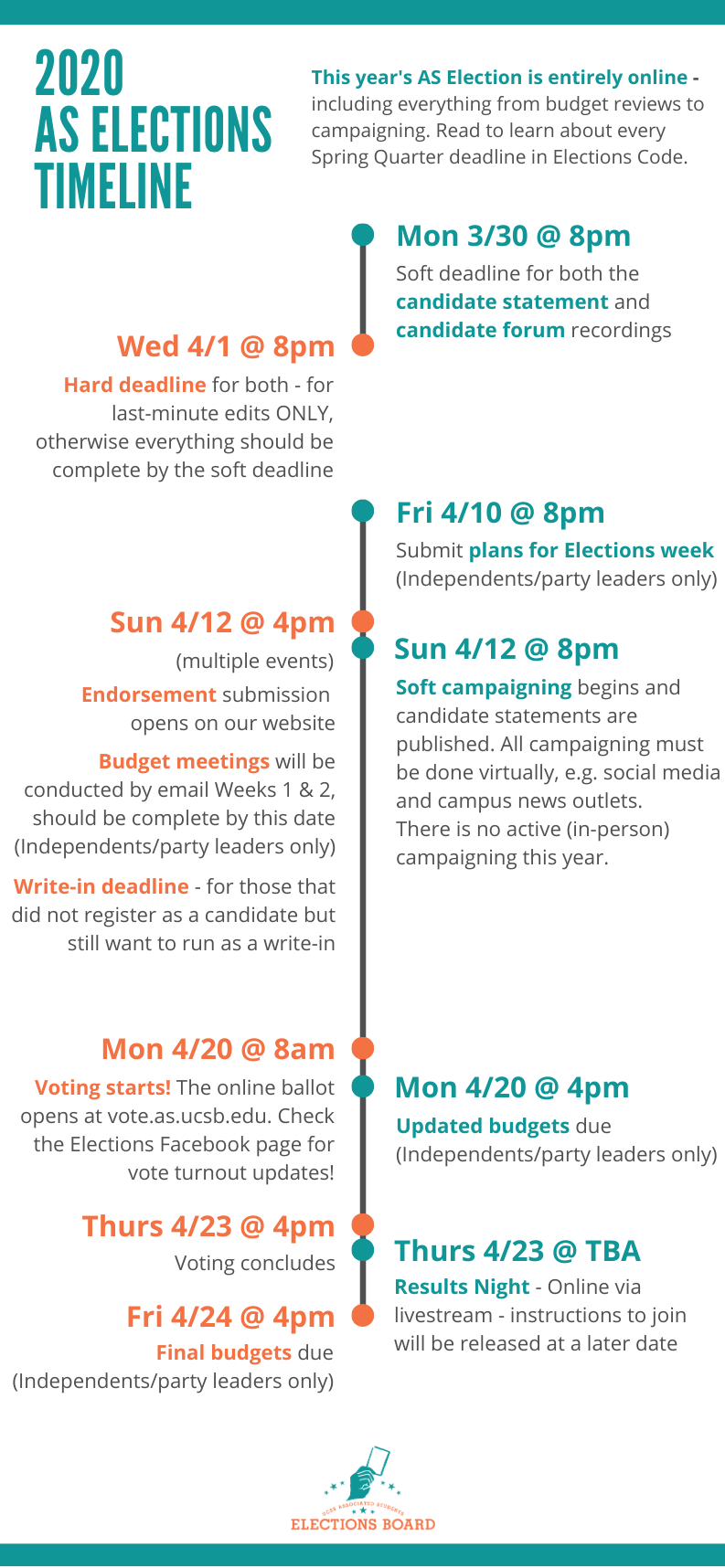 Food Bank and Basic Needs Resource Center
We will be open as a distribution center only. UCSB students can pick up brown bags of food on Wednesday and Fridays from 10am – 3pm or when we run out. Reservations are not necessary and we will make available a QR code for you to sign in.





KCSB-FM
KCSB-FM is on the air and broadcasting 24/7 with minimal staff on-site. Radio hosts and DJs are producing their shows remotely, and sending in the recordings for air. KCSB News is providing coronavirus news updates weekdays at 5pm and other times throughout the day and weekend.
Non-profit and campus orgs are invited to email us information to receive an on-air public service announcement (PSA). These are community messages to promote services available during this time. Please submit your copy, press release or flyer to: gm@kcsb.org for consideration.
For great music to study to and to follow the evolving campus and community story, listen via live stream at https://www.kcsb.org/listen/, or 91.9 KCSB-FM Santa Barbara on your FM radio dial. And follow us on Instagram, Facebook and Twitter for stories and blog posts on music, culture and news.
Media Center and Annex
The Annex and Media Center are closed. Please don't enter the space, even if you have a key, unless absolutely necessary. Do check out the Media Center website (http://mediacenter.as.ucsb.edu) for online courses, Workshop Wednesdays, and other online resources to support your creative endeavors. You can also find the center on Facebook at: https://www.facebook.com/a.s.mediacenter. And, don't hesitate to write media.center@as.ucsb.edu with questions or suggestions for how the Media Center can best support you during this challenging time. Be safe and take care! We look forward to seeing you when classes resume!
Pardall Center
The 1st floor of the Pardall Center will remain closed to comply with COVID-19 precautions throughout the Spring Quarter. Use of printing, computers and wifi at this location is therefore unavailable.
The Pardall Center Governance Board is meeting biweekly on Tuesdays throughout the quarter, from 3:30-5:00pm, and is open to the public via Zoom.
For additional support or questions, please contact the Program Coordinator at savannahl@as.ucsb.edu
Pardall Center Board
Executive Office Hours are being held Thursdays from 1-2pm via Zoom, if you would like to contact the Pardall Governance Board's Chair or attend their office hours, please reach out to paulineher@umail.ucsb.edu for the link.
Publications
Dear valued user,
AS Publications is currently closed for the summer. We look forward to serving you again when given the opportunity.
Thank you!
AS Publications Team
Recycling
Ticket Office
Spring Quarter: Closed. All checks are in AS Admin.
Book Bank
We are sorry to announce the A.S. Book Bank will be closed for Spring 2020 in order to slow the spread of COVID-19. Please DM on Instagram @asbookbank or email bookbank@as.ucsb.edu if you have any questions. If you currently have a book or iClicker out, don't worry. Simply return them in the fall. We hope professors are exhibiting maximum flexibility especially in regards to textbook costs for this quarter and hope that most, if not all, your required materials can be found on Gauchospace.
CODE (Commission on Disability Equality)
Zoom meetings 1:00-1:30 on Wednesday
Message our Instagram or Facebook for the zoom link.
Office Hours are 10-2pm on Mondays using the same link. Preferably message our Instagram or Facebook for the time you would like to meet.
https://www.facebook.com/ucsbascode/
Community Financial Fund
Community Financial Fund will shift our Spring quarter financial literacy workshops to Zoom. We will announce the signup process for these workshops at the beginning of the quarter. Registered participants in the workshops will be eligible for a $320 grant following the submission of all application materials by the given deadline.
In addition to our regular workshops, we will be hosting our weekly Spring Speaker Series where local financial experts from UCSB and the Santa Barbara community will host Zoom workshops on a variety of specific financial literacy topics including filing taxes, student loans, and budgeting. These workshops will go more in-depth on each topic and are open to everyone. A schedule and zoom links will be posted on our website (https://cff.as.ucsb.edu/) after Spring Break. We hope you will join us to take charge of your financial wellness!
Department of Public Worms
Finance and Business Committee
In response to the COVID-19 pandemic, the Finance and Business Committee will not be meeting for the remainder of the school year. As an alternative to in-person meetings and office hours, the following two forms were created:
If you were funded for a Spring Quarter event, please fill out this form: https://asfb.as.ucsb.edu/spring-response-form

This form will let Associated Students know if you cancelled or postponed your event. You can also request for a reimbursement for said event or have the funds be rolled over to the next fiscal year which starts on July 1, 2020.

If you are requesting funds for the remainder of the year, please fill out this form: https://asfb.as.ucsb.edu/spring-request-form/

If you are asking for a reallocation of previously approved funds (from events prior to Spring Quarter), you can use this form.
As of right now, the online requisition form is still in progress. As soon as that is available, it will be posted on Associated Students' homepage.
If you have any questions or concerns, please email me at ralmario@as.ucsb.edu.
Global Gaucho Commission
Zoom Meetings 5-7pm
https://www.facebook.com/AS-Global-Gaucho-Commission-250954262142671/
Human Rights Board
AS Human Rights Board is currently operating remotely. We have meetings Thursday's on Zoom from 5:30pm-6:30pm. If anyone would like to attend these meetings or have questions please email hrbcochair@as.ucsb.edu or visit our facebook page https://www.facebook.com/ucsbhrb or dm us on instagram @ucsbhrb.
IVTU/LRC
Both IVTU and LRC have moved to online appointments. More information can be found at their websites: http://ivtu.as.ucsb.edu and http://legal.as.ucsb.edu. You can book an appointment at https://intakeq.com/booking/szshfl. IVTU Emergency Fund IVTU has put together an emergency fund to help students with unexpected moving and storage costs due to COVID-19, with the support of other AS Entities such as IVCRC and Public Safety Commission. The fund will help students subsidize the costs of moving (gas costs for moving home, renting vehicles, hiring a moving company, moving supplies, plane tickets home), storage (storage units), temporary housing (hotel/motel/Airbnb costs), and associated costs up to $300 per student, pending board approval. Apply at https://forms.gle/eHRmeGwrp1xZATin9. Other Resources IVTU has also put together a resource guide to help students and community members navigate the resources offered by many other organizations and companies. Check out the guide at http://ivtu.as.ucsb.edu/covid-19-resources. IVTU is dedicated to seeing our mission of an informed, proactive, and strong Isla Vista. We will continue our work throughout Spring Quarter to educate tenants on their options, advocate for them and their needs, and support students and the Isla Vista community by providing legal resources and advice, because we are stronger together.
Public and Mental Health Commission
The A.S Public and Mental Health Commission is still in operation spring quarter. We will be holding meetings on Mondays and will be holding office hours regularly.
Queer Commission
In response to COVID-19, Queer Commission will not be holding regularly scheduled meetings for Spring quarter. Should we hold any meetings, Zoom links will be posted on our Facebook page and website ahead of time.
For any immediate questions or concerns please email qcomm@as.ucsb.edu or visit qcomm.as.ucsb.edu for more information.
Transfer Student Alliance
Does this information need to be updated?
You can add info about any AS service/office that's not listed or submit an update to info already posted.