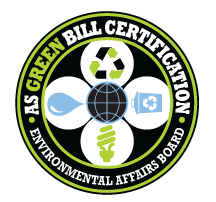 The A.S. Green Bill has its roots in UCSB Sustainability's Program for the Assessment and Certification for the Environment and Sustainability (PACES), which evaluates and certifies Green Offices on campus.
PACES certified A.S. offices collectively and created a customized set of sustainability goals. A.S. Legislative Council, a group of students representative of the student body, summarized these sustainability goals in the A.S. Green Bill, and passed the bill into the A.S. Legal Code in Spring 2011.
Not only does the A.S. Green Bill strive to meet PACES Green Office Goals, but it also voices the student body's desire to continue UCSB's historical leadership in environmental science and sustainability thoughout Associated Students. It's specific measures are summarized here. A.S. groups should strive to understand and meet the sustainability measures in place.
Sustainability
Associated Students has continually demonstrated its role as a campus leader in sustainability standards, and the willingness of students and staff within AS to further educate themselves about how to reduce their environmental impact. ASUCSB will further its role as a campus leader in sustainability through purchasing standards that will lead to a more environmentally friendly and socially conscious Association.
The most sustainable purchase is no purchase at all, and therefore, AS encourages groups to consider if they really need an item or a large quantity of items.
These sustainable purchasing guidelines must be followed:

Absolutely no single-use water bottles may be purchased. Water coolers and 5-gallon jug pumps must be used for event hydration stations..
All coffee and tea must be certified Fair Trade and certified organic and all bananas and chocolate must be certified Fair Trade.
All public events with more than 30 attendees that provide food must have vegetarian and vegan options.
A.S. spaces may not purchase single-use products such as coffee cups or paper plates for daily office
users; daily users should provide or be provided with reusable items.
Water bottles must be manufactured and printed in the U.S. and must be made of either glass, aluminum, stainless steel, or BPA-free plastic.
Certified compostable single-use food service products, including plates, bowls, utensils and napkins, must be purchased for events and guests. These items should be purchased from the A.S. supply of compostable  goods in order to minimize costs and reduce packaging.
No polystyrene (Styrofoam) may be purchased or used.
In order to ensure sweatshop-free purchases, clothing and apparel, reusable bags, water bottles, and promotional pens and pencils must be made in the USA.
Exceptions to this policy should only be made after groups have demonstrated a good faith effort to comply, but doing so would cause a great hardship and would inhibit a core function of that group's mission.
The A.S. Green Bill Certification is meant to be a easy tool for sustainable improvement. Please help UCSB continue its legacy in environmental activism. You don't have to be a sustainability organization to be a sustainable one!